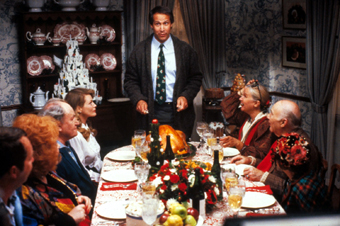 Image courtesy of Warner Brothers/Hughes Entertainment
The Five All-Time Best Christmas Movies
| published December 23, 2016 |
By Lori Garrett
Thursday Review contributor

Regretting getting your kids that new game system instead of new bikes? Have lingering house guests that are cutting into your free time? Or maybe you have a group of teenagers who are too cool to hang around with family but also too hip to be dropped off at the mall? (Ugh, the mall? Soooo 90's *epic eye roll* Do you even know what kids do these days?) Never fear! Your Thursday Review Top 5 Christmas Movies for Dysfunctional Families is here!
Number 5:

Scrooged; 1988, starring Bill Murray and rated PG13

A retelling of the classic Dickens tale, "A Christmas Carol" finds cynical TV executive Frank Cross in quite the conundrum as the ghosts of Christmas Past, Present and Future try to help him realize the error of his selfish ways.

No one mixes dark humor and heart quite like Murray, and with a wacky supporting cast that includes Carol Kane and Bobcat Goldthwait, it is sure to please even your toughest in house critics.
Number 4

National Lampoon's Christmas Vacation; 1989, starring Chevy Chase and rated PG-13

The third entry into Lampoon's vacations series finds us with the Griswold family as they bicker and backfire their way through another family get together. From forgetting an ax to cut down the too-big tree to accidentally causing a sweeping black out with his massive Christmas light display, Clark Griswold somehow stays positive that everything will turn out right.

I really enjoy the National Lampoon Vacation series. It gives families who try hard, but fall far from perfect a chance to laugh at themselves and maybe be a little thankful that there are less explosions in their lives.

(And why yes, that is Juliette Lewis/Johnny Galecki/Doris Roberts/Julia Louis-Dreyfus that you spotted there. Good eye! They all appear in this film with roles that range from big to small)
Number 3

The Nightmare Before Christmas; 1993, starring Chris Sarandon and Catherine O'Hara and rated PG

Jack Skellington, the Pumpkin King, has grown bored with the annual Halloween celebration preparations and takes a walk in the woods. There he stumbles upon seven doorways and discovers Christmas Town. Through a series of darkly comic events, he takes over the role of Santa Claus, much to the terror and strife of the children of the world.

Though this film is appropriate for either Halloween or Christmas, it makes this particular top 5 list based on the fact that this is not for all children. Disney released it under their Touchstone banner as they deemed to too scary for kids. If you haven't already seen it yourself I would recommend you watch a few clips to make sure that your particular child can handle the darker themes.
Number 2

Home Alone; 1990, starring Macaulay Culkin and Joe Pesci and rated PG

A power outage the night before a huge family flight to Paris causes mass panic in the McAllister household and in the confusion they forget one very important thing. Kevin. They do not realize this until they are already in flight (you would think that with 14 other people, at least one of them would notice a missing child, but whatever) Kevin must make due alone; which he finds fun at first, but it quickly loses charm as he realizes how much his family means to him. It doesn't help that there are two mostly incompetent burglars trying to break into the house. Luckily Kevin is apparently a mouse trap building genius.

I feel I have to mention that this was not on my personal top 5 list. For a different perspective, I asked many friends and strangers and it turns out that Home Alone (but only the original) is almost as universally loved as number one on this list. Speaking of which…
Number 1, with a bullet. Or maybe a BB.

A Christmas Story; 1983, starring Peter Billingsly and Melinda Dillon and rated PG

Young Ralphie only wants one thing for Christmas; a Red Ryder Carbine Action 200 shot range model BB rifle with a compass in the stock. You wouldn't think that as too much to ask for, but as each person he mentions it to-including the big man himself, Santa-shoots him down time and again, that dream looks bleak for our little hero.

Though it was made in the 80's and set in the 40's, this is a timeless piece that nearly everyone I asked said was their absolute favorite Christmas movie of all time (Seriously…they said it so much, I eventually started having to tell them they couldn't pick that one).
Don't already happen to own these movies and you're too tired to elbow through the last minute shoppers just to pick up a few movies at your local super store? Worry not! All these titles can be found through streaming services such as Netflix and Hulu, or are available for digital download through iTunes, Amazon Prime or the like. Family entertainment is just a few clicks away.


Related Thursday Review article:

A Few Movie Classics You Must Own on DVD or Blu-ray; Thursday Review editors; Thursday Review; August 15, 2012.


Image credits: National Lampoon's Christmas Vacation, image courtesy of Warner Brothers/Hughes Entertainment; Scrooged, Paramount Pictures/Mirage Productions; A Nightmare Before Christmas, Touchstone Pictures/Skellington Productions; Home Alone, 20th Century Fox/Hughes Entertainment; A Christmas Story, MGM/Warner Brothers Video.