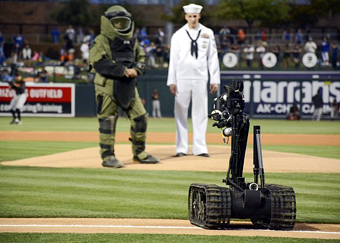 U.S. Navy photo by Mickey Treigle
First Pitch, Robot
| published March 30, 2016 |
By Keith H. Roberts, Thursday Review contributor
A U.S. military bomb disposal robot brings out the ceremonial baseball for the first pitch at a March 25 spring training game between the San Francisco Giants and the Los Angeles Dodgers held in Phoenix, Arizona. The robot, called a Talon, is operated remotely—typically by a bomb disposal specialist like the Navy technician in the blast-suit near the pitcher's mound. (The first pitch was thrown by a sailor, not by the robot).

Navy representatives were present at the start of the game as part of an ongoing project to bring awareness of the U.S. Navy to cities and towns not typically exposed to naval activities, or in communities and states where there is not a large Navy presence.

The Talon is described in Army and Navy articles as a tracked, unmanned robotic device used for detecting, identifying, removing, and—in some cases—detonating, bombs which may injure or kill service personnel. Easily outfitted with cameras, it is considered a first-responder tool, and is commonly operated with the use of a laptop or digital pad. Initially developed for use in Bosnia in 2000, the Talon program has been expanded to included military activities all over the world.

This U.S. Navy photo was taken by mass communication specialist Mickey Treigle.

Related Thursday Review articles:

The Joys & Perils of the Driverless Car; Earl Perkins; Thursday Review; March 16, 2016.

A Selfie From the Martian Dunes; Thursday Review staff; Thursday Review; February 1, 2016.