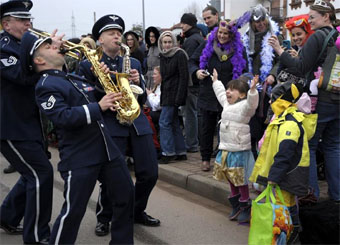 Image courtesy of U.S. Air Force
Fasching Parade Joy
| published March 2, 2015 |
By Thursday Review staff

Check out the expression of the girl at the curb. Her joy at this up-close-and-personal musical interaction is unmistakable, and raw. In this U.S. Air Force photo, members of the Air Forces Band in Europe entertain bystanders in the crowd along the busy streets of Ramstein-Miesenbach, during the annual Fasching Parade in February. Members of the band, along with about 1400 other participants, were a part of the two-hour long parade. The parade is a traditional pre-Lent celebration associated with many German-speaking areas of Europe, including Germany, Austria and Switzerland. Hundreds of cities and towns celebrate with carnivals, parades, music festivals, cooking events, games, and especially outlandish or elaborate period costumes.

Photo by Senior Airman Timothy Moore, U.S. Air Force photo.

Related Thursday Review articles:

First Time Embrace; Thursday Review staff, Thursday Review; November 15, 2014.