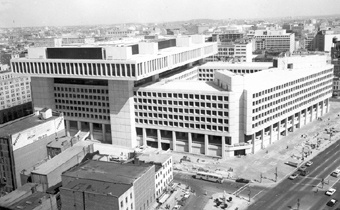 Photo courtesy of FBI
White House:
FBI Director in "A Tough Spot"
| published November 1, 2016 |
By Thursday Review staff writers
Days after FBI director James Comey sparked controversy by sending a letter to Congress explaining that the bureau is reopening certain aspects of its once long-standing investigation into Hillary Clinton's use of a private email service and a privately-crafted server during her tenure as U.S. Secretary of State, the White House has entered the fray, though cautiously.

Suggesting that President Barack Obama does not believe Comey is intent on influencing the election outcome, White House press spokesman Josh Earnest told reporters that Comey "is a man of integrity" and stressed that the FBI director is "in a tough spot" with his recent reboot of his criminal case. Earnest seemed to concur that, although Comey's letter to Congress was an unusual break of protocol, it may have been necessary under the circumstances.

Comey's letter to Representatives and Senators last week stressed that although the FBI rarely comments on ongoing criminal invesrigations, he felt it was necessary within the context of his repeated statements and testimonies that the probe into Clinton's email matters had been closed to the bureau's satisfaction. Previously, Comey had said that although Clinton and her top aides acted irresponsibly and carelessly with classified information and secure data, the FBI found no evidence that Clinton—or any member of her staff—had acted with criminal intent.

But the FBI's still-ongoing investigation into disgraced former Congressman Anthony Weiner, who resigned from the House last year and is now in the process of getting divorced from top Clinton confidante and aide Huma Abedin, uncovered a trove of thousands of new emails with potentially damaging links to Clinton and her staff. Weiner has been charged with sending and receiving lewd and sexually explicit text messages and emails, including some messages sent to minors.

Weiner and Abedin, as it turns out, shared a laptop during part of the same period in which Clinton used her private email account as her primary platform for correspondence while serving as Secretary of State. According to the FBI, this may be at odds with what Abedin told investigators last year when the FBI was looking into the matter of Clinton's emails and her potential mishandling of classified data and information via that unsecured server. According to some sources within the Justice Department, Abedin could be charged with giving false information to investigators.

The Clinton campaign and top Democrats in Congress have called the FBI's newly-rebooted investigations into Clinton's emails outrageous, and many have suggested that Comey—a Republican—is attempting to use the authority of his office to sway voters only days before a Presidential election. Top House and Senate Democrats have demanded that the FBI present whatever information it has—this week—so that the Clinton campaign and its surrogates can address the allegations. Some Democrats have gone as far as to suggest that Comey may be seeking to appease Republicans in Congress, many of whom were dissatisfied with the outcome of the FBI's previous investigation into Clinton's emails, by deliberately sparking new talk of the email controversy with only a week to go before Election Day.

Though the White House had been reluctant for several days to weigh in on the fracas, Earnest's carefully worded statement confirms what some media sources have been suggesting since the weekend: that the FBI director may have spoken to top White House officials, including the President, about the new information relevant to both the FBI's previous investigations into the email affairs, and its ongoing probe into the Weiner sexting scandal.

At a press conference on Monday, Earnest said that the White House would neither "defend nor criticize" Comey's decision-making process, but Earnest also stressed that the White House has no reason to cast doubt on the FBI director's honesty.

"What I have observed in the past is that Director Comey is a man of integrity," Earnest said, "he is a man of principle. He is someone respected by senior officials of both political parties."

Earnest's comments come as polls show the presidential race remaining relatively tight, with most polls giving Hillary Clinton a slight edge of Republican Donald Trump in three-way and four-way match-ups (Gary Johnson is running on the Libertarian Party ticket; Jill Stein as the nominee of the Green Party), but with the balance in the Electoral College even tighter. Some polls conducted within the last few days indicate an uptick in the percentage of voters—even supporters of Clinton—who find the former Secretary of State untrustworthy, even as Clinton remains ahead in most national polls.

Trump and his team hope that the reignited email controversy shifts some previously undecided voters away from Clinton's column and into Trump's, though it is not clear this week that any such movement has taken place.

In his comments to reporters on Monday, Earnest added that the President "does not believe that Director Comey is intentionally trying to influence the outcome of the election."

Related Thursday Review articles:

New Email Problems May Dog Clinton Through Election; Thursday Review staff; Thursday Review; October 30, 2016.

What Happens in Vegas: Debate May Change Few Minds; R. Alan Clanton; Thursday Review; October 20, 2016.