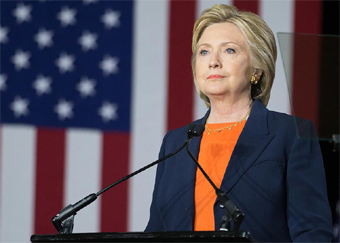 Image courtesy of Hillary Clinton 2016
New Email Problems May Dog
Clinton Through Election Day
| published October 30, 2016 |
By Thursday Review staff
With only slightly more than one week before Americans go to the polls to choose the next President, new accusations have emerged regarding Hillary Clinton's email accounts. On Friday, after more than 36 hours of rumors from some GOP lawmakers, FBI director James Comey confirmed that the FBI may be reopening some aspects of its investigations into Clinton's handling of emails during her tenure as U.S. Secretary of State.

In a letter to Congress last week, Comey said he was recommending that the case of Clinton's email be reopened, based on new evidence from a somewhat unrelated FBI probe.

According to sources now being quoted in several major media outlets, that new FBI probe was prompted after evidence related to the Bureau's investigations into U.S. Rep. Anthony Weiner turned up possible overlaps between Weiner's use of his cell phone and laptop, and that of top Clinton aide Huma Abedin. Though the FBI has not offered a detailed explanation of how the two cases are related, several FBI sources have indicated that the newly-reopened FBI probe may conclude with an indictment of Abedin on charges of perjury.

The FBI's announcement that it will reopen certain aspects of their case against Hillary Clinton has come as a shock to the Clinton campaign—reintroducing a persistently negative issue for Clinton and muddying the home stretch for the former Secretary of State even as she maintains a slight lead in most national polls. Newly conducted polls indicate that some voters may be reluctant to give the same wholehearted support for Clinton as a result of the talk of new investigations swirls; still other polls seem to indicate that Clinton is maintaining her lead despite the jumpstarted email controversy.

Clinton campaign officials have said that talk of new investigations are part of a political ploy by Republican lawmakers to derail her candidacy, and they have said that Comey and others have acted inappropriately in announcing a renewed probe with only 8 or 9 days to go before the election. A former White House attorney has called Comey's move unethical and illegal.

Former White House ethics lawyer Richard Painter, writing in an op-ed piece in the New York Times, said that Comey had violated not merely FBI and federal protocol through his letter to Congress, but that the FBI director also violated provisions of the Hatch Act—a law crafted to insure that government agencies operated free of partisan political pressures. Painter has said he has demanded that the Office of Special Counsel and the Office on Government Ethics each launch an audit into the processes used by the FBI to arrive at its current position that the Clinton investigation should be reopened—especially within the context of a Presidential election now looming only a week away.

CNN has reported that there is even a divergence of opinion within the Justice Department over the timing of Comey's letter to Congress. Attorney General Loretta Lynch and Deputy Attorney General Sally Yates each recommended that Comey defer public action of a Congressional communique on the Clinton matter, suggesting that the timing could not be worse and stressing that the use of a letter to lawmakers would violate FBI protocol and communication policy.

Despite the concerns of his colleagues at the Justice Department, Comey chose to send the letter to Congress anyway, despite an election now only about one week away. Comey explained that he chose to proceed with the letter anyway because he had personally declared to Congress his belief that the investigation—however much it showed Clinton acting irresponsibly with State Department emails and correspondence—turned up no evidence that Clinton or her top lieutenants acted with deliberate disregard for the law.

"We don't ordinarily tell Congress about ongoing investigations," Comey explained, "but here I feel an obligation to do so given that I testified repeatedly in recent months that our investigation was complete."

Sources close to the FBI also say that Abedin may be indicted for perjury for her past comments in light of law enforcement investigations into Anthony Weiner's illicit text messages and sexual laptop correspondence with minors. Weiner's laptop was seized by FBI agents in late September, but needed additional search warrants and investigative clearance to access certain email messages on the laptop. Weeks later, the FBI discovered emails which have an overlap with some of the same emails related to Clinton's correspondence as Secretary of State.

Democrats in Congress are crying foul, suggesting that Comey—in league with GOP lawmakers—is playing fast and loose with the facts and using the status of the FBI, an ostensibly neutral law enforcement agency, to damage the Clinton campaign and skew the political process with only days before Americans vote.

But Comey believes that the Weiner-Abedin-Clinton connection now shows potentially volatile problems for the former Secretary of State, as the FBI's probe into Anthony Weiner's so-called sexting scandal now overlaps into the long, messy imbroglio over Clinton's use of a private email account and a private server during her tenure as Secretary of State.

Clinton and her campaign surrogates have complained that the timing of the FBI's actions could not be worse, or more political. Clinton has demanded that the FBI release whatever information it has immediately, and Democrats in Congress have acted to require Comey and his agents prepare a full explanation of its new findings no later than Monday night.

Republican nominee Donald Trump spent much of the weekend attempting to bludgeon Clinton on the issue of the newly jumpstarted FBI investigation. Trump has called this latest element of the Clinton email fiasco the "biggest political scandal since Watergate." Clinton's main surrogates took to the talk show circuit and the media circles to stress that the FBI's newest actions will have little impact on the election outcome.

The recently discovered trove of emails—between 2,500 and 10,500, depending on sources—came to light as part of the FBI's investigation into text messages and emails sent by disgraced former Congressman Anthony Weiner, who separated from his wife Abedin late last year after new charges of sexually explicit emails and text messages were leveled against him, and after evidence that his sexual correspondence included messages to minors. Abedin and Weiner are in the process of getting divorced. The FBI has discovered that Abedin and Weiner shared at least one laptop device, meaning that the common laptop contains correspondence between Abedin and Clinton.

Comey's letter to Congress has itself become a part of the controversy. Clinton campaign strategists and spokespersons has leveled intense criticism against Comey, charging the agency and Comey with a blatantly political move. Clinton campaign chairman John Podesta called Comey's letter to Congress "light on facts, heavy on innuendo, and knowing full well what Republicans would do with it."

Related Thursday Review articles:

What Happens in Vegas: Final Debate May Change Few Minds; R. Alan Clanton; Thursday Review; October 20, 2016.

Clinton Emails Show Pattern of Foundation Access; Keith H. Roberts; Thursday Review; August 25, 2016.