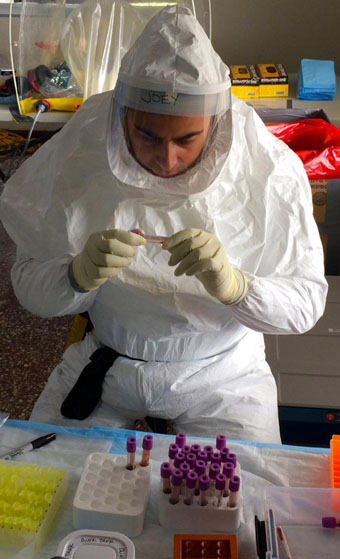 Photo courtesy of Centers for Disease Control/U.S. Army
Ebola Stalls Economies in Africa
| published November 6, 2014 |

By Thursday Review staff

While the number of Ebola Fever patients in the United States has remained relatively low—only about nine confirmed cases during all of 2014—the spread of the deadly disease in several West African countries appears to be accelerating. The growth curve is following closely many of the predictions made by doctors and epidemiologists with the World Health Organization (WHO) and the U.S. Centers for Disease Control (CDC) which is headquartered in Atlanta, Georgia.

The Ebola epidemic is also now wreaking havoc on the economies and the logistical activities of the countries most affected. In Sierra Leone, for example, many thousands of people are deliberately breaking national quarantine laws—travelling by car or on foot to locate food, fresh water, and medical supplies, despite laws requiring that people in the "lockdown" areas remain at home.

Food and water, some of it being provided by the United Nations and other relief agencies, cannot reach those most in need—either because of confusion regarding who can deliver the supplies, or because of outright fear on the part of those hired to handle the deliveries. Many areas of Sierra Leone have received no supplies in more than two weeks, and desperate citizens are violating quarantine in search of food and bottled water.

Meanwhile, WHO officials say that they now have at least 16 specialized Ebola treatment centers up and operating, but this number falls far short of the 75 to 100 centers it says is needed to turn the tide on the spread of the virus. WHO had hoped to have another 50 to 60 facilities open and operating by the end of the year. Part of the problem, officials have said, is that many potential volunteers from various countries—primarily the United States—are chilled by the possibility of a long quarantine period after their volunteer work is complete. This fear has created a huge shortage of health care workers.

The 2014 Ebola outbreak has, so far, taken the lives of approximately 5000 people since the rampage began earlier this year. The majority of those victims have been in one of four West African nations: Sierra Leone, Guinea, Liberia, and Nigeria. Health officials say that only in Guinea is the situation improving measurably; in the other three countries the number of people affected continues to climb.

Sierra Leone has issued strict orders late last month to enforce a lockdown in many areas. Citizens were asked to stay in their communities, neighborhoods, and regional areas, and—in some cases—were even asked to stay indoors for a period of several days. The government of Sierra Leone used police and military units to enforce the quarantine, and in areas not self-sufficient in food and water, supplies would be brought in by truck. But now, with fewer drivers and logistical workers, and with infrastructure snarled, many people are stuck in quarantined areas without access to fresh water or food. In many areas of the countries affected, roads are in poor condition in the best of times, but road crews are refusing to work in the areas and regions now most deeply impacted by Ebola. With roads impassable and deliveries stalled, the efforts of relief agencies may falter.

U.S. President Barack Obama announced in October that the American military would send as many as 4000 personnel to assist with relief efforts and to aid in containment of the fever, but as of now the actual number of U.S. military personnel in West Africa is about 1000. The U.S. is also providing mobile labs and portable testing facilities.

Further complicating the economic stability of the countries: burial or disposal of the dead. In some areas, local governing authorities have mandated that the bodies of those who have died because of Ebola be cremated, not buried. But in villages and towns near where the cremations are being managed, local citizens say they are being stigmatized—unable to shop in markets are unwelcome to travel, even short distances. Merchants are reluctant to trade with people from areas adjacent to, or near, the burial and cremation facilities. Many residents in areas near the cremation centers are threatening to engage is mass protests, including blocking roads to commercial areas.

Originally discovered and identified in Zaire (now the Democratic Republic of the Congo) in 1976, Ebola is named for the Ebola River, which flows through the village of Yambuka, where the first deadly flare-ups killed hundreds of people in a very short span of time. The disease has recurred in varying strains off and on in Africa, but never with the same high infection rate as seen this year. Though Ebola can infect humans, primates and fruit bats, it has a low mortality rate among chimpanzees, gorillas and others in the primate family. The disease is believed to have been originally spread by fruit bats, but many scientists now believe that its primary means of transport became through the unsafe handling of animal carcasses. Ebola is spread from human-to-human only through direct contact with bodily fluids—broken skin, secretions, saliva, blood, semen.


Related Thursday Review articles:

U.S. Military Assists With Fight Against Ebola; Thursday Review; October 19, 2014.

In Africa, Hotel Workers Get Ebola Training; Thursday Review; September 12, 2014.