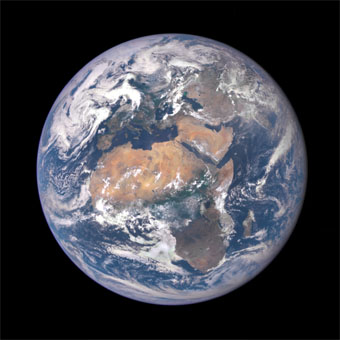 Image courtesy of NASA/Deep Space Climate Observatory
Earth's Portrait, One Million Miles Away
| published July 29, 2015 |
By Thursday Review staff
The Deep Space Climate Observatory satellite recently took this photo (taken on July 6) of the Earth as seen from the satellite's perch approximately one million miles above the surface of the planet. The image was captured using the newly deployed Earth Polychromatic Imaging Camera (also called EPIC), a photographic system which uses a variety of filters and digital tools—and takes up to 10 images simultaneously—to produce stunning, detailed portraits of the Earth's complex weather systems and climate events. The camera's filters include ultraviolet and near-infrared imaging. The goal of this elaborate and high-tech system is give weather forecasters on planet Earth a comprehensive, detailed look at meteorological patterns and climate changes.

The satellite was launched into orbit back in February of this year, and NASA scientists programmed it to find its new home at what is known as First LaGrange Point, or L1, about one million miles above the Earth's surface, and with the sun over its shoulders to produce the clearest images. The multitude of data received from the satellite will be used to predict weather patterns, measure climate change, detect shifts in ozone and aerosol levels, measure cloud height and density, and track vegetation and desertification movements.

This photo features most of Africa and the Middle East at the center of the image, and includes a wide tract of southern Europe—from Spain and Morocco in the west to the Caspian Sea and Iran toward the east.

Related Thursday Review articles:

Space Station: A Close Call With Space Junk; Thursday Review; July 17, 2015.

A Close-Up Look at Distant Pluto; Keith H. Roberts; Thursday Review; July 14, 2015.