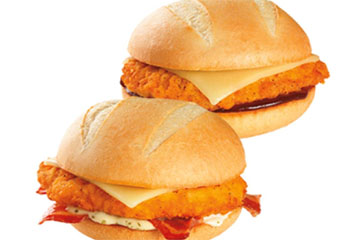 Image courtesy of Dunkin Donuts
Dinner at Dunkin' Donuts?
| published Novermber 10, 2014 |
By Thursday Review staff


Mention either Starbucks or Dunkin' Donuts and most everyone automatically—and reasonably—thinks fresh, high-end coffee and fresh high-calorie doughnuts, and in the case of DD that means both. One might also think of whole grain muffins, croissants, or, in the case of Dunkin' Donuts, traditional breakfast items.

But did you know that both coffee and snack retailers are about to break out of the coffee and breakfast treat mode and move into the dinner hour?

Starbucks, known for its many flavors of exotic coffees and its diverse menu of other drinks, will soon be rolling out a dinner menu in many of its locations nationwide. The dinner menu was in the market testing phase for the last two years, and successful feedback has apparently prompted the Seattle-based company to begin introducing the evening-fare menu to other locations very soon.

Among other things, Starbucks will offer customers a choice of things like parmesan chicken skewers, macaroni and cheese dishes, and roasted dates wrapped in bacon. Starbucks will also begin offering wine from a select wine list, and a supplemented sandwiches menu.

Likewise, Dunkin' Donuts plans to greatly enhance their evening menu with dinner items, expanding meal options beyond the already hearty items offered, such as steak sandwiches and wraps with eggs. The new Dunkin' Donuts fare will include Turkey, Cheddar and Bacon sandwiches, a Bacon Ranch Chicken Sandwich, and a Grilled Chicken Flatbread. DD will also promote its tuna salad sandwiches, grilled cheese sandwiches with bacon, and tuna salad and chicken salad burritos (wraps).

Why the changes, both of which seem a stretch for name brands traditionally associated with breakfast items and powerful coffee jolts? Restaurants have become fiercely competitive for every customer dollar, regardless of the time of day or what term one would use to describe the meal—breakfast, brunch, lunch, dinner, supper, snack. With several of the biggest restaurant behemoths facing challenges—McDonald's, for example, which has seen its sales decline in the last year in every area except breakfast—all major food servers are looking for out-of-the-box solutions. Plus, customer behaviors have shifted, sometime with dramatic impact. The fast-casual chains like Chipotle, Moe's and Five Guys have syphoned off millions of diners from other chains, and restaurants like Chick-fil-A have used rapid, high-end customer service as a tool to divert many more fast food diners away from companies like KFC, Taco Bell and Wendy's.

Some food industry experts also say that people have become less fixated on the hour of the day, Many younger diners—those under 40—are largely abandoning the traditional relationship between the clock and mealtime. Restaurants can quickly see these demographic shifts, and they are now seeking ways to attract customers during non-traditional meal times.


Related Thursday Review articles:

Tarnish on the Golden Arches; Thursday Review staff; Thursday Review; August 26, 2014.

The Worst, and Best Fast Food; Thursday Review staff; Thursday Review; July 14, 2014.