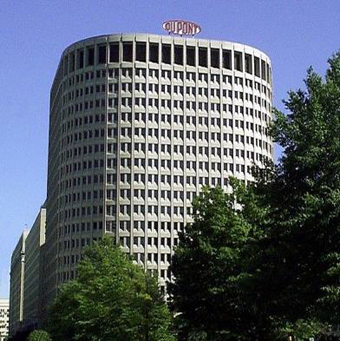 Image courtesy of DuPont
DuPont Dow Merger May Ultimately Produce Three Companies
| published December 11, 2015 |
By Keith H. Roberts, Thursday Review contributor
It may be easily and accurately described as the biggest merger of all time, except that it could be only temporary.

In a $130 billion deal, Dow Chemical and DuPont have reached a formal agreement to merge the two chemical giants into one massive company—a stock swap which would create, briefly, the world's biggest industrial giant.

Except that if all goes according to plan, the newly merged behemoth would then begin to immediately reorganize its assets and its products into three more-or-less equal new companies: one geared toward materials and solid products, a second one specializing in agriculture and food, and a third with an emphasis on highly specialized products and services.

In the newly merged company, DuPont chief WEdward Breen will become CEO and current Dow Chemical CEO Andrew Liveris will be the new Executive Chairman. Both companies say that the merger and reorganization has been discussed and considered for more than 20 years. The newly married corporate giant will be named DowDuPont.

Though the deal will still have to pass muster with a variety of federal regulatory agencies, Wall Street analysts and business watchers say that neither company expects any roadblocks to a successful merger, especially considering the endgame plan is to break the company into three distinct company units.

The breakup into three separate companies will come within 18 to 24 months, according to the joint announcements from Dow and DuPont. Each company will maintain their current headquarters offices—Midland, Michigan and Wilmington, Delaware—until the merger is complete. At that time the merged giant will have dual corporate offices.

Both companies, which are among the oldest in the United States, have been under considerable pressure in recent years because of rapidly shifting markets, changing patterns by consumers and business partners, sinking commodities prices, and a variety of adverse conditions. Both companies have also faced pressure to streamline and reduce costs, which in this case will almost certainly mean cuts in both companies' large workforces worldwide. DuPont has already said it intends to cut at least 10% of its workforce.

Aside from regulators in the U.S. and several other countries, the deal must also meet approval by both companies' shareholders.

Related Thursday Review articles:

Anheuser-Busch to Merge With SAB Miller; Thursday Review staff; Thursday Review; October 13, 2015.

Anthem to Buy Cigna in $54 Billion Deal; Thursday Review staff; Thursday Review; July 24, 2015.