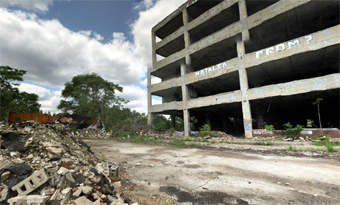 Image courtesy of Google/Photosphere
Detroit's Uphill Battle
| published Sunday, December 29, 2013 |
By Earl H. Perkins
Thursday Review Associate Editor
Some people I know have bragged for decades about their stocks and how they were flush with money, and it used to get on my nerves. I told them I had a better plan—I bet money at the dog track, so I knew if I'd won or lost shortly after Rusty passed the finish line. Why wait 30 years to discover you made bad investments? The reaction didn't go well.

I never cared for braggarts, but I probably should have kept my mouth shut. I recently ran across a non-profit organization called Write-A-House, which wants to fix up Detroit houses for writers. There are thousands of vacant and blighted houses in the Detroit area, and you could own one of these diamonds in the rough.

It's like a writers-in-residence program that never has to end, according to Sarah Cox, one of the group's founders. As editorial director of the real estate site Curbed, she moved there from New York City three years ago to begin the site's Detroit blog.

"In the past three years, I've seen incredible progress, but there is still so much room for more in the literary arts," she said. "This is a city with unique, historic and fascinating stuff happening. We think there are writers who will want to come and be a part of it."

The group bought three homes that needed repairs north of Hamtramck, in a highly diverse enclave surrounded by Detroit. The Powerhouse Project, an artist-run neighborhood organization located nearby, has been regularly documented in national magazines including Juxtapoz.

Write-A-House hopes to raise $25,000 on crowdfunding site Indiegogo to restore Peach House, which would eventually be gifted to a writer. The restoration work will probably be led by Young Detroit Builders, which teaches contracting skills to local young people. Kat Hartman, Write-A-House's acting director, said it's registered as a Michigan non-profit, and its 501(c)3 status is currently pending.

However, the builder's group evidently already qualifies as a non-profit, so money collected through crowdfunding will be funneled through that corporation.

"We chose this neighborhood to start because it's a smaller community and we felt we could have an impact," Hartman said. "The neighborhood has a level of vacancy that is affecting the quality of life for current residents. They need more good neighbors."

Applications, writing samples and letters of intent will be accepted from working, low-income writers this coming spring.

Those judging applications will include former National Poet Laureate Billy Collins, poet Major Jackson, writer and filmmaker Dream Hampton and Sean McDonald, editor of the Farrar, Straus & Giroux publishing house. The panel will not be discriminating against people just because they don't live in Detroit right now, so don't be shy about applying.

If you are chosen, you would lease the home from a non-profit group, which would cover the taxes and insurance. If you stay 24 months, then you will be awarded a deed to the home.

"We didn't want to create an atmosphere where people are being encouraged to flip homes," said urban planner Francis Grunow, who is on the group's board.

Just shoot me now, because I have always hated suspense. Have you seen Detroit's economic and demographic decline, or its crime and urban decay statistics throughout the past 60 years? The city's population in 1950 was 1,850,000, and it was 701,000 in 2013, which translates into more than a 60 percent reduction. Global competition and skyrocketing union demands have driven automobile industry production from the area. There are more than 70,000 abandoned buildings, 31,000 empty houses and 90,000 vacant lots, with abandoned lots accounting for more than half the residential lots in many areas.

According to the U.S. Department of Labor, Detroit leads the 50 largest cities in the nation in unemployment with a 23.1 percent mark.

The poverty statistics are even dimmer, according to the U.S. Census Bureau's Statistical Abstract of the United States: 2012. Detroit ranks No. 1 at the bottom for those living in poverty, with the individual rate at 36.4 percent and the family rate at 31.3 percent.

In March 2013 Governor Rick Snyder announced Michigan was taking over the city's finances from local government, and in July Detroit filed the largest bankruptcy case in US history. It owed more than $18.5 billion to 100,000 creditors.

Large swaths of Detroit are like a ghost town, with entire sections abandoned, a cross between farmland and completely wild with weeds, trash and debris. Mayor Dave Bing had proposed in 2010 that a quarter of the city be bulldozed, concentrating the population in certain areas to ensure vital city services. Loose translation: Detroit has shown an inability to provide adequate policing, fire protection, schooling, trash removal, snow removal, lighting, and just about anything else you might consider important. Things could always be worse--you could be living there right now.

Bing's plan to accelerate the program was announced in a February 2013 issue of the Detroit Free Press.

The project seeks federal funding to replicate the bulldozing plan across the city to tackle Detroit's problems with tens of thousands of abandoned and blighted homes and buildings, and it aims to right-size the city's resources to reflect its smaller population, Bing said.

Get your hot Detroit real estate now, because it's going quickly. The average sale price of houses in 2012 was $7,500, but by January, 2013 there were 47 homes listed for $500 or less and five for $1.

Inexplicably, buyers have not been clamoring for boarded up and abandoned houses in Detroit, with most properties being listed for more than a year. And according to public records, more than half the property owners did not pay taxes in 2012, with net city oss of $131 million, which equals 12 percent of Detroit's general fund budget.

Detroit's crime rates are among the highest in the nation, with a rate of 62.18 per 1,000 residents for property crimes, and 16.73 per 1,000 for violent crimes. In comparison, national figures are 32 per 1,000 for property crimes and five per 1,000 for violent crime in 2008). Detroit's murder rate was 53 per 100,000 in 2012, 10 times more than New York City.

Detroit was given the title of America's most dangerous city for the fourth consecutive year in 2012, according to a Forbes magazine investigation. Federal Bureau of Investigation survey data was cited, noting the city's metropolitan area had massive amounts of violent crimes, including murder and non-negligent manslaughter, forcible rape, robbery and aggravated assault.

According to 2007 city statistics, 65 to 70 percent of homicides in the city were drug related, and around 70 percent of murders remain unsolved.

An Emergency Financial Assistance Loan Board report said Detroit is clearly insolvent on a cash-flow basis, and it should finish the current budget year with a $162 million shortfall. The projected deficit for the near future was unprintable because it's increasing so fast that nobody can figure it out. Retiree benefits take a full third of Detroit's budget, and public services suffer as revenues and population continue to shrink each year.

Retiree benefits eat up more than one-third of Detroit's budget, and public services suffer as revenue and population shrink every year. The board had attempted to negotiate with all concerned parties, but creditors, unions and pension boards were unable to reach agreement.

Programs like Live Downtown, a partnership between several large companies including Blue Cross Blue Shield and Quicken Loans, encourage employees who live in a wide radius of suburban counties to move into specific downtown areas. The idea is to boost home and apartment values and spark retail activity, and to reduce the exurb flight of people who work in those businesses still thriving in central Detroit.

Live Downtown has a five-year fund of roughly $4 million to encourage home-buyers and renters alike, offering as much as $2500 the first year and $1000 the second year in offsets to renters, and up to $20,000 in forgivable loans if the employee purchases an home near downtown (the program is limited to specific neighborhoods, such as Corktown, Lafayette Park, Midtown and Woodbridge).

Other platforms for business outreach include DC3 (Detroit Creative Corridor Center), a program of mentoring, speakers bureau and networking designed to attract creativity and business start-ups to Detroit. Their website says that "DC3 can help you locate your creative sector business or expand the operations of your creative sector business in Detroit," but the online material offered little of anything concrete other than a list of "mentors" and the vague statement that "Detroit has the assets to be a global center of design and creative innovation." There was no mention of specifics, and nothing tangible to show why a small business would ever consider locating, or forming, in Detroit. The slick images showed lots of photos of a few people sitting at sleek desks looking at what appeared to be business cards and brochures, but no one appeared to be working—no phones, no computers, no printers, no sharpened No. 2 pencils. The photos look staged, and devoid of actual "work."

Likewise, the Downtown Detroit Partnership, a public/private partnership of civic-minded folk, offers little of substance on its website save for glossy images of the attractive downtown center area called Campus Martius, where a few high-end restaurants sit near some of the remaining large corporate offices in downtown buildings. A thorough tour of their website yielded nothing about programs or services—public or private—to encourage business small or large to relocate to Detroit.

Conversely, where the cultivation of business seeds and jobs growth fails Detroit's current strategists and thinkers, the literal business of planting and harvesting thrives, as hundreds of acres of abandoned and largely empty spaces have now been converted into land retooled for the growth of food crops. Other areas have been appropriated in innovative ways to create what may become a future urban forest of neatly arranged maples, oaks and flowering shrubs—all on vast tracts of land once crowded with dilapidated and crumbling houses. The green pioneers have had good luck so far making this unlikely organic conversion a success, even if the business minds and budget strategists are stumped as how to bring cash flow back to Detroit.

Detroit used to be an incredible, dynamic city of industrial output that the world looked up to. Now it's a huge blighted zone, and a massive welfare state island. Some see it as a huge sucking hole that will never recover. There are no comfortable solutions for those who choose to stay, and fewer for those who want to leave.

A lot of people talk about jobs and education, but when your populace consists of illiterate lawbreakers who suck off the welfare system for generations, then…well, it's going to be an uphill battle. For some American cities, Detroit may be the future.

When teachers and students aren't safe, then where are you going to get people to run the asylum? Naïve young people who have yet to be shot or victimized are your only hope, so all you can hope is that they don't do too much research before relocating.

Detroit's only way back from the brink is to hire more cops, stop the layoffs of prosecutors, and keep the Motor City's violent criminals in jail. The response time for Detroit cops to show up to a reported crime scene is the worst of any major city in the country, and if recent news reports are accurate, many Detroit residents don't even bother to call the police or the fire department.

It would cost a massive amount of money, but our system and our politics have eliminated most reasonable solutions. The frightening part is not that Detroit is so unusual, as we might believe based on the national news media's reports of the "perfect storm" of persistently negative conditions which plagued the Motor City—but how much Detroit may resemble so many other U.S. cities in the near or distant future.