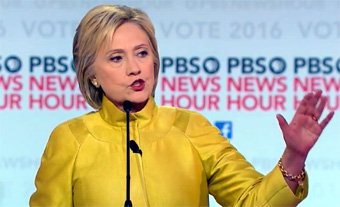 Images courtesy of PBS News Hour
New Polling Shows Clinton,
Sanders Tied in Nevada
| published February 17, 2016 |
By Thursday Review staff
A new poll conducted over the last three days and just released now shows Democratic front-runner Hillary Clinton and her only rival, Vermont Senator Bernie Sanders, now locked in a virtual tie among Democrats in Nevada.

A newly-released CNN/ORC poll shows Clinton with 48% support among Nevadans, and Sanders with 47.5%, a near tie, and well within the margin of error used by most polling services. The remaining Democrats polled have not made up their minds, according to CNN/ORC.

Nevada conducts its caucuses Saturday, February 20. Clinton has long maintained a solid lead in the Silver State, especially among Nevada's large population of Latinos and African Americans. According to the newest polls, however, Sanders has made a substantial dent in those constituencies, once considered reliable sources of votes for the former Secretary of State.

The outcome of the Nevada caucuses could again propel Sanders to the top of the conversation among Democrats unsure or uncertain about Clinton. A tie, or an extremely close outcome like the one produced in Iowa several weeks ago, would be a boost for the Sanders campaign, as well as a setback for the original Clinton strategy of sealing up the nomination fight before Super Tuesday.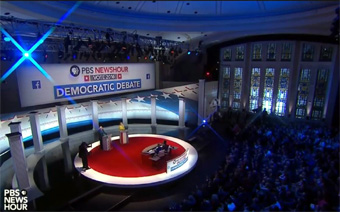 Clinton has been the Democratic Party's front-runner since even before she announced her candidacy last year. A long, difficult process of dealing with controversy over a private email account and a private computer server used while she served as Secretary of State dominated her headlines for many months. During that time, Sanders—once considered a long shot for the nomination—steadily climbed in the polls.

Despite having originally trailed in Iowa for months, Sanders closed the gap and eventually took almost exactly half of all caucus votes in the Hawkeye State. Sanders won the New Hampshire primary by a wide margin, which put the Clinton campaign in jeopardy of not being able to seal the deal for many more weeks.

Even with the surge by Sanders, strategists for Clinton remain optimistic that she can pull off a big win in South Carolina, and then pull substantially ahead of Sanders by the end of the day on Super Tuesday, when about a dozen states hold primaries or caucuses.

Nationally, Sanders has closed the gap with Clinton, but not enough to present a long-term danger, some observers suggest. The current Real Clear Politics (RCP) polling average shows Clinton with a roughly 11% lead over Sanders among all Democrats nationally.

Related Thursday Review articles:

Democratic Debate on PBS: Wall Street Still a Thorny Issue; R. Alan Clanton; Thursday Review; February 12, 2016.

Wall Street Takes Center Stage in Democratic Debate; R. Alan Clanton; Thursday Review; February 5, 2016.