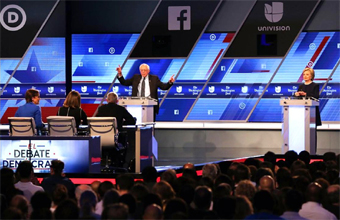 Images courtesy of Univision/CNN
Democratic Candidates Battle at
Miami Dade College
| published March 10, 2016 |
By R. Alan Clanton, Thursday Review editor
Coming off his upset defeat of Hillary Clinton in the Michigan primary on Tuesday, Vermont Senator Bernie Sanders told an audience gathered on the sprawling campus of Miami Dade College that he intends to stay in the race for the long haul, despite the fact that he now trails his opponent by some 500 delegates.

When Sanders was asked by the debate's moderators how he intends to keep up with a front-runner who is now roughly halfway to the nomination, Sanders reminded them that when the Democratic race began well over a year earlier, he trailed Clinton by some 65% in most major polls.

The Wednesday night debate, which was sponsored by Univision, CNN and the Washington Post, produced flashes of sharp disagreement and flared tempers right from the start. The debate was presented and simulcast in both English and Spanish.

One of the first questions that the Democratic candidates faced was what they thought of Donald Trump, the front-runner in the Republican field. Specifically, Clinton was asked whether she thought Trump was a racist. Though she dodged answering the question by using the word "racist," she did say that Trump's rhetoric—which she says panders to fear and prejudice—lowers the standard for political conversation in the U.S. through bullying, insults and stereotypes.

Sanders agreed with Clinton's assessment, though neither candidate went as far as to concur that Trump was a racist—only that he played to the fears and anger of bigots, and that his bullying and oversimplifications damage the public discussion.

In a debate more combative than all previous Democratic forums, Clinton sought to challenge Sanders on nearly every point he raised, often taunting him in ways which brought him visible frustration. Her attacks on the Vermont Senator included again chiding him for his votes on the automotive bailout, for his past votes on immigration, and even linking him to a series of independently produced TV ads—paid for in part by a political group backed by the billionaires Charles and David Koch—which seem to heap praise upon Sanders for some of his positions on energy and climate change.

"I just think it's worth pointing out," Clinton said wryly, "that the leaders of the fossil fuel industry—the Koch Brothers—have just paid to put up an ad praising Senator Sanders!" Sanders objected to being linked to either the ad or to the Koch Brothers' empire, but seemed taken aback by the charge.

Though Clinton's use of the Koch Brother's name was regarded as spurious by many journalistic observers of the debate, some of who commented via social media that she was attempting to attach a can to Sanders tail for something over which he has little control, the barb seemed to briefly puncture Sanders. In fact, the ads, which began airing just this week, actually do not mention energy or fossil fuels at all, but merely suggest an overlap between one position taken by the group called Freedom Partners and a similar position adopted by Clinton.

Even the The Washington Post concurred that the comment was unwarranted and unfair, but that the attack may have had the desired effect anyway, sparking an intense round of real-time arguments on social media and creating an instant spike in online searches for "the Koch Brothers and Bernie Sanders," as if Sanders and the libertarian-leaning billionaires were somehow in bed with each other. Sanders, clearly frustrated by the innuendo and protesting vigorously, may have in fact not been clear on the content of the ad—and indeed some have suggested by his mildly dazed reaction that he may not have seen the ad at all.

This gave Clinton an opportunity to punch him hard again, another blow to a rib she clearly thought she may have fractured with the first suggestion of a Bernie Sanders-Koch Brothers link.

"They [Koch Brothers/Freedom Partners] just put up this little video," Clinton said, lashing the Vermont Senator, "praising you for being the only Democrat who stood with the Republicans to try to eliminate the export-import bank, which has helped hundreds and hundreds of companies right here in Florida be able to export their goods and employ more Floridians. From my perspective, you sided with the Koch Brothers."

And in case you've been asleep for the last five or six years, the mere mention of the "Koch Brothers" causes the greater political class of progressives and leftists, as well as liberal pundits, to begin uncontrollable frothing at the mouth, sometimes accompanied by rapid spasms in the knees. It's the ultimate insult, like when the GOP candidates try to tie their intra-party opponents to Nancy Pelosi or Chuck Schumer.

The exchange sparked a heavy round of applause and cheers from those in the audience who were there to root for Clinton, and had the perhaps predictable result of increasing search engine requests for a linkage between the Koch's and Sen. Sanders by nearly 5,000% in the 10 minute period following the fracas. Prediction: we will hear a lot more about that Koch Brothers dustup over the next 24 to 48 hours of political news.

But where Clinton gained ground, perhaps, through her bold assertions linking Sanders to the Kochs, she clearly lost some ground when asked bluntly by Univision moderators about the still-ongoing email and server controversies. Citing new polls conducted by several major polling organizations which show that despite her popularity among Democratic voters, she scores the highest levels of concern over "trustworthiness" and "honesty" of any candidate of either party. Clinton offered that she was hurt by the perception, but suggested that voters look instead not at the news feeds and the taunting by Republicans, but at her long track record of hard work and achievement as First Lady, United States Senator and Secretary of State.

Recent polls conducted by the Washington Post and ABC News show that Clinton's poll numbers on their issue of her honesty are at their lowest…ever. Only 37% of Americans find Clinton "trustworthy" or "honest," and only 57% describe her as honest, an abysmal state of affairs, one would think. It is also a situation ripe for Republican exploitation when GOP candidates meet on stage Thursday night.

The email fracas came to a head during the Wednesday debate after moderator Jorge Ramos challenged Clinton to explain why she had established a different standard for her own electronic correspondence from that of all other State Department employees at the time. Clinton acknowledged that she made a mistake, explaining that she opted for convenience over strict adherence to security guidelines, and citing—as she often does—that her predecessors did things the same way.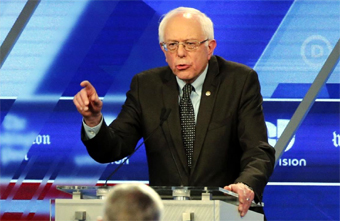 Sanders, who has steadfastly refused to take the bait on Clinton's email issues, nevertheless tosses out stink bombs in the occasional interview or casual setting, suggesting that "it is a serious issue." In the Miami debate, he stuck to his previous statement: the email problems are working their way through a process; no need to weigh in on the topic.

But the exchange brought possible trouble for Clinton when she was asked, bluntly and without sugar coating, if she would consider dropping from the race if she were to eventually receive an indictment from the FBI and the other authorities now probing into the matter. Clinton not only winced at the suggestion, but blew it off as extravagant fantasy. When moderator Jorge Ramos—who had earlier in the debate disclosed that his daughter is a high-ranking employee of the Clinton campaign—pressed her, insisting that she give a straight answer, she balked—visibly irritated, preferring instead to tiptoe around the matter.

"If you get indicted, will you drop out?" Ramos asked.

"Oh for goodness…" Clinton said, scoffing as a few people in the audience either booed or grumbled, "It's not going to happen…I'm not even answering that question."

Clinton also explained with strained patience that the email controversy is meaningless: she never sent or received classified material via her personal email account, and that the factors now at work are a combination of moves by various government agencies, empowered to screen or examine her State Department emails, which have decided after the fact that some emails contained classified or secret correspondence or documents. Clinton also pointed out, as she has done for the last six weeks, that the same problem has now impacted former Secretary of State Colin Powell and former national security advisor Condoleezza Rice—emails previously unclassified are being retroactively characterized as classified.

Clinton intoned ominously that she is still curious as to which agencies are making those reclassifications, and why, implying political motives by both the FBI and various bureaucrats throughout Washington.

But Clinton stressed that neither she nor the voters should be overly concerned with a controversy which she has said in recent weeks will soon go away. But for Clinton, the problem has not gone away, peacefully or otherwise. Though Clinton and the State Department have released more than 32,000 emails over the last six months, the FBI is still looking into the matter of the 31,750 emails which Clinton or her aides deleted. Clinton has said those were deleted because they were of a strictly personal nature. But a former aide and IT specialist, Bryan Pagliano—who has been given immunity from Justice Department prosecutors for his role in managing Clinton's her server and email accounts—may shed light on the matter from a differing perspective.

The debate also sparked intense firefights between the two Democrats over the issue of immigration, with each candidate clearly seeking to curry favor with both those in the room and the television audience, which contained the vast Univision following of Spanish-speaking viewers in the U.S. and abroad. Sanders and Clinton sparred over border issues, border control, the disposition of children and minors who often travel to the U.S. on foot from Honduras, Guatemala and Costa Rica, and the rights of undocumented workers to be fairly paid and to bring more family members into the country. The exchange also brought to light to plight of the so-called "Immokalee Pickers," those undocumented workers who toil in tomato fields and the produce distribution centers in central Florida—often for tiny wages and under horrible conditions. Sanders cited his work alongside others to bring to light the working conditions faced by some harvest workers in Florida.

The most intense exchange on immigration came immediately after Sanders accused Clinton of too easily siding with the Obama administration on the issue of children immigrants fleeing violence in Honduras and Guatemala. Sanders said that Clinton had been part of the administration's official efforts to unceremoniously send the kids back. But Clinton wasn't having any of that.

"Misrepresentations can't go unanswered here," Clinton interjected even over the objections of the moderators, who were trying to move on to another subtopic in immigration. After offering a somewhat complex explanation of her position on the child immigrants, Clinton slapped Sanders hard with the accusation that his positions sometimes more closely aligned with those of the so-called "vigilante" groups which self-organized to provide paramilitary security along the border with Mexico.

Univision moderators also challenged Clinton on her past, seemingly tougher positions on immigration, some of which now seem in stark contrast to her newer, progressive stances. One moderator accused Clinton of "hispandering," the practice of morphing from a more conservative position to one which more closely aligns to the positions of American Latinos for the sake of votes.

In the end, some political observers pointed out, both candidates to some degree "hispandered" to the largely Latino audience in the hall and on TV by pledging to take much more liberal positions on immigration than even those taken by the Obama administration.

The debate at Miami-Dade College sets the stage for what will no doubt be a critical test for both candidates in next week's Florida primary, the day when both Democrats and Republicans in the Sunshine State go to the polls to select their choice for nominee.

Clinton maintains a wide delegate lead over Sanders, but his shocking win in Michigan again—like his lopsided win in New Hampshire—reveals that Clinton has blind spots within her appeal to voters. The Vermont Senator still leads in polls among young voters by an astoundingly wide margin (as defined as voters between the ages of 18 and 30). Clinton has been unable to close this gap. Sanders' message also appears to be catching fire with Democrats in labor and blue collar states. Clinton must now be wary of more Michigan-like upsets in states like Illinois, Ohio and Missouri, where Sanders may yet steal the hearts and minds of Democrats seeking a break with politics-as-usual, as embodied in Hillary Clinton.

Recent polls show Clinton with a substantial lead over Sanders in the Sunshine State. In the debate Clinton brushed aside the sting of her Michigan loss, explaining that she has plenty of opportunities in the states ahead.

"This is a marathon," she told the audience and those watching on TV, "and it's marathon that can only be carried out by the kind of inclusive campaign that I'm running. I've won some, I've lost some."

Related Thursday Review articles:

Clinton Versus Sanders: Shoring Up the Progressive Flank; Keith H. Roberts; Thursday Review; March 7, 2016.

Trump Inches Closer to GOP Nomination; R. Alan Clanton; Thursday Review;march 9, 2016.