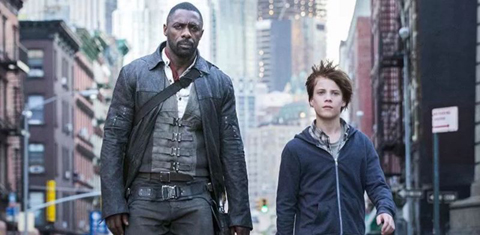 Image courtesy of Imagine Entertainment/Sony Pictures
Dark Tower Topples, Crumbles as Film
| published August 16, 2017 |
By Maggie Nichols,
Thursday Review contributor
It is an article of faith among fans of the author Stephen King that movie adaptations of his works often fall short of their sometimes unrealistically high expectations. Films adapted from some of Kings earliest—and less ornate—works tended to fair better; Carrie, Christine, The Dead Zone, to name three. The Stand was widely panned, and may have been unfilmable after all. Thinner was a waste of celluloid. Misery and Secret Window were each predictable, fair-to-middling works for the screen. The Shining may be the most famous example of where neither book nor film will ever meet, even halfway. King's book followers detested the movie which took liberties with plot structure and crucial sequences; film critics and cinema fans reveled in Stanley Kubrick's masterful tension, artfully composed deep focus photography, and astounding performances by Jack Nicholson, Shelley Duvall and Scatman Crothers. Opinions on The Shining remain polarized to this day.

Only the so-called "prison period" exceeds expectations for everyone involved in King fandom, with both The Shawshank Redemption and The Green Mile standing in a pantheon mostly separate from most other King big screen adaptations. Likewise, Stand By Me stands apart as a classic, in part for its sharp departure from the typical horror story.

This summer's long-promoted release of The Dark Tower falls all-too-easily into the well-populated category of movies which disappoint King's literary fans, while also falling flat with general filmgoers merely looking for the next big fantasy/sci-fi epic.

Watching the movie recently, I was unclear if the problem could be traced to Ron Howard's role as producer, or simply a deeply muddled adaptation of the story by director Nikolai Arcel and fellow screenwriters Jeff Pinker, Akiva Goldsman, and Anders Thomas Jensen. The film, which according to Hollywood press may be the first installment of a franchise of films and TV, meshes into King's longstanding fascination with gunslingers, time travel, parallel universes, and saving the Earth from destruction by paranormal evil powers-that-be. In my mind, Howard is routinely linked to huge mainstream success stories: my always watchable favorites Apollo 13 and Backdraft, and the dazzling period pieces A Beautiful Mind and Cinderella Man. But Howard as director or producer can also misfire, such as his unrelentingly massive but dreary In the Heart of the Sea (2015).

The Dark Tower is, at its core, a case of sensory overload. Disclosure: I never read the book, or for that matter, any of the associated gunslinger epics in the huge, circular series. Sadly, I probably never will now. The movie quickly proved both highly predictable, and highly derivative of more than a dozen previous mega films involving nothing less than the salvation of the Earth and its hapless, helpless people. Not only was there nothing new to present on the screen, but the movie rapidly devolved into a retread of a hundred visual tricks and destroy-the-planet plot gags—even as director Arcel attempts to lure us in with the eye candy of the Old West. But even as high octane, high action chewing gum the movie failed to find traction.

This was certainly not the fault of actors Matthew McConaughey or Idris Elba. Elba plays Roland Deschain, the gunslinger, a hardened vigilante whose difficult, gritty task is to eternally battle against the Man in Black (McConaughey) in an underworld place where the key building blocks of the galaxy are found and where the fate of all living things are trapped. The problem is merely that we have seen this basic story all too many times over the course of the last three or four summers, and Dark Tower—with its western flair and Sergio Leone-style gunplay—adds neither freshness nor innovation to the template.

The plot centers on an 11-year old New York City kid who experiences dreams, hallucinations and visions of an apocalyptic alternate universe in which two men battle for the balance between good and evil, and fight to control a metaphysical tower upon which rests the very fabric of the galaxies. Predictably diagnosed as suffering from depression and post-traumatic stress disorder (his father has recently died), young Jake Chambers (yes, there was a kid named Chambers in Stand By Me) must sort out what his nightmares really mean. He senses that the dreams have some real world meaning, and finally locates an abandoned house in which he discovers a portal to the alternate world of the gunslinger and the Man in Black. Once inside the gunslinger's dark world, he learns that his arrival is no accident: the Man in Black is collecting souls, especially those of psychic children, whom he manipulates to help him in his nefarious quest to topple the Dark Tower.

There, in a nutshell, is the plot. There is a lot of rapid-fire Matrix-like shooting, and a lot of Doctor Strange-like attempts to control matter. The movie (and perhaps the book) not only borrow heavily from King's baroque but well-established good-versus-evil canon, but also appears to make frequent use of references and images related to other things within the world of King's books. It seems the fabric of not only our universe but King's as well is deeply interwoven in this story. But the movie left me squirming, waiting impatiently for its conclusion.

As a vehicle for the start of a new franchise, this film may fall flat. Though it cost a lavish $63-plus million to produce, along with more millions spent on slick advertising, the movie has so far not fully recouped it original budget. As word of the movie's poor reception spreads via social media, is seems unlikely that The Dark Tower will see substantial profit, which means—in a risk-averse Hollywood—a lower chance of an actual franchise, for better or worse for fans of King's stories and novels.

Don't waste your hard-earned money on this over-produced boondoggle at the theaters unless you are a hardcore King fan who cannot wait until this appears on a premium channel or Netflix.

Related Thursday Review articles:

War for Planet of the Apes; Cameron Dale; Thursday Review; July 18, 2017.

Spider-Man Homecoming; Cameron Dale; Thursday Review; July 29, 2017.