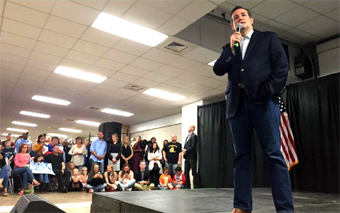 Photos courtesy of Ted Cruz for President
Cruz and Rubio Spar Over Who is Genuine Anti-Trump
| published March 3, 2016 |
By Keith H. Roberts, Thursday Review contributor
In a Presidential race now soon-to-be shorn of retired neurosurgeon and author Dr. Ben Carson, Texas Senator Ted Cruz is urging everyone else to just go away. Cruz, who won three Super Tuesday primary contests this week—including Oklahoma, the Alaska caucuses, and his home state of Texas—wants the nomination fight to be reduced to two people: Donald Trump versus Ted Cruz.

Cruz is now advocating daily for a reduction in candidates, and argues that he alone can best billionaire Donald Trump before it becomes too late for anyone in the GOP to derail Trump's now seemingly inexorable rise to the top.

Trump won the vast majority of Super Tuesday's 11 primaries and caucuses, leaving only four behind—three to Cruz, and one victory to Florida Senator Marco Rubio. Rubio won the Minnesota caucuses—his only prize on Super Tuesday.

Cruz, who also won a dramatic upset in the Iowa Caucuses earlier in the season, now says he is the GOP's best chance—essentially Trump's only viable rival, and the Republican Party's best hope to avoid catastrophe in November.

Late Tuesday night, Cruz told enthusiastic supporters, and those watching on television, that it was time for the party to unite around his banner. Without naming names, Cruz is now pushing for Rubio, Carson and Ohio Governor John Kasich to stand down, and ask that their volunteers, staff and donors offer support for Cruz.

Carson, whose campaign has struggled since last October—when he surged to the top of many polls and seemed poised to steal the title of front runner from Trump—released a statement this week saying that he "did not see a path forward" to the nomination, and though he stopped just short of officially suspending his campaign, most analysts and insiders say he will make cessation official on Friday when he addresses a large conservative political group in Washington. Carson placed fourth or fifth in most Super Tuesday primaries, and though the surgeon says he is not withdrawing because of a lack of donations—the flow of which his staff reports remain robust—Carson says the voters have spoken.

Ted Cruz says he also defers to the voice of the voters. Cruz rebooted his narrative at campaign appearances on Wednesday—as well as in interviews and comments to reporters—to insist that had he lost in Texas, or Oklahoma, for that matter, he would have been more than willing to exit from the field in a battle which now appears to have become an epic war between the GOP traditionalists and Trump and his armies of angry supporters. Furthermore, Cruz has recrafted his talking points to include remarks which stop barely short of suggesting that Rubio and Kasich are, in fact, playing right into Trump's hands. The longer the anti-Trump candidates remain divided, or so the wisdom goes, the longer Trump can keep winning enough states to march unimpeded toward the nomination.

But Rubio, it seems, hasn't received that memo from Cruz, and has made it clear to reporters this week that he intends to soldier onward. Rubio wants to win his home state of Florida—a big ticket victory which would not only boost his delegate count and vindicate his home field advantage (Trump leads Rubio in some polls in the Sunshine State by double digits)—but also proves that he can win in a hugely diverse state. Florida is often a pivotal battleground state in the all-important Electoral College math. With only one win under his belt—the largely liberal and Democratic state of Minnesota—Rubio has yet to prove to some within the GOP that he has the chops to take on the supreme challenge of the entire map of the U.S. in November.

Rubio also has the cash and volunteers to keep going, and the Florida Senator and his team have repeatedly made the case that it is he—not Cruz—best suited to topple Trump between now and the convention, and to face off against presumed rival Hillary Clinton in the fall. Rubio has campaign stops scheduled in at least four states between now and next week, including rallies three cities in Kansas on Friday, and what is expected to be a large rally in Jacksonville, Florida on Saturday. Rubio is also opening storefront offices in at least three Florida cities, including Orlando, Tampa and Jacksonville, where no less than Jacksonville Mayor Lenny Curry, a Republican, will participate in the ribbon cutting.

Rubio is also still benefitting from the formerly cottage industry spurred by the anti-Trump forces, now swollen into nothing less than a pitched battle between the GOP establishment and Trump. Rubio has been picking up not only an influx in cash, but also a rapid escalation in the number of volunteers willing to work to help the freshman senator derail Trump in Florida. Polls vary, but most show Trump leading Rubio in the Sunshine State by as little as 12 points to as high as 22 points. For Rubio, the task will be Herculean indeed to close that gap between now and March 15.

By the end of the night of Super Tuesday, open panic was erupting among the GOP regulars even as the recriminations were flying as to how the Grand Old Party could have devolved into this state of affairs. Overnight, and almost as a delayed reaction, the party establishment, as well as its operating mechanisms in Congress, were declaring outright war on Trump. Scores of high level meetings were called to discuss any and all available options to prevent Trump from securing the nomination—the likelihood of which many Republican strategists worry could inflict serious damage to the GOP brand in the fall, especially in key House and Senate races. No one much doubts that Trump's coattails might be long on the upswing, but almost everyone is in agreement that those substantial coattails might—if things go south—prove catastrophic to the GOP's election fortunes in Washington, and in state capitals around the country.

Republican leaders are also openly concerned that Trump will effectively hijack and redefine the GOP's brand, effectively shearing off what remains of minority support and Latino support, rearranging foreign policy beliefs, and engaging in more ugly repudiation of the past positions of Republican Presidents, from Ronald Reagan to George H.W. Bush to George W. Bush.

On Thursday, speaking from the University of Utah, former Republican Presidential candidate Mitt Romney called up conservatives and those in the GOP to repudiate Trump, and consolidate support instead around one of the several remaining candidates. Though Romney mentioned all three—Cruz, Rubio, Kasich—he also made it clear that he was not offering a specific endorsement of any one alternative candidate to Donald Trump. Romney's brief but potent speech was a blistering attack on Trump and the billionaire's bellicose language. Romney asked why Americans would ever support a candidate who routinely mocks other people, and cited a dozen examples, from disparaging remarks about a female anchor for Fox News, to mocking the condition of a disabled reporter, to repudiating war hero John McCain, to insulting Carly Fiorina for her looks, to insulting Marco Rubio for sweating.

Romney also called into question Trump's ability to maintain foreign policy when he routinely embraces Russia's Vladimir Putin as a man worthy of negotiation but characterizing George W. Bush as a serial liar.

Though Romney's remarks were a scathing indictment of Trump and the political narrative created by Trump's mobilization of angry, frustrated voters, many political observers wonder if the broadside has come too late to have an impact on a primary battle which now seems almost irreversible for the GOP.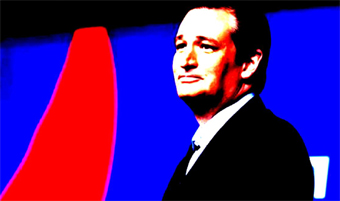 Some GOP leaders are talking openly of various forms of revolt against Trump, including procedural moves which might block Trump at the convention, and a state-by-state, well-crafted alliance to outflank Trump in places like Florida (where all GOP resources would be directed toward Rubio) and Ohio (ditto for Kasich), effectively denying the billionaire the opportunity to reach the magic number of delegates. But such a state-by-state flanking war may have come too late. If Trump begins to rack up wins in many of the upcoming winner-take-all states, he could open up a commanding delegate lead which would make it impossible for any candidate—or all candidates combined—to subdue Trump.

There is also loose talk of outright rebellion, and serious discussion of creating a temporary but legally sustainable home for hundreds of GOP candidates in some form of alternate Republican-like party. In many cases, discussion of the third party route—whether as temporary shelter for conservative Republicans, or as a semi-permanent solution to a GOP now seemingly on the edge of fracture—echoes similar talk in the middle 1970s, when conservative thinkers and opinion-makers like National Review publisher William A. Rusher and conservative data collector and activist Richard Viguerie called for the creation of a "Conservative Party" for the USA, a haven for Republicans and conservative Democrats fed up with a two party system deemed ineffective at challenging the prevailing liberal orthodoxy at the time.

Romney's speech in Utah may have little impact on Trump, who—before the speech had concluded—was already engaged in a boisterous Twitter campaign to denounce Romney's attacks. Republicans will also have one more chance to make their cases to a national audience on Thursday; Fox News is hosting a debate which will include the four active candidates, Trump, Cruz, Rubio and Kasich. Dr. Carson said on Wednesday that he would opt not to particpate. Strategists for Rubio have said that they intend for their boxer to land more heavy blows to Trump, and to seriously challenge Trump's leadership skills and temperament to serve as commander-in-chief.

In the meantime, Rubio and Cruz—and to a lesser extent Kasich—will likely continue to spar bitterly over what remains of the anti-Trump turf, seemingly shrinking real estate as the primaries and caucuses move more deeply into March. Florida casts its votes on March 15, at which point Rubio may have to concede, like some of the other candidates, that there is no path forward. If Rubio should, however, pull off a win in the Sunshine State—even by one vote—he can rightly claim to be a legitimate power player in what had now become an epic battle for the heart and soul of the Grand Old Party.

Related Thursday Review articles:

Trump and Clinton Score Huge Wins on Super Tuesday; R. Alan Clanton; Thursday Review; March 2, 2016.

Marco Rubio's Eleventh Hour War on Trump; R. Alan Clanton; Thursday Review; February 27, 2016.