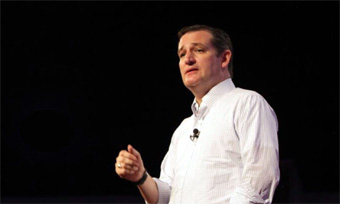 Image courtesy of Ted Cruz for President
Trump, Cruz: Attacks Increase as Iowa Nears; National Review Blasts Trump
| published January 22, 2016 |
By R. Alan Clanton, Thursday Review editor
The bromance is over. They are finis. The love is gone, and apparently too any chance of détente, at least until the convention.

Republican rivals Donald Trump and Ted Cruz, now facing only days before Iowans go to their caucus halls to make the first of many primary and caucus decisions this year, are pounding each other with merciless attack ads and ceaseless bitter language. The Iowa caucuses will be held on February 1, and several polls show Trump and Cruz locked in a close battle for first place in the Hawkeye State (though some polls show Trump maintaining a solid lead in Iowa).

The stakes may be nothing less than the immediate future of the Republican Party in a wildly unpredictable race marked by a strong anti-establishment sentiment—a mood among GOP voters so deeply embedded in the narrative that any candidate with of tiny whiff "establishment" finds their poll numbers stuck in the low teens or in single digits.

Despite a fluid race among the second tier candidates, and despite robust campaigning and heavy early spending by all candidates, many find themselves languishing in the backfield of a race now dominated by Cruz and Trump, with other non-traditional candidates—such as retired neurosurgeon and author Dr. Ben Carson and former HP CEO Carly Fiorina—still vying for support. Former Florida Governor Jeb Bush, New Jersey Governor Chris Christie, Florida Senator Marco Rubio, Kentucky Senator Rand Paul, former Pennsylvania Senator Rick Santorum, and former Arkansas Governor Mike Huckabee, all find themselves more-or-less buried in single digits.

Only Ohio's John Kasich has seen any progress in the polls. Stock in his candidacy has inched slowly upward since the start of the long debate season, though it seems unlikely that Kasich can unseat either Trump or Cruz for the title of front-runner. Once front-runners themselves, Bush and Christie struggle mightily each day to remain relevant in a race almost entirely in the hands of the two most anti-Washington figures now running.

This has realigned the field, pitting Cruz and Trump against each other in an increasingly bombastic exchange.

On Friday, Trump's campaign began airing the first of a series of attack ads criticizing Cruz's occasionally evolving stances on immigration and border control—a sticky and sometimes explosive topic for Republican candidates almost from the instant Trump entered the race. The negative ad also directly questions Cruz's eligibility to even run for President, calling him a "Canadian" citizen who only "recently" became an American. Trump campaign officials say that ad—and several like it—will run in Iowa, New Hampshire, and South Carolina. If needed, the ad may also be deployed in Florida.

Cruz, after weeks of telling reporters he does not want to engage at Trump's level of lowball language, has been firing back at Trump, reminding voters of the businessman's frequently shifting positions on health care, abortion, immigration and taxes. Campaigning in South Carolina and in Iowa, Cruz has blasted Trump.

"Donald's [Trump's] record does not match what he says as a candidate," Cruz said, in effect calling into question Trump's perceived conservatism. "It seems Donald has a lot of nervous energy, [but] Donald doesn't react well when he's going down in the polls."

Cruz has also peppered his most recent speeches and town hall comments with reminders to voters that Trump is not only a flip-flopper on key issues, such as abortion, taxes, gun control and immigration, but that the real estate mogul and casino owner is also very much a part of the establishment—a billionaire who lets his immediate business decisions often dictate his frequent changes of position, but also requires that he remain deeply entrenched in Wall Street and Washington business-as-usual.

Other candidates, such as Jeb Bush and Chris Christie have also attempted to raise questions about Trump's conservative bona fides, but their calls have not registered with a voting bloc within the GOP now deeply enamored with anti-Washington, anti-establishment rhetoric.

Trump has been pounding audiences with talk of Cruz's eligibility for ten days now—an issue which exploded during the most recent Republican debate in South Carolina. An email sent out to Republicans in a dozen states on Friday asks the question "Did you know…Ted Cruz was a Canadian citizen until 15 months ago?"

The email also takes issue with Cruz's alleged $1 million loan from Goldman-Sachs "to help finance his 2012 Senate campaign…but he forgot to report it. Oops."

On Thursday and again on Friday, Trump tore into Cruz as an "unlikeable guy" and the "Senate's least liked guy." Trump also says that Cruz lacks the sufficient negotiating skills to lead the country on fiscal issues or foreign policy.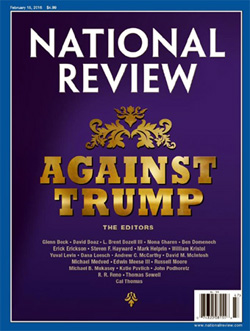 Trump, meanwhile, has come under intense fire from conservatives other than Ted Cruz. On Friday, the long-respected conservative magazine National Review thumped Trump with a front page repudiation of the billionaire real estate mogul. The cover read only "National Review: Against Trump—the Editors," and includes a long list of anti-Trump essays by leading conservative thinkers, including Mona Charen, William Kristol, Edwin Meese III, Thomas Sowell, Cal Thomas, Glenn Beck, Erick Erickson, L. Brent Bozell III, and John Podhoretz, among others.

According to media reports, National Review editor Rich Lowry spent weeks attracting respected writers, journalists and thinkers to contribute essays to the special issue. An introductory piece prepared by the editors characterizes Trump as "a philosophically unmoored political opportunist who would trash the broad conservative ideological consensus with the GOP in favor of a free-floating populism with strong-man overtones."

"Trump is not deserving of conservative support in the caucuses and primaries," the editors state.

The Trumpster wasted no time in offering a rebuttal the fastest way he knows how—through social media.

"Very few people read the National Review," Trump tweeted, "because it only knows how to criticize, but not how to lead."

Trump followed up seconds later on Twitter.

"National Review is a failing publication that has lost its way. Its circulation is way down w its influence being at an all-time low."

Trump is generally unfazed by media criticism, and with his poll number still looking solid nationally, National Review's anti-endorsement may make little difference with many rank-and-file Republicans. But the respected and venerated old magazine, founded by William F. Buckley, Jr., does still carry some serious clout among thinkers on the right, and if Lowry can spark a wide enough conversation about Trump's values, some analysts believe that the trickle-down effect could reach political thinkers and political movers-and-shakers in key places in the early states. It may also sway a few traditional conservative voters still shopping from among the crowded field of candidates.

Still, it may be too little too late for a GOP "establishment" rapidly running out of options, and finding that conventional political ordnance is insufficient to derail Trump's freight train of populism and anti-Washington sentiment.

As for the increasingly likely outcome that Iowa and New Hampshire will produce a two-way choice for Republicans, South Carolina Senator Lindsey Graham likens the choice to being "shot or poisoned."

Related Thursday Review articles:

Sanders' Lead Widens in New Hampshire; R. Alan Clanton; Thursday Review; January 20, 2016.

Is Cruz Eligible to Serve as President?; Keith H. Roberts; Thursday Review; January 13, 2016.