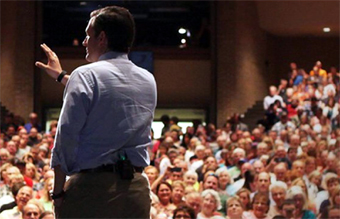 Image courtesy of Ted Cruz for President
Cruz Leads Trump in
NBC News/WSJ Poll
| published February 18, 2016 |
By R. Alan Clanton, Thursday Review editor
New polls show that Texas Senator Ted Cruz has snatched the title of front-runner from the GOP's longstanding poll leader, businessman Donald Trump.

A new NBC News/Wall Street Journal poll reveals that Cruz has surpassed Trump among Republicans nationally, the first major dent in Trump's polling dominance since late last summer, when former HP CEO Carly Fiorina and retired neurosurgeon Dr. Ben Carson each briefly challenged Trump's lead. Cruz is the first candidate to actually best Trump in a major poll conducted by a major news organization.

The NBC News/WSJ poll shows Cruz pulling in roughly 28% support from among all Republicans nationally, with Trump a close second with 26%. Florida Senator Marco Rubio is in third place with 17%, followed by Ohio Governor John Kasich in fourth place with 11%. Carson remains steady in fifth place with 10%, relatively unchanged since a similar NBC News poll late in January.

Only weeks ago, former Florida Governor Jeb Bush was at the start of what he and his campaign strategists had hoped was a surge—one that might finally catapult Bush back into the top tier. But the NBC News/WSJ numbers show Bush in sixth place and stuck in single digits, with only 4% support nationally. Bush and his campaign team still hope to beat the expectations game in South Carolina, where traditional and "establishment" GOP support runs strong, where the Bushes have performed well in past primary battles, and where several Bush family members have been campaigning hard for over a week.

But Trump still maintains a solid, almost insurmountable lead in the Palmetto State, where the fight for second and third place—as it was in both Iowa and New Hampshire—continues to take on outsized importance.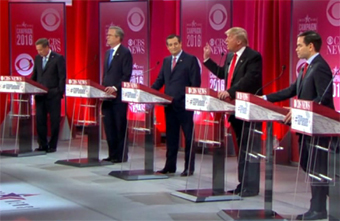 Image courtesy of CBS News/CBSN
Polling experts and political analysts are in wide disagreement as to whether the new numbers represent the start of some sea change—GOP voter disaffection with Trump—or if the new numbers represent what pollsters call a "pause" in solid support. The so-called experts have been confounded by Trump's dominance for more than eight months, and the political pundits and pols have become reticent to predict major erosion in support for Trump after months of the billionaire defying both the odds and the talking heads.

Trump has generally bounced back quickly after previous voter "pauses" following less-than-stellar debate performances or other mishaps by Trump. The newest NBC News/WSJ poll is the first major poll in which calls commenced one full day after the most recent debate, in which Trump sparred bitterly and often contentiously with several other candidates on the stage, most especially Cruz. Cruz has emerged as the chief rival to Trump, though both candidates express hostility toward "the establishment" of the GOP as well as antipathy toward Washington.

The NBC News/WSJ poll was conducted February 14-16 by surveying the opinions of more than 800 registered Republicans and 400 voters in upcoming GOP primary and/or caucus states.

Cruz has embraced the poll as evidence that the conversation he has sparked among Republicans has caught on, and that his message is resonating with GOP voters nationally. Some analysts suggest, however, that the poll may also be expressing continuing uncertainty on the part of many Republicans about supporting Trump for the long haul; by this thinking, many GOP loyalists will eventually migrate back toward a more traditional candidate, and for now, Cruz is the next best thing to a candidate who meets the criteria of "traditional," while also espousing the increasingly popular anti-Washington themes.

Trump, on the other hand, at first dismissed the new polling data as inaccurate, then, later denounced the polling as "phony" and a "joke." Citing other polls which still show him leading nationally (though those polls were commenced before the most recent debate), Trump says that the NBC News/Wall Street Journal poll is out of step with other surveys.

"Amazing that while I lead by big numbers in the new Q [Quinnipiac University] and USA Today polls," Trump tweeted on Thursday, "all the press wants to report on is the phony WSJ/NBC poll."

In recent weeks, Trump's numbers have been inconsistent from one poll to the next, despite similar methods of deriving the data from among potential GOP voters and registered Republicans nationally. For example, a recent CBS News poll showed Trump with a double digit lead over Cruz (38% for Trump, 18% for Cruz, with Rubio at a close third with 12%).

The wild variables regarding where Trump stands in the polls tends to confirm the views of the most skeptical numbers experts, who point out that for much of last summer and fall Trump has tended to generate complex, mixed feelings among those who identify themselves as Republicans. Trump often leads in the GOP poll numbers even as he tends to generate the highest level of "unease" and uncertainty among the same sets of voters. The moodswings among Republican respondents also exposes the difficulty most in the GOP find in decisively backing any one of Trump's many rivals; without a single anti-Trump to galvanize the GOP faithful, the race remains fluid, if not highly unpredictable.

Even the outcome of the South Carolina primary may forestall an inevitable crystallization behind a candidate other than Trump, and Super Tuesday could produce no clear winner.

What remains a certainty is that Bush now faces an increasingly difficult struggle in the weeks ahead. If Bush is able to make a dent into double-digits in the Palmetto State on Primary Day, he can survive to fight another day. If he lands in last place, behind Carson or Kasich, Bush may find it a challenge to remain relevant in a race which can only become more expensive with each passing day.

Meanwhile, Trump is still repeating his threat to challenge Ted Cruz in court over the issue of Cruz's eligibility to run for President. Trump has changed the terms of the threat in recent days, demanding that Cruz pull certain negative TV ads which highlight Trump's changing positions on issue like abortion and health care. Cruz has in effect dared Trump to file a lawsuit over the ads or the birther issue, and suggests that Trump is simply angry because he is not able to bully his way to the Presidency.

Related Thursday Review articles:

Republican Candidates Engage in Explosive Debate; R. Alan Clanton; Thursday Review; February 14, 2016.

Democratic Debate on PBS: Wall Street Still a Thorny Issue; R. Alan Clanton; Thursday Review; February 12, 2016.