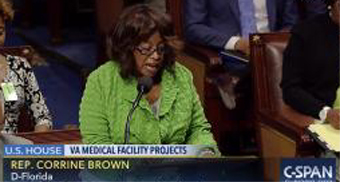 Image courtesy of C-Span
Can Corrine Brown Survive This
Legal and Political Storm?
| published July 31, 2016 |
By Earl Perkins, Thursday Review feature editor
A Florida Congresswoman with a penchant for surviving scandals and political fights, and a track record of rebounding politically, is now facing her most serious challenge—defending herself against charges by federal prosecutors that she engaged in mail fraud, wire fraud, conspiracy, corruption, embezzlement and a host of financial shenanigans.

That same Congresswoman—a so-called super delegate—had appeared only days ago in Philadelphia, where Democrats were meeting to nominate Hillary Clinton, and Brown told reporters she intends to fight every aspect of the legal case, which she describes as a political witch hunt. Rep. Corrine Brown of Florida, and her chief of staff Ronnie Simmons, are looking at more than 350 years apiece in prison and massive fines drawn-up in a 24-count federal corruption indictment.

However, the fate of Brown and Simmons could possibly be sealed by close friends and relatives who are being pressured for information by federal investigators who claim the duo bilked almost $800,000 from people who donated to One Door for Education, an unlicensed charity based in Virginia, according to News4Jax, First Coast News and other media outlets.

The Feds don't usually indict people until a massive, substantial pile of evidence is compiled—and that means the case could draw in numerous other parties to testify and still others who can be pressured to cooperate with investigators. Carla Wiley, former Executive Director of One Door, admitted accepting money from the company and is now cooperating with authorities, hoping for leniency on potential punishment. Others almost certainly emerging as defendants or government witnesses are Brown's daughter, Shantrel, Simmons' sister, Monica Simmons Isom, and Von Alexander, owner of an advertising agency and long-time associate of the congresswoman.

Brown—who has secured additional legal counsel—left the federal courthouse in Jacksonville last week without making any comments to reporters and after her attorneys convinced the court to postpone her next hearing until August 9. That action came on the heels of prosecutors turning over 35 computer discs with 77,000 documents scheduled for introduction at trial.

Brown and Simmons, her chief of staff since 1993, were indicted July 6 for using One Door, a bogus charity advertised as a scholarship fund supposedly designed to help disadvantaged youths that was in actuality a personal slush fund, according to court documents. Though the non-profit raised more than $800,000, it apparently awarded only one scholarship valued at about $2000. The rest of the cash was used, according to investigators, illegally, and for mostly personal purposes.

At Brown's first appearance two weeks ago, one of her attorneys, Bill Sheppard, told U.S. District Judge James Klindt that he was unsure if his firm would be able to represent Brown in the case going forward. No reason was given, but there's a fair chance—according to some legal experts—that fee negotiations have become a factor.

It seems the cost for representation on a case this complicated could easily exceed a half-million dollars, and once an attorney files a notice of appearance, federal court will not allow the attorney of record to withdraw defense for nonpayment, according to attorney Curtis Fallgatter, formerly a federal prosecutor in Jacksonville for 17 years.

"Federal cases are very time consuming and take a lot of research," Fallgatter said. "But in federal court you cannot get out for a client's nonpayment." That may be why Sheppard is seeking a pre-emptive removal of his firm from the case, before the court locks him into sticking with Brown to the end of what could turn out to be an expensive case.

Klindt said at Tuesday's hearing that settling who will represent Brown is critical, adding that things move rather quickly in federal court. Brown also has the right to seek indigent status and ask for a court-appointed defense attorney. Several regional and local media attempted to get an answer to that question late last week, but their inquiries went unanswered—a harbinger, perhaps, of what may become a serious legal battle for Brown.

Prosecutors seem to believe that they have an airtight case against Brown and Simmons, following a months-long federal investigation into the One Door charitable group, and essentially accusing Brown, Simmons and Wiley of using the non-profit (which was apparently never properly registered in the states where it conducted its business) as a private slush fund to pay for plane tickets, luxury vacations, a luxury box at a Beyoncé concert, personal vehicle repairs, among other things.

Brown and Simmons are the only people specifically named in the indictment thus far, but anyone slightly familiar with their associations can easily identify the players. Information in court documents allege Shantrel Brown and Isom financially benefitted from the charity slush fund. Alexander was the other person who may have illegally benefitted from the scheme, and all three will probably appear as witnesses, according to Fallgatter.

"One would think it would be fairly unlikely this would have a third chapter on indictments on those people," he said. "The government has to make strategy decisions. Why and how did they cast their net? How many people do they want to try to get the jury to convict?"

Simmons' sister, Isom, is a fourth-grade teacher at Joseph Finegan Elementary School in Jacksonville and has worked for the Duval County School District for 25 years. She was also listed as Corrine Brown's employee, receiving $735,000 in pay and benefits from the House of Representatives for a job that didn't exist, according to court documents. Prosecutors also claim Isom funneled money to her brother for personal expenses, including a boat and credit card payments.

And although the federal government cannot compel close relatives to testify against each other, there's a good chance Simmons' sister will testify, according to Fallgatter.

"If it's true she received funds she wasn't entitled to, she's involved in the theft also, so she could be prosecuted," he told reporters. "She's entitled to take the Fifth Amendment, but the government could immunize her and compel her to testify against her brother."

Shantrel Brown is also in a difficult position, because it seems $8,900 was transferred from a One Door account into her personal bank account, according to News4Jax. You would think she'd have more sense than to find herself on the business end of a federal lawsuit, considering that she has a law degree, is a former assistant state attorney and lists her present occupation as partner at a Washington, DC law firm.

"They might want to call her as a witness, might use documents, use federal witnesses," Fallgatter said of Shantrel Brown.

It would not be the first time Shantrel Brown was under close legal scrutiny. In fact, I would be keeping my head down after all the negative publicity over her accepting a luxury automobile from African banker Karim Pouye in 1998—a Lexus valued at $50,000, which almost matched her total annual salary. That fact came on the heels of her mother strongly lobbying U.S. Attorney General Janet Reno to allow Pouye's associate, West African millionaire Foutanga Dit Babani Sissoko, to leave custody in the U.S. and return to his home country, where he would again have access to his wealth and personal businesses. Back then, Sissiko was charged with Bribing a U.S. Customs Official.

Other past indiscretions attached to Brown include allegedly failing to disclose a $10,000 donation from a secret Wisconsin bank account that her friend, Baptist leader Henry J. Lyons, allegedly used for money laundering during her 1996 re-election campaign. The House Ethics Committee eventually cleared the congresswoman of wrongdoing in that fracas.

Rep. Brown was also forced to pay a $5,000 fine to the Florida Ethics Commission in 1993 after it discovered she used legislative staff members as employees in a travel agency she owned. Another blip on the radar included the time Brown's campaign treasurer quit after discovering his name was forged on campaign reports, which lead to a rebuke from the Federal Elections Commission.

Brown has run awry of local and federal authorities numerous times during her public career, but this latest lawsuit is by far the most high-profile saga involving the long-time Northeast Florida congresswoman. She and Simmons are charged with participating in conspiracy to commit mail and wire fraud, multiple counts of mail and wire fraud, and concealing material facts on required financial disclosure documents.

She is also charged with obstruction of due administration of Internal Revenue Service laws and filing false tax returns. Simmons is also charged with theft of government property. His next required court appearance could be at trial, which is scheduled to begin September 6. However, the trial most likely won't begin before the November general election, and will most likely be pushed to next year, according to Fallgatter.

As if the public firestorm brought on by a federal indictment wasn't enough to overload Corrine's plate, a salacious story concerning Brown's family and another high-profile federal case has emerged. Rick Pitino, University of Louisville basketball coach, was evidently extorted by a woman who had a relationship with Tyree Fields, who is married to Brown's daughter, Shantrel.

Fields married Shantrel Brown in Jacksonville in 2005, but three years later he had an "intense sexual relationship with (Karen) Sypher," he said. The congresswoman's son-in-law also testified against Sypher, revealing that she admitted her extortion attempt to him, according to USA Today.

Sypher was sentenced to seven years and three months in prison for attempting to extort cash and other items from Pitino in exchange for silence on rape allegations. Fields' testimony also acknowledged he met Sypher at a mall in 2008, and that's when their sexual relationship began.

But the incredible story stretches back to 2006, when Fields, just months after marrying Shantrel, was tied to a highly-questionable paper trail linked to Corrine Brown, according to the Orlando Sentinel.

Some political observers have noted that Brown is facing a so-called perfect storm of adversity, including a radically redrawn congressionally district, re-worked after a successful challenge to the fairness of her previous district, an elaborate and serpentine district which stretched from parts of Jacksonville's north side down into parts of central Florida. The voting population of her previous district was mostly African-American, but her new district stretches from the same part of Jacksonville westward toward the eastern edge of Tallahassee, a more racially mixed region (some areas within the district are largely white) deemed by the courts to be a more reflective of the state's ethnic makeup.

Brown is being challenged in her newly redrawn district by Al Lawson, another political pro with deep legislative experience and roots in the political structure in Tallahassee.

Related Thursday Review articles:

Corrine Brown's Indictment; Earl Perkins; Thursday Review; July 23, 2016.

Corrine Brown's Legal Problems Deepen; Earl Perkins; Thursday Review; July 12, 2016.