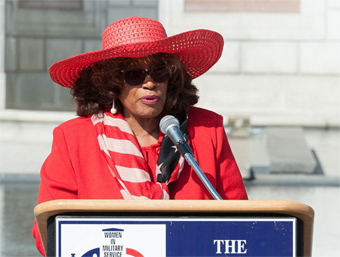 Photo courtesy of Corrine Brown U.S.Congress
Can Brown Secure Adequate
Legal Team?
| published August 21, 2016 |
By Earl Perkins, Thursday Review features editor
Prominent civil rights attorneys Betsy White and Bill Sheppard were the first to turn their backs on U.S. Rep. Corrine Brown following her July 8 indictment on tax fraud and wire fraud, conspiracy and corruption, among other federal charges. White and Sheppard had represented Brown at various stages of her rapidly-moving defense in a case which, so far, has the markings of a slam dunk for federal prosecutors.

After Sheppard's departure, internationally-acclaimed litigant Greg Kehoe of Miami-based Greenberg Traurig arrived, appearing on her behalf at a key hearing, according to WJXT, Florida Politics and other media outlets. But Kehoe, apparently, was able to stomach the association for only that single hearing and a couple of strategy meetings.

Finally, Orlando ambulance chasers Mark NeJame and David Haas filed paperwork Tuesday to represent the long-time Northeast Florida congresswoman, their work lasting but two days before withdrawing for "irreconcilable differences" and "an atmosphere of hostility and distrust." In short, Brown has churned through multiple attorneys and legal teams—five total changings of the guards in only about 5 weeks.

In light of these facts, the U.S. Attorney's Office has expressed serious concerns about Brown's ability to defend herself in the federal corruption case, prompting Assistant U.S. Attorney A. Tysen Duva to file a response Thursday which would require Brown to appear and explain her lack of legal representation. Judge James Klindt has compelled Brown and one of her attorneys to appear in court this Tuesday afternoon for a status conference—legal meeting in which issues of scheduling and preparedness are discussed with all parties involved, but in this case, at which time it will be decided whether the case can move forward at all.

Federal defendants typically secure a team of attorneys or have defense counsel appointed before they're arraigned, but Brown still lacks counsel more than five weeks after arraignment. Her lack of representation makes the court deadlines for the case unrealistic, according to Duva.

"Brown must secure representation (lasting longer than two business days) so the court and the government can meaningfully participate in case scheduling discussions," Duva wrote.

The government plans to compel the 12-term congresswoman to either represent herself, or name legal defense counsel which she agrees to reimburse for attorney fees. And I like the way Haas' worded his motion to withdraw from the case on Friday:

"A material and significant difference of opinion exists as to case management and the needs of counsel to properly prepare with the client and the client's availability," the motion read. Also, the legal team apologized to the court and said they "are prepared to appear before the court to explain this unfortunate and unusual set of circumstances to the court in greater detail."

I'm not exactly sure what that means, but it seems to strongly suggest they told her the case is unwinnable, that she regards even her legal allies as adversaries, and that her finances preclude them from ever getting paid. Federal cases like the one facing Brown can turn immensely expensive over time, and also mandate that the client develop a rapid and complete rapport with the attorneys representing them, as well as supporting an atmosphere of trust. Haas, like previous legal counsel, may have also suggested that Brown consider a variety of plea bargain options—talk which may have rankled Brown, who has said that the case is little more than a political vendetta.

But in the end, Brown's lack of cash may scare off all but the most adventurous of attorneys and law firms.

Curtis Fallgatter, a long-time former federal prosecutor not connected to the case who studied financial disclosures prior to her July indictment, noted Brown's assets included between $2,000 and $30,000 in the bank, along with a $174,000 salary from Congress, which is contingent on her winning re-election this fall.

However, the long-time Northeast Florida political fixture faces daunting opposition in the August 30 Democratic primary, along with potential Republican opposition in the November general election—all in a district substantially redrawn after a court ruled her previous black-majority district was gerrymandered and unconstitutional. Brown faces arguably her toughest political opponent to date: Al Lawson, a seasoned Tallahassee legislator with a track record of winning elections and a gift for reaching across party lines.

For many of Brown's potential attorneys, getting paid at all looks to be a serious challenge. Brown's personal finances are strained, at best. Three outstanding home mortgages—in Jacksonville, Fernandina Beach, and Virginia—could possibly exceed $1 million, coupled with personal loans totaling between $15,000 and $50,000. But at least she may see a small windfall, as Haas said the NeJame Law firm would return all fees thus far received from Brown, so she "has all available resources to retain counsel" based on this refund of sorts.

The lifelong Florida Democrat, along with Ronnie Simmons, her chief of staff since 1993, are accused of using an unregistered charity to raise $800,000 that prosecutors said was used almost exclusively as a personal slush fund. Of the money raised for scholarships and educational assistance, only one scholarship was awarded for $2000. Brown and Simmons face 22 federal charges, including counts of conspiracy and violation of tax laws, along with mail and wire fraud. Simmons has remained fairly quiet concerning the high-profile accusations, while Brown has rushed headlong toward every microphone or television with an illuminated red light.

Thursday night's debate at Jacksonville University allowed candidates for Florida's newly-redrawn 5th Congressional District to showcase their resumes and backgrounds, also giving the incumbent congresswoman a platform to state why voters should send her to Washington a 13th time.

Lawson, a fourth-generation Floridian and long-time small businessman and politician, easily outshone Brown and relative newcomer Lashonda (L.J.) Holloway. He's worked well with Democrats and Republicans for decades while burnishing a fine resume and reputation for hard work.

On the other hand, when the lights shone brightly before a huge audience in person and on television, Brown became paranoid, hateful and lashed out at detractors, eventually going totally off the deep end during a post-debate presser which turned into a mental scrum between her and assembled media types.

"What if I said I thought you was a pedophile? You'd think something was wrong with me," Brown said on the debate stage. Probably thinking she was speaking into microphones directed only at her constituents, she later repeated the statement a couple more times following the debate—lest the reporters missed the debate. In her defense, the scribes did evidently toss out questions concerning her legal problems, financial woes, and finally, where the buck stops concerning her accountability associated with the disappearance of almost $800,000 pilfered from One Door for Education, the organization she trumpeted as a charity designed to help disadvantaged youths.

"If I said 'young man, you a pedophile,' that's a charge," Brown told a reporter. "Because somebody makes an accusation against you doesn't make you guilty."

After reporters mentioned that there's a sizable difference between hushed accusations and a 49-page federal indictment detailing dozens of transactions covering almost four years, she turned on the media, which has been a common tactic employed throughout her political career.

"I'm not going to say y'all lazy, but you need to do your job," Brown said, ignoring a question concerning liability over malfeasance concerning the One Door for Education fiasco. She then followed up a third time with the pedophile analogy, finishing by referring to the charges as "some bullshit," and a "Peyton Place witch hunt."

Then came a reference comparing her plight to that of former Washington, DC mayor Marion Barry, arrested in 1990 for smoking crack cocaine in a DC hotel room, then muttering "[expletive deleted] set me up" repeatedly. He denied a video of the incident existed, but it's trending right now on social media.

"The prosecutors told one of my attorneys that Corrine Brown wouldn't win re-election," saying she was "just like the mayor of DC."

However, smelling blood in the water, reporters followed up with a not-so-subtle question about $25,000 being very lonely in her cash-on-hand campaign fund, and what about losing her third set of lawyers? An exhausted Brown then sat down, acknowledging she was having cash issues.

"It's a very challenging balance running a campaign and [paying] legal bills," she said, "but I've done everything I need to do to campaign."

Her final line was the claim that she has a "lean, mean [legal] team," which forces us to ponder whether any other litigants will even consider being associated with her cause.

Brown is facing lengthy prison time, millions on fines, and some $900,000 in restitution if she is found guilty on all counts in the federal case. Legal experts TR reporters have spoken to have stressed that federal prosecutors are generally risk averse—meaning they rarely go into court without a case already deemed ironclad.

Oh, I'm telling you, this one isn't going to end well—if your name is Corrine Brown.

Related Thursday Review articles:

Corrine Brown Intends to Fight for Political Survival; Earl Perkins; Thursday Review; August 14, 2016.

Can Corrine Brown Survive This Political Storm?; Earl Perkins; Thursday Review; July 31, 2016.