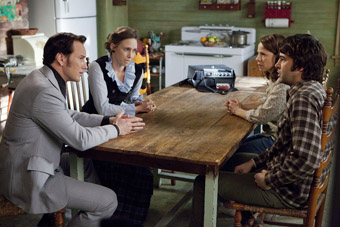 Image courtesy of New Line Cinema
The Conjuring: Festival of Fright
Movie review by Lori Garrett | published Sunday, July 28, 2013 |
Thursday Review Contributing Writer

Well, there was a clear winner at the box office this weekend: The Conjuring. This fright-fest took home $41 million, more than double the amount it cost to make. Its competitors, Turbo (opening gross: $31 million, cost: $135 million) Red 2 (opening gross: $6 million, cost: $84 million) and the highly anticipated R.I.P.D (opening gross: $12 million, cost: $130 million) were flops in comparison.

The Conjuring is directed by James Wan of Saw and Insidious fame, and stars Lili Taylor, Ron Livingston, Patrick Wilson and Vera Farmiga. It is supposedly based on a true story that happened to the Perron family in Harrisville, Rhode Island during the 1970's. The 'true' occurrences actually lasted over a nine year period, but it was cut down to a few weeks for the sake of the film.

Ed (Wilson) and Lorraine (Farmiga) Warren are real paranormal investigators whose career spans for more than 50 years. The Conjuring is just one of several films based on their case work-the Amityville Horror being one of the more famous, and more controversial. Together they founded the New England Society for Psychic Research, the oldest ghost hunting group in New England. Lorraine still runs a small museum for the paranormal out of her Connecticut home, and has continued with paranormal investigations in honor of her late husband, who passed away in 2006.

The Conjuring got its 'R' rating for terror. Not blood. Not violence, nudity or cursing. It's just that scary. And audiences around America are agreeing-this just may go down as one of the most frightening movies of our time. Personally, I am a horror fanatic, and usually don't scare easily during a movie. But this one…made me cringe. It made me scream. It made me and my friend simultaneously attempt to jump into one another's laps.

Cinematically, this film is beautiful. The camera movement and angles create the kind of high anxiety that you usually only see in great Asian horror films. The actors, even the young girls, were convincing, and the writing was spot on, avoiding most clichés. The marketing was genius- teaser trailers that only revealed a few moments of one scene, and later they released audience reactions to the film coupled with just a little bit more of the movie itself. Don't worry-I'll honor that and not spoil any of the movie for you.

There are a few detractors of the film, saying it borrows from its predecessors, like the afore mentioned Amityville Horror, Poltergeist, and The Exorcist. To them I say this--there is nothing new under the sun, and there is nothing new with the things that go bump in the night. Just go enjoy a night of terror with someone you love.