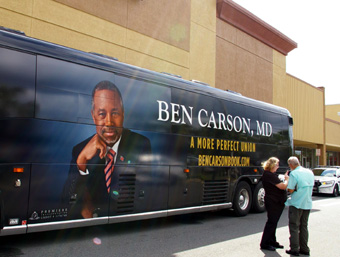 Photo by Thursday Review staff
No Do-Over in Iowa, Despite Squabble Over Cruz & Carson Votes
| published February , 2016 |
By R. Alan Clanton, Thursday Review editor
Barely had the dust settled and the snow begun to melt in Iowa than the intense political battle moved into New Hampshire, which holds it primary on Tuesday. So long Iowa, first-in-the-nation to vote—and see you again in four years.

But wait. Not so fast.

It seems a few candidates are already asking for a do-over back in the Hawkeye State, claiming foul play was used to steal votes, divert voter attention, and skew the outcome of the election. Call it the fog of war.

At least four candidates are accusing Iowa's big winner—Republican Senator Ted Cruz—of outright misrepresentation and fraud, and GOP front-runner Donald Trump, along with retired neurosurgeon and author Dr. Ben Carson, want Iowa's caucus results stricken from the record books. Florida Senator Marco Rubio, who declared his own kind of moral victory for his better-than-expected third place finish in Iowa, said that if the allegations about Cruz prove correct, it confirms what he has said all along about the Texas Senator—that Cruz will say anything and do anything to get elected.

Cruz and his staffers, several of the other Republican candidates say, was the party responsible for starting a rumor between the midnight hours of Sunday and the wee hours of early Monday that Carson was considering—or perhaps already preparing—to drop out of the GOP race for President.

That rumor—which was unconfirmed by news sources during the day—went viral within hours, spreading like wildfire across the internet and moving rapidly though the chatter between campaigns and the talk between potential caucus-goers all over Iowa. (Thursday Review can vouch for the impact of that rumor almost from the moment the sun rose on Monday; editor Alan Clanton received text messages at 7:30 a.m. from friends in Alabama and Georgia asking if he knew what was going on with the Carson campaign, and had it been, in fact, suspended; another friend in Ohio also quizzed us if we had heard "any news on Carson" from our sources).

Trump has spent almost as much time since his arrival in New Hampshire talking about Iowa than about things on the near-horizon (like New Hampshire, where Trump leads in most polls).

The billionaire real estate mogul wants to declare the Iowa results invalid, and has even threatened to take legal action in needed. Speaking at an event in Barton Coliseum in Little Rock, Arkansas this week, he told a massive crowd of more than 11,000 supporters that he believes he was the real winner back in Iowa, and went so far as to suggest that the whole thing be done over.

The charge was a part of a long thread of narrative begun by Trump hours after he offered a gracious and conciliatory speech conceding Iowa to the night's big winner, Cruz, and offering a few kind words to all the other Republican candidates, including Mike Huckabee, who had an hour earlier withdrawn from the crowded field. Iowa ended badly for Trump. He placed a distant second to Cruz, and managed only barely to beat back a surging Marco Rubio, who came within one percentage point of taking second place.

Trump's brief moment of magnanimity lasted only about 120 minutes, and by the wee hours he was starting to lash out at Cruz. By early morning Tuesday, he was on a roll, angered at those rumors about Ben Carson, and angrier still that Cruz had allegedly shunted thousands of mostly evangelical caucus-goers into his column using trickery and misinformation.

Iowa delivered Cruz roughly 27.5 percent of the total GOP vote, and gave Trump a modest second place finish at 24.3 percent. Rubio came in an extremely close third place with 23.6 percent, putting him within one percent of stealing Trump's second place thunder, and delivering exactly what Rubio had hoped for—a rightful claim to the highly-coveted "third" place, an island of stability for the traditional and "establishment" vote.

But Trump says that by his calculations, Cruz diverted enough votes—using phony "voter violation" mail pieces and the promulgation of the Carson campaign collapse rumors—to deprive him of an outright victory in the Hawkeye State.

"Actually, I think I came in first," Trump told the crowd in Little Rock this week. Trump has repeated the claim to several newspapers and during several radio station interviews throughout parts of Tuesday and Wednesday.

Although Trump is still expected to do well in New Hampshire, where polls have shown him leading others in the GOP for months, his campaign team has started downplaying expectations—a move crafted to avoid the same problem Trump ran headlong into in Iowa, where despite his frequently bold predictions of success, he fell short. Iowa showed that Trump could underperform, and his challengers greatly over-perform—a concept embraced by some mainstream Republicans but a theory viewed askance by professional pollsters. Cruz's wide victory in Iowa and Trump's loss showed that many polls may be unreliable measures of how voters will truly act on primary or caucus day.

Some analysts have suggested that GOP-inclined primary voters may begin to migrate more substantially away from Trump if they see other candidates emerging as potential serious contenders.

Meanwhile, anger over the caucus-day misinformation—and some of the rumors which began swirling as early as the night before—still have some folks' blood pressure elevated.

On Tuesday, Carson called for Cruz to fire any campaign staffers involved in the phony news that Carson had dropped out of the race for President. Carson's concern is that many of those reports of his withdrawal were circulating at their most intense as people were preparing to travel to their caucus locations, and in some cases, Carson supporters were being told of Carson's imminent departure from the race during caucuses.

At about 7:20 p.m., as caucus-goers were convening, Cruz national co-chairman Rep. Steve King, tweeted messages indicating that news sources were telling them that Carson was hours away from pulling the plug, and that supporters should be aware that they had the option to defect from Carson to Cruz. Another staffer, Spence Rogers, amplified King's comments, sending messages directly to precinct captains informing them that Carson was "taking time off from the campaign trail after Iowa, and making a big announcement next week."

Carson's people suggest that untold hundreds of voters—perhaps thousands—may have been deliberately shepherded away from Carson and voted instead for Cruz.

"I think whoever is responsible for [this] blatant lying should be dismissed, absolutely," Carson told CNN's Jake Tapper, "unless that kind of behavior is acceptable in your campaign culture."

Cruz offered an apology of sorts, and the campaign explained that the cause of the rumor came from incorrect and unvetted press reports—based on Carson's purchase of airline tickets to Florida, instead of New Hampshire—as prima face evidence that Carson was in the early stages of suspending his campaign. Cruz staffers ran with that rumor, spreading it rapidly via email and social media, and within hours it had traveled to all corners of the known political universe. The Cruz campaign defends its actions as simply repeating what was already being repeated (incorrectly) by some media sources.

Carson says he intends to fight on. Nevertheless, Cruz offered an apology to Carson, and Carson accepted. But the retired neurosurgeon expresses concern that there are cultural problems within the Cruz campaign.

Iowa also brought about not only the end of Huckabee's campaign, but also—days later—the campaign efforts of former Pennsylvania Senator Rick Santorum and Kentucky Senator Rand Paul. On Wednesday, both candidates suspended their campaign efforts.

Paul had performed almost exactly as the polls had predicted, bringing in about 4.5 percent of the total caucus vote, and sliding in in fifth place in the crowded field, ahead of Jeb Bush and Chris Christie. Paul had been an early contender in the GOP race for 2016, and had entered the contest with high expectations, riding the crest of the "freedom movement" within the Republican Party. Paul had also been an early combatant to Donald Trump, and almost from the first televised debate seemed willing to challenge some of Trump's most outrageous and controversial statements. Paul had famously called Trump "a delusional narcissist," and often told voters that trump's conservative credentials were faked.

"It's been an incredible honor to run a principled campaign for the White House," Paul said in a statement to the media on Wednesday, "Today, I will end where I began, ready and willing to fight for the cause of liberty."

Meanwhile, the RNC has made no official statement on the complaints about the Iowa voting, nor has it publicly addressed concerns raised by Trump, Carson, Rubio and the others. A do-over in the Hawkeye State is unlikely, and even if the shenanigans concerning rumors of Carson's withdrawal are proven to have originated with Cruz's staff, it is not clear that the RNC or state officials in Iowa can do anything about it. RNC chairman Reince Priebus has said he does not intend to get drawn into a feud between Cruz and Carson over the Iowa results. Priebus said he has looked into the matter, and that he accepts the explanation for the sequence of events that took place "behind the scenes."

"I think you take them at their word for," Priebus told CNN, "and we move on to the next state."

Related Thursday Review articles:

Iowa: Cruz Surprises Trump; Rubio Finishes in Strong 3rd Place; R. Alan Clanton; Thursday Review; February 4, 2016.

Clinton-Sanders Iowa Tie: A Win for Clinton, A Win for Sanders; R. Alan Clanton; Thursday Review; February 4, 2016.