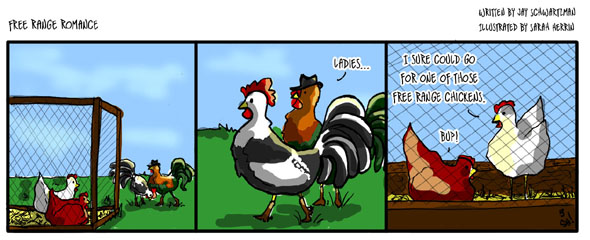 The Ultimate Library for the Cartoonist
By Earl H. Perkins | published Friday, January 3, 2014 |
Thursday Review Associate Editor
It was a long time coming, but historians have finally caught up with me and agreed that cartooning is an art form. My parents pushed me to finish college from the day I was born, so I had to pick and choose my battles.

This event was even bigger than the time I told them I might consider the pursuit of a 4-year degree in Garbology.

All the way through school, teachers would invariably whip out the list, and you were forced to choose a topic and write a paper concerning that subject. My hand was always the first to shoot up—while I was still scanning the paper. Cartooning was the word I was always looking for, and someday I knew the pointy-headed eggheads would come around.

I hate the thought of visiting foreign soil at The Ohio State University, but they have baited me up, according to the Associated Press. This incredible art form has finally found a home, ensconced in the Billy Ireland Cartoon Library and Museum on the OSU campus in Columbus.

"This is the stuff that makes me drool," said Cincinnati native Jim Borgman, the Pulitzer Prize-winning editorial cartoonist who draws Zits. "I enjoy art of all kinds, but it's as if cartoons were segregated for many years and not allowed into such hallowed halls.

"And this is kind of a moment of setting things right, I think, giving cartooning its due when it has been in the wings all these years."

Milton Caniff, he of Terry and the Pirates and Steve Canyon adventure strip fame, kick-started the project by donating an enormous amount of documents and original art to his alma mater in 1977. He and Lucy Shelton Caswell, library curator at the time,urged Caniff's friends to follow his example. Donations soon poured in from around the world, almost filling two journalism building classrooms, and eventually spawning the largest collection of cartoon art and artifacts in the Milky Way galaxy.

Almost all institutions of higher learning had ignored the genre since its inception, with most original comic strips being tossed out with garbage. Animation celluloid sheets, or cels, were almost always wiped clean and reused.

The museum houses more than 300,000 original strips, along with 45,000 books, 29,000 comic books and 2,400 boxes of manuscripts, fan mail and personal papers.

There's original artwork from Richard Outcault's Yellow Kid, from whence came the term yellow journalism, along with Peanuts, Pogo, Doonesbury, Dick Tracy, Blondie. You name it, and this museum has it if you're interested in any facet of cartooning.

There is a large gallery space for permanent and rotating exhibits of comics and cartoon art. The works are housed in a 30,000-square-foot high-profile area, primarily funded by Ireland and his family. The OSU grad was an editorial cartoonist for The Columbus Dispatch, helping pioneer the art form.

The museum's collection was fleshed out with the donation of a massive amount of comics and artifacts from the Mort Walker-founded International Museum of Cartoon Art in Boca Raton, Florida, when it was forced to close because of funding issues.

Walker, 90, penned Beetle Bailey and Hi and Lois cartoons during the 1950s, and he's quite excited about this turn of events, according to his son, Brian. The younger Walker, who has collaborated with his father on comic strips for decades, is helping organize one of the first exhibits.

I told my father, this is what we've all been working toward for 30 years. "It's kind of like the ultimate dream that we hoped would happen someday, where all this great artwork is being kept safely and archived and made accessible to the public."

Walker has written or contributed to three dozen books concerning the history of comics.