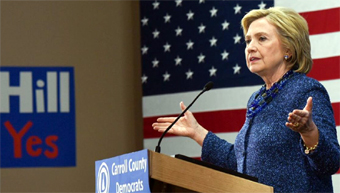 Images courtesy of Hillary Clinton for President
Clinton's Huge S.C. Win May be Reliable Barometer of Super Tuesday
| published February 29, 2016 |
By R. Alan Clanton, Thursday Review editor
Hillary Clinton's win in South Carolina wasn't just another victory to celebrate and another passel of delegates to be committed to her march toward the convention—it was a blowout. The former Secretary of State buried Vermont Senator Bernie Sanders three-to-one, taking almost three quarters of the votes of Democrats in the Palmetto State, and leaving Sanders with a paltry 26%—the Senator's worst score yet in his challenge to the presumed front runner.

But the word presumed may be an unnecessary qualified, even in the world of AP style and traditional media guidelines. Like the fragmented Republican race for President, it's beginning to look a lot like each party has their de facto nominee. The only major difference is that a now small handful of the GOP faithful still see a reason to fight on, at least as long as the cash flow remains active.

Sanders, however, may be operating on borrowed time. In the proportional delegate distribution mathematics now inexorably at work within the Democratic Party rules and in the states ahead, Clinton will begin to open up an increasingly wide lead in the delegate count, making it unlikely in the extreme that Sanders will catch up—even if he wins in several states on Super Tuesday.

Polls show that Clinton is poised to handily win (just as Trump is on the Republican side) at least seven or eight states on Super Tuesday, when a dozen states hold primaries or caucuses.

Sanders knew he would not do well in South Carolina, but he gamely and bravely did his best to try to level what was arguably his most challenging playing field. The Clinton strategists had said all along that there would be no reason to panic, at least until after South Carolina. In Iowa, Sanders battled Clinton to what amounted to a tie—a breathtakingly close race in which the outcomes in some precincts and counties was decided by coin toss. Sanders then delivered a stinging blow to Clinton in New Hampshire, where she and her surrogates had campaigned feverishly in an effort to avoid the sort of momentum meltdown that had effectively destroyed her candidacy in 2008, when then-candidate Barack Obama altered the template.

But Clinton bounced back in Nevada despite a few eleventh-hour polls showing the race tightening into another Iowa-type dead heat. In fact, word of that near deadlock in the Silver State may have lured Sanders and his team into the oldest gag in the political handbook of tricks: raising one's own expectations based solely only one or two polls (in this case, one of the polls came from NBC News/Wall Street Journal. When Hillary won Nevada roundly, it put a big dent in Sanders' ongoing appeal vis-a-vis his ability to rattle the establishment by pulling off shocking surprises.

Despite a lot of nervousness weeks ago—accompanied by lots of rumors of infighting and housecleaning in Camp Clinton, brought on by the combined wrath of Bill and Hillary angry at what was looking like a grim replay of 2008—Clinton's top strategists had said all along (nervously, perhaps) that the process would reset and reboot with South Carolina, a state with a Democratic base far more reflective of what to expect in the weeks and months ahead. Clinton surrogates had also said all along that once Sanders got out of the boutique states of Iowa and New Hampshire, his glory days were finished. Those top Clinton people can breath a sigh of relief; they get to keep their jobs, for now.

Clinton's massive win in South Carolina also shines a harsh light on the central problem Sanders has faced all along—extending his rarified message well beyond the young, the college and university students, the hard left, and the quasi-socialists like himself. Sanders may also be facing a serious drought in the weeks ahead as his core constituency—college students—rotate in and out of various spring breaks in some 14 states, tens of thousands of those young voters on the road in places like Panama City, Fort Walton Beach, Dayton and Ft. Lauderdale. Conversely, Clinton can now count on the very groups within the traditional Democratic base most likely to show up and vote in large numbers: African Americans, older white voters, and women over the age of 55.

The results from South Carolina not only reset Clinton's campaign, but have rebooted it in such a substantial way as to make the challenge now facing Sanders truly Herculean. Some polling experts suggest Sanders will have a difficult time making his case after Super Tuesday, when eleven states vote, with at least seven of them looking like potential Clinton landslides. Those big wins will deliver a treasure trove of delegates to Clinton's column, and leave Sanders with a big gap in the math.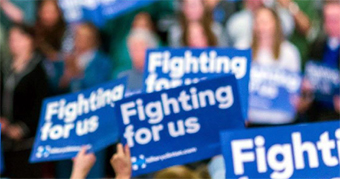 But Sanders argues his candidacy is a movement, not a campaign in the traditional sense. He is talking politics, he is talking revolution. Sanders, despite the uphill battle he will now face in March, still relies on the seemingly inexhaustible supply of energy and enthusiasm he taps from younger voters and from hardline progressives—the younger voices who crowd his bursting, noisy rallies, but also those progressives of a certain age now fully frustrated with what they see as a calcified, ineffective Democratic Party stuck in pointless moderation, inept deal-making with Washington Republicans, and purveyors of a weak message. At the core of Sanders' movement is income inequality and financial injustice—huge banks, investment houses and mortgage companies which, he believes, have rigged the system entirely to their advantage, and a narrow percentage of mega-rich who now control the majority of wealth in the country.

Sanders says he needs not point his finger any further than Hillary Clinton and those fat checks she received from—among others—Goldman Sachs, $675,000 in fees for three 20-minutes speeches, the transcripts of which neither Clinton nor the brass at Goldman Sachs particularly want seen in bright light. Sanders implicit message: Clinton is a creature of big money and Wall Street, and she represents a Democratic Party not very different from the Republican Party. Some Sanders' surrogates in the field even go as far as to paraphrase and echo the old cantankerous canon posited by Ralph Nader in 2000 and again in 2004: there is hardly a dime's worth of difference between the two major parties.

But that brings most Democrats back to the most vexing question, one faced by the rank and file members of both parties from time to time: out of fidelity to these principles, how far are we willing to go to wreck the political party by drawing it so far off center that it faces little chance in November? It's a valid question, one which Hillary has attempted to raise each day as she promotes herself as "a progressive who can get things done." Just ask how Sanders' relentlessly idealistic approach worked out for George McGovern in 1972.

But Sanders, while acknowledging that he got stomped in South Carolina (he admitted to NBC News that "we got decimated, that's what happened!"), says he would do no one any favors by suspending his campaign now, in effect abandoning the cause. He says he intends to move forward, and those close to his campaign say that as long as cash flow allows him to travel and advertise, he will remain active in opposition to Clinton.

Sanders has also picked up moral support along the way, and has benefitted from an internal quarrel—simmering for months but now bursting into the open—among the top brass of the Democratic National Committee. Over the weekend, DNC Vice Chair Tulsi Gabbard, a U.S. Representative from Hawaii, resigned her high-level post with the Party and endorsed Sanders, saying she will now work feverishly to support his campaign.

Gabbard has been one of several top ranking Democrats from the beginning of this election cycle who have favored a more robust, flexible, and open-minded debate schedule for Democratic Presidential candidates. Her support of additional debates has been in direct contrast to the position of DNC chair Debbie Wasserman-Schultz, who (along with her allies in the Party) has opposed additional debates, and have preferred more restrictive rules regarding who can participate in those debates.

The "debate about debates" traces its initial flares-ups to last summer, and has included numerous dust-ups between Wasserman-Schultz and former Maryland Governor Martin O'Malley, an early advocate of more debates, Rhode Island Governor Lincoln Chafee, and one-time candidate Lawrence Lessig, a Harvard law professor and author who was squeezed out of the early debates by what he said were intentional manipulations of, and alterations to, the rules governing candidates forums. Lessig, who raised more than $1 million dollars through crowdfunding in a short period last fall (Chafee, during the same period, only raised about $15,000, total), was nudged out of October and November debates after DNC officials re-interpreted the debate criteria in a way which Lessig said was akin to moving the goal post during the fourth quarter of a football game.

O'Malley has been occasionally more blunt, accusing Wasserman-Schultz and her DNC minions of running a rigged operation, and in essence managing the DNC as if it were a wholly-owned subsidiary of the Clinton campaign. O'Malley, like Sanders, said that the debate schedule has been deliberately micro-managed by Wasserman-Schultz to maximize support for Clinton, and to minimize opportunities for other Democrats to challenge the presumptive of Clinton as the de facto nominee.

Though officially, the resignation of Gabbard had nothing to do with the sometimes nasty infighting within the DNC, word from DNC's insiders suggest that Gabbard was fed up with what she too thought was a party process crafted to insure a Clinton nomination free of face-to-face competition and devoid of actual challenge. Gabbard made her endorsement of Sanders official on Sunday during an appearance on NBC's Meet the Press. She characterized the contest between Clinton and Sanders as a choice between experience and judgment, and suggested that Sanders has a track record of effective judgment calls in matters most important to Americans.

Gabbard's endorsement was seen by some experts as counter-intuitive; why endorse Sanders on the very heels of the Vermont Senator's stunning loss in South Carolina. But others suggest that the Sanders' campaign intends to chug forward relentlessly all the way to the convention. Sanders' own spokespersons point to polls which still show the national gap between support for Clinton and Sanders closing fast, tightening in many states which come after Super Tuesday. Sanders also personally points out to reporters that he expects to do well in New York and California, important big states which come substantially later than Super Tuesday. Sanders and his loyalists also point to fundraising efforts, which are still robust.

Still, some realists suggest that Sanders will have trouble after the end of this week explaining to voters why he should remain on the radar of Democratic voters in the upcoming primaries and caucuses. The question may come down to his final tally of votes and delegates by the end of the night on Tuesday, long regarded as the make-or-break moment for anyone expecting to seriously challenge Clinton for the nomination.

Related Thursday Review articles:

Clinton, Trump Have Wide Paths to Nominations ; R. Alan Clanton; Thursday Review; February 26, 2016.

Wall Street Takes Center Stage in Democratic Debate; R. Alan Clanton; Thursday Review; February 5, 2016.