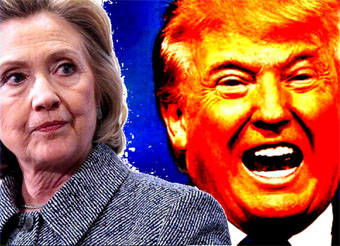 Illusrtation by Thursday Review
Clinton Weighs-In on Trump's Comments
| published August 10, 2015 |
By Thursday Review staff
If Donald Trump's politically-incorrect comments, hostile barbs at reporters, openly contentious debate style, and combative post-debate remarks were self-destructive, you would not know it from the latest polls.

According to a new poll just conducted by NBC News using the online tool Survey Monkey, Trump still leads the crowded Republican field with about 23% support from those who say they identify as Republicans. Ted Cruz comes in at a distant second place with just under 13%, and Ben Carson and Carly Fiorina slide in as the third and fourth place contenders out of the 17 major GOP candidates officially running for President in 2016. The same poll places former Florida Governor Jeb Bush near the bottom of the pack, not in second or third place as was the case just last week.

The poll may surprise some within the mainstream of the GOP, and certainly those top Republican strategists who may prefer that Trump either rein-in his commentary and raucous campaign style, or vanish from the race altogether. Trump slid quickly to the top of GOP polls earlier last month even as his often gregarious and unfiltered comments about Latinos and Mexicans seemed to drive a wedge between the GOP and the voting blocs it hopes to attract between now and November 2016.

The NBC News/Survey Monkey poll asked potential GOP primary and caucus voters to choose—assuming they could vote today—who they would like to see in the White House. The boisterous and often politically-incorrect Trump came out on top.

Some analysts, however, question the accuracy of a poll conducted using the web only—without any mechanism to filter and screen the participants to produce a statistically-accurate sample. Those who doubt the reliability of the poll suggest that traditional phone surveys generate much more accurate results; online polls tend to reflect social media trends and web patterns skewed toward activists or those already predisposed toward specific outcomes.

Still, the results indicate that Trump may not go away soon. His presence in the field has become a major distraction for the other 16 Republican candidates, all of whom must compete for media coverage and airtime, not only with each other in the crowded field, but also with the colorful Trump. Worse, Trump's particularly nasty war of words with Fox News commentator Megyn Kelly—which began immediately after the widely-watched debate last week—has sparked outrage over Trump's words about women and minorities.

The brouhaha has also spurred Hillary Clinton, while campaigning this week, to admonish Trump for his hostilities toward women, while also giving her a chance to use a wide paint brush to color all the GOP candidates as anti-women. But Clinton took her criticisms even further, choosing to specifically single out Florida Senator Marco Rubio.

Speaking in New Hampshire on Monday, Clinton said that Marco Rubio was as dangerous for women as Trump. Clinton was referring to Rubio's comments during last Thursday's debate when he disputed the claim that he never supported a ban on abortions with an exception for incest or rape. Rubio said instead that he advocates human life legislation that defines every stage of life as worthy of protection.

"In fact," Rubio added, "I think that law already exists. It's called the Constitution of the United States." Clinton compared Rubio's position to that of Trump's, suggesting that the Florida Senator is just as anti-women.

When NBC News reporter Andrea Mitchell challenged Clinton by pointing out that Rubio was in fact offering a sharp policy distinction between himself and the controversial comments of Trump, Clinton waved that distinction aside, and said she saw no significant difference between the verbal assaults of Trump and the policy point made by Rubio or the other Republican candidates.

"Yes, I know," Clinton said in response to Mitchell's question, "he [Trump] makes great TV. I think the guy went way overboard. Offensive…outrageous…pick your adjective. But what Marco Rubio said has as much of an impact in terms of where the Republican Party is today as anybody else on that stage."

Meanwhile, Republican candidates were campaigning feverishly across early primary and caucus states, attempting—wherever possible—to deflect questions about Trump and refocus their own conversations on their own campaigns.

Related Thursday Review articles:

Is Trump Destroying the Air Quality?; Thursday Review staff; Thursday Review; August 9, 2015.

Trump's War of Words on Women; R. Alan Clanton; Thursday Review; August 8, 2015.