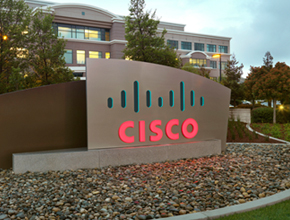 Used with the permission of http://thenetwork.cisco.com/.
Cisco Systems to Cut Up to 5,500 Jobs
| published August 19, 2016 |
By Thursday Review staff
Tech giant Cisco Systems says that falling revenue and financial shortfalls are forcing it to cut as many as 5,500 workers, or roughly 7% of its total workforce. The layoffs may begin as early as December 2016 and January 2017.

The San Jose-based Cisco Systems has seen a sharp drop in demand for its most ubiquitous products—routers and switchers—bringing with it about a 2% drop in revenue.

The reports of layoffs of up to 5,500 employees come by way of several reliable business sources, but some online tech journals were originally reporting that Cisco was considering cuts of as many as 14,000 employees—a figure now rejected by the company.

Cisco is facing what some consider its most formidable challenge: adapting to a dramatically shifting tech market as millions of businesses and personal-use computers shift from onsite services, hardware-based activities and network functions in favor of cloud computing. This major shift, which accelerated in 2015 and early in 2016, is rendering Cisco's main products—routers and switchers—obsolete.

Cisco officials say that the jobs cuts are a necessary component of the company's strategy to change direction and move into cloud computing—now one of the fastest-growing segments of technology and computing. Some of Cisco's biggest and previously reliable customers are large communications companies and tech-based giants. Cisco still performs well in the sale and development of "large-rack" systems for big companies and telecommunications providers.

Related Thursday Review articles:

Comcast Outage Impacts Millions on President's Day; Thursday Review staff; Thursday Review; February 16, 2016.

The Joys and Perils of the Driverless Car; Earl Perkins; Thursday Review; March 16, 2016.