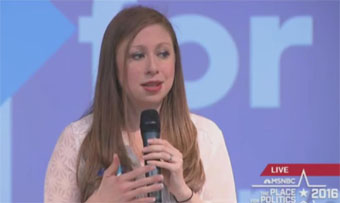 Image courtesy of MSNBC
Chelsea Clinton:
Scalia's Death Opens Door to Tougher Gun Laws
| published April 23, 2016 |
By Keith H. Roberts, Thursday Review contributor
Chelsea Clinton, daughter of Democratic presidential front-runner Hillary Clinton, said this week that the passing of Supreme Court Justice Antonin Scalia opens the door to tougher gun control laws in the United States.

Speaking at an event in Maryland, the younger Clinton said that with Scalia no longer offering crucial sway on the narrowly-balanced court, sweeping federal gun legislation is now a distinct possibility, and she suggested that her mother's election to the White House means that a pro-gun-control nominee is highly likely.

Chelsea said that he mother will match her tough talk on guns with a court choice reflective of her belief in stricter limits on gun ownership.

"It matters to me," Chelsea Clinton said, "that my mom also recognizes the role the Supreme Court has when it comes to gun control. With Justice Scalia on the bench, one of the few areas where the Court actually had an inconsistent record relates to gun control." Clinton went on to cite what she said were the numerous examples of the Supreme Court's erratic rulings on the issue, siding sometimes with the states, sometimes with advocates of stronger controls, and sometimes with those who interpret the Second Amendment as evidence that the framers of the Bill of Rights wanted no government controls on ownership of weapons.

She pointed out that her mother is the only person running for President who "has a strong record on gun control and standing up to the NRA."

"This is one of those issues I didn't know I could care more about until I became a mother," she added, "And I think every day about Sandy Hook families whose children—every day—don't come home from school. And I can't even imagine living that horror and tragedy."

Clinton has frequently made gun control a leading edge issue in her Democratic primary and caucus fights with her challenger, Vermont Senator Bernie Sanders. Sanders, though he supports some forms of background checks on guns and opposes the so-called gun show loopholes, generally defends the Second Amendment, and he supports the right of citizens to own weapons.

Clinton has sought to outflank Sanders from the left on gun control, in essence suggesting that Sanders is beholden to the National Rifle Association and the gun lobby.

Related Thursday Review articles:

Battle in Brooklyn: Brass Knuckles, Brutal Punches; R. Alan Clanton; Thursday Review; April 15, 2016.

Sanders Wins in Wyoming; Keith H. Roberts; Thursday Review; April 10, 2016.