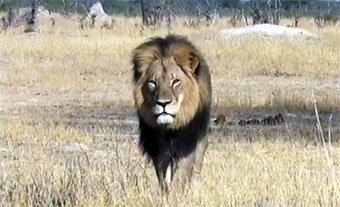 Image courtesy of Zimbabwe Tourism
Cecil's Death Spurs More Outrage
| published July 30, 2015 |
By Thursday Review staff
Cecil the lion, who was recently the victim of trophy hunters in his home country of Zimbabwe, a landlocked southern African country known for its abundance of wildlife and its sprawling beauty, was not just a beloved animal for tourists and locals. He was also more than a symbol of the national park and protected lands where he had lived for years.

Cecil was also part of a series of scientific and academic studies being conducted by universities and colleges. The collar that Cecil wore contained a GPS device which enabled the lion to be monitored at all times by animal and climate researchers who want to learn more about the movements of animals as they search for food or migrate according to weather patterns. Cecil was one of the most studied creatures on Earth.

But Cecil was killed this week in an incident that has sparked outrage from every corner of the world. The huge lion, known by tourists, researchers and photographers for his impressive, thick mane, was shot after being lured away from his protected land and enticed onto the private property of a nearby farmer. The shot that killed Cecil came from a rifle in the hands of a wealthy American dentist named Walter Palmer, an avid game and trophy hunter who paid $55,000 for the opportunity to kill the lion.

Dr. Palmer, through his attorneys and a media statement, has said he knew nothing of the provenance of the lion he was hunting, and says the guides he paid had appropriate papers and licenses, as well as what appeared to the dentist to be authorization to kill the massive, 13-year-old lion. But in Zimbabwe, two men have already been arrested in the incident—a professional safari guide-for-hire named Theo Bronkhorst, and the nearby landowner and farmer, Honest Ndlovu, who sometimes rents or leases parts of his property for hunting purposes. Both men were released on bail on Wednesday, both have dates to return to court in early August, and both have secured legal counsel in Zimbabwe. In Zimbabwe, officials say that may also insist on the extradition of Palmer to face charges of poaching.

This is not Palmer's first brush with the law over his hunting practices. In 2007, he was detained and later arrested for illegally killing a black bear in Wisconsin, then charged with making false statements to U.S. Fish and Wildlife authorities and state police. In that incident, Palmer shot the bear on land not cleared for seasonal hunting, then, allegedly moved the bear's carcass to another area in order to stage what would appear to be a legal shooting. He later lied to police and game officials about the timing and location of the bear's killing. After pleading guilty in 2008, he was convicted, charged a $3000 fine, and given probation. According to some news reports, Palmer also has a record of other hunting infractions—some minor, some more serious—in other states, including his home state of Minnesota.

Palmer lives in the upscale community of Eden Prairie, near Minneapolis. His dental practice in nearby Bloomington has been temporarily shuttered due to the high volume of phone calls and the growing throngs of protesters, television crews, and reporters. According to the Associated Press, Palmer has not been available at his home or at an alternate address listed in public records—either to answer question to reporters, or to provide information to U.S. officials who will now want to know more about Palmer's activities in Zimbabwe. CNN has reported that officials with at least one U.S. agency are trying to locate Palmer for questioning.

According to park service officers and investigators in Zimbabwe, Bronkhorst and his team lured Cecil off the protected lands of Hwange National Park by dragging the recently killed carcass of an animal behind a small truck. Once Cecil was on the property of the nearby landowner, Bronkhorst and his crew fired arrows at Cecil (there is disagreement as to whether those arrows were tipped with a sedative or not) which weakened the massive animal. Dr. Palmer, along with his hunting party, then approached Cecil from a different direction, and Palmer shot the animal using a high powered rifle. Palmer paid to have Cecil's head and skin removed as trophies for his collection of hunting prizes in Minnesota. The remains of Cecil's body was discovered a day later between the northern boundary of the park and the town of Hwange, which is near borders of Botswana and Zambia.

In addition to the outrage being expressed by millions of people on social media and the numerous celebrities who have ranted against Palmer and his actions, scores of groups have weighed-in on the incident, sometimes in strident tones. The organization called People for the Ethical Treatment of Animals (PETA) has gone as far as to call for the death penalty, stating in its most recent media release that Palmer should be extradited and hanged. Late night talk show host Jimmy Kimmel implied that Palmer suffered from the kind of sexual disorder that requires killing another creature. An online group called "Justice for Cecil" has drawn more than a half million followers, and those numbers appear to be growing by the thousands each day.

The uproar has caused serious disruptions to Palmer's dental practice in Bloomington, and his staff has sent emails to patients and vendors explaining that the media interest and crowds of protesters had made it impossible to proceed with routine scheduling. Most patients were being rescheduled or referred to other dentists in the area, according to the New York Times.

In an email sent to patients and staff late Tuesday night, Palmer said he rarely discusses his hobby of hunting with patients because of the sometimes "divisive and emotional" nature of the subject. "I understand and respect that not everyone shares the same views on hunting."

Palmer has been a member of the Pope & Young Club, a private archery and hunting organization which says it maintains strict guidelines and rules for its members. Some reporters were able to reach officials with the club this week, and though they declined to offer any detailed information about Palmer and his membership, they stressed that club members were expected to follow the not only the organization's rules and regulations, but also local laws. A records manager for the club said, however, that the club's rules did not extend to hunting activities in Zimbabwe. Several website news services have indicated that the club has had minor dust-ups with state and federal authorities in the past over the actions of its members, though the AP and other mainstream media sources have not reported that.

PETA president and executive officer Ingrid Newkirk issued a media statement this week calling hunting "a coward's pastime," and suggesting that Palmer be extradited immediately to Zimbabwe to face charges. Newkirk also intoned that Palmer should be "hanged," though it is not clear that U.S. officials would consent in the extradition of an American citizen to a country where crimes against protected animals include a punishment of hanging for the perpetrator.

Related Thursday Review articles:

Dentist May Face Charges in Lion's Death; Thursday Review staff; Thursday Review; July 29, 2015.