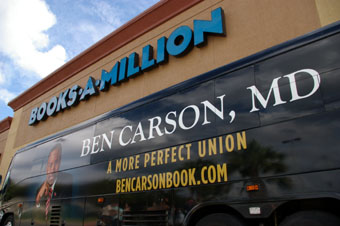 photo by R. Alan Clanton
2016 Presidential Match-Up: Carson and Clinton Are Tied
| published November 4, 2015 |
By R. Alan Clanton, Thursday Review editor
With the U.S. Presidential election now one year away, the smart handicappers are already at work trying to calculate the chances of a Republican beating Democratic front-runner Hillary Clinton.

Though Clinton has been dogged by problems all year because of her private email account, the use of a private server, and questions related to Benghazi, she has bounced back in recent weeks after a better-than-expected debate performance. The former Secretary of State also survived grilling by members of a GOP-led Congressional inquiry into Benghazi. Her poll numbers have bounced back enough that her own team is now no longer trying to minimize the importance of the Iowa caucuses and the New Hampshire primary, two states she seemed in danger of losing badly to Vermont Senator Bernie Sanders.

But now Clinton has other problems to watch for on the horizon, and the most worrisome blip on her radar screen is neither Donald Trump nor Jeb Bush, but author and retired neurosurgeon Dr. Ben Carson.

A new NBC News/Wall Street Journal poll shows that among all voters—Democrats, Republicans, and Independents—Carson is the only candidate from the crowded GOP field to seriously challenge Clinton in a general election. The NBC News/WSJ poll shows Carson and Clinton in a dead heat, with 47% support each. The theoretical match-up is also distinctive for its relative low numbers of undecided voters, a condition considered unusual this far in advance of an election.

The same poll shows Clinton beating businessman Donald Trump by eight points, and beating former Florida Governor Jeb Bush by about four points. The only other Republican who pulls a closer margin than Bush is fellow Floridian, Senator Marco Rubio, who comes within three percent of Clinton. Only Carson effectively battles Clinton to a draw.

Why does the author of numerous best-selling books and a retired neurosurgeon do so much better in the hypothetical match-ups with Clinton than his other top-tier rivals? The explanation comes from Carson's powerful appeal to independent voters, and his appeal to those who may be registered as either a Democrat or Republican, but say they tend not to vote along party lines. The NBC News/WSJ poll confirms what other polls have been showing in recent trends: Carson's soft-spoken appeal cuts across party lines, meaning Carson may be able to attract Democratic voters when Election Day 2016 rolls around in one year.

Carson's name recognition was nowhere equal to that of his presumed rivals seven, eight and nine months ago, when Jeb Bush was in a nip-and-tuck fight with Wisconsin Governor Scott Walker for control of the top spot in the GOP rankings. And prior to the Trump phenomenon—the crest of a huge wave of anti-Washington, anti-establishment fervor—Carson didn't look to be making deep inroads with Republican voters. But that was then, and this is now.

The best-selling author now leads in almost all major polls of the GOP-inclined electorate, and now threatens to nudge aside other candidates with direct outreach to evangelical and social conservatives, Tea Party-aligned groups, and even those whose ferocious dislike of business-as-usual led them toward non-traditional candidates like Trump and former HP CEO Carly Fiorina. Carson is threatening to take the steam out of Ted Cruz's campaign narrative at the exact moment when Cruz seemed to be on the ascendant. And not just in Iowa and South Carolina, but also all across Florida.

Carson has been interspersing his traditional campaign activities with appearances at book stores and shopping centers, where he signs copies of his latest book for thousands of fans. This week he has been crisscrossing the home turf of Bush and Rubio with multiple stops in the Sunshine State. Recent book-signing events in Tallahassee, Kissimmee, Tampa, The Villages (near Ocala) and other towns have drawn throngs of well-wishers, autograph seekers and supporters. Each of these events nets thousands of books sold, and in fact Carson's most recent book may yet shatter all records for books released by the current batch of Presidential candidates, Democrats and Republicans.

Staff and volunteers for his PAC work alongside those organizing the book events, selling t-shirts, baseball caps and buttons, and handing out small paperback copies of Carson's previous books. In Tallahassee, Tampa and Ocala, supporters and fans began lining up before daybreak for a chance to meet Carson, and by the end of each event, Carson would have shaken the hand or posed in selfies with four to six thousand potential supporters—a grueling and exhausting process for the seemingly unflappable Carson, but also a useful and even profitable way to connect with voters and fans one-on-one. It may be proving to be a more effective mechanism for burnishing support than Trump's now-famous system of filling arenas and sports complexes.

Carson's fundraising has also been gaining strength in recent months. Other than Clinton, Carson pulled-in the most cash of any candidate during the third quarter—some $20.2 million, with $12 million coming in September alone. Early reports show that in October, his campaign raised another $10 in 31 days. At that pace, Carson can be expected to have substantial funds in the weeks and days leading into Iowa and New Hampshire. And he will need more firepower down the road, with South Carolina and Nevada giving him the next best opportunity to seal the deal, as it were.

In the meantime, Clinton will concentrate her campaign efforts on pushing back against Bernie Sanders. Clinton's poll numbers had suffered so mightily in the late spring and throughout the summer that Sanders become the undisputed front-runner in Iowa and New Hampshire, upending Clinton's plan for an early path to the nomination. But Clinton may still be a long way away from a coronation, as Sanders' volunteer base continues to grow and his rallies become even larger.

Related Thursday Review articles:

NBC News/Wall Street Journal Poll: Carson Leads Trump; R. Alan Clanton; Thursday Review; November 3, 2015.

Carson Rakes-In Record Fundraising Totals; Thursday Review staff; Thursday Review; October 1, 2015.