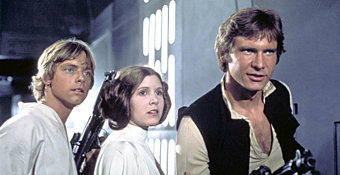 Image courtesy of Twentieth Century Fox/Lucasfilm
Carrie Fisher's Death Brings
Star Wars Full Circle
| published December 29, 2016 |
By R. Alan Clanton, Thursday Review editor

The Tuesday death of actress Carrie Fisher reminds us that the Grim Reaper strikes down Hollywood icons with the same regularity—some might perceive with even more frequency—than his visits to the doorsteps of mortals and those not imbued with the power of The Force.

Fisher, 60, died from heart failure on Tuesday at the Ronald Reagan Medical Center UCLA after suffering cardiac arrest during an airline flight the previous weekend. Her famous mother, actress and singer Debbie Reynolds, died only 36 hours later at age 84 after suffering what doctors believe was a severe stroke.

Best known for her portrayal of the sometimes cynical and caustic but always big-hearted Princess Leia in the science-fiction-adventure series Star Wars, Carrie Fisher's death comes barely six months before the franchise—originally envisioned and written by George Lucas—arrives at its 40th anniversary. The first film, named in 1977 simply Star Wars and later rechristened Star Wars: Episode IV: A New Hope, projected a cast of largely unknown actors—Mark Hamill, Harrison Ford, Anthony Daniels, and Fisher—into hyperspace, and smashed every known Hollywood record.

Star Wars, within its first 12 months, became the biggest box office moneymaker in film history, and its many sequels and prequels—all linked to Lucas's original multipart storyline—became a franchise so powerful it has only one rival in its rearview mirror, Star Trek. The Federation is mighty, but never under-estimate the power of The Force.

Star Wars and several of its sequels—in particular The Empire Strikes Back and The Return of the Jedi—are routinely ranked high among the many lists of the greatest movies of all time, placing it and its kindred on the same playing field as Citizen Kane, Casablanca, The Sound of Music, and The Wizard of Oz. In terms of cash flow, the 1977 installment alone toppled every other previous money maker, and did so within one year. Star Wars generated a fan base almost as loyal as those who have stuck with Star Trek over a 50 year span, and millions of Star Wars followers can recite how many times they have seen each installment (I saw the original, at the theater, nine times, which makes me a piker compared to friends who saw it 19 or 20 times).

Fisher was the classic product of Hollywood parents. The daughter of singer-songwriter-performer Eddie Fisher and actress Debbie Reynolds (Singing in the Rain, The Unsinkable Mollie Brown), Carrie grew up at the ankles of scores of famous houseguests and visitors and family friends with deep connections to both the LA music business and the major studios. This meant, as we have been schooled over the course of the decades by the all-too-familiar morality play, a young life spent observing booze, drugs and partying—the child and pre-teen learning the trade from some of the best.

Fisher, though, was a famous childhood bookworm who attempted to insulate herself from the parties and drink and drugs by cloistering herself in reading and writing. She consumed books sometimes at the rate of one per day, augmenting her reading by writing—a largely self-taught craft which she sharpened over time. Her reading diet included anything she could get her hands upon—fiction, poetry, history, biography, literature, classics. But she also attended Beverly Hills High School, where she sat in classrooms packed with the teen children whose parents were all part of the Hollywood machine—actors, singers, musicians, producers, directors, screenwriters, choreographers, agents. Proximity to alcohol and drugs was unavoidable.

Add to that the also familiar adult struggles with prescription medications, especially those handed out for pain management (Prince, Vanity, Glenn Frey, to name three very recent, fatal examples), and one has the instant plot development known to millions of Baby Boomers. In the music business or in the movie studios, conditions like arthritis make one instantly "old," so one must start pounding down the pills to sustain the illusion of vim and youthful energy.

In recent years, Fisher openly discussed her use of cocaine and a variety of prescription medications as tools for managing her bipolar disorder, and—like lots of folks with connections and cash in Hollywood—she knew which doctors and clinics to call for no-questions-asked pharmacy bags of Percodan or Hydrocodone. She often told interviewers that in the battles with depression and bipolar disorder the drugs were the only thing which made her "feel normal."

Princess Leia, we learned from the unfolding stories on Episodes V and VI, was born of parents imbued with strong familial connections to The Force, the quasi-religious thread which runs in and through everything in the galaxy, and which binds all living things together. According to the narrative and canons of the story, The Force also gives one a strength just short of immortality, a trait which Fisher was clearly unable to carry with her into her real life, where her struggles with drugs, alcohol and bipolar disorder took their toll.

In 1985, and after more than a year of alcohol sobriety, she nearly died from an overdose of sleeping pills, pain medication and anti-depression drugs—all prescribed by her doctors and all on her daily list of needed meds, but taken inappropriately throughout a 24-hour period. She was hospitalized and recovered, and the incident became one of her main talking points during her many appearances, lectures and speaking engagements for the next decades when she spoke of her trouble with addiction.

The cherub-faced Fisher—who seemed to be a blend of the best of both Eddie and Debbie—was, like some of her co-stars, largely unknown before Star Wars. She had appeared only scant few times in films prior to Star Wars, and only notably as Lorna Karpf in the comedy Shampoo (1975) alongside Warren Beatty, Goldie Hawn and Julie Christie. After a year and a half studying performance and theater in London, she dropped her acting ambitions and received acceptance to attend Sarah Lawrence College, where she intended to study art and design. She never completed that calling. The decision to cast her as Princess Leia—the hardnosed rebellion leader with a soft spot for her friends and her people—radically redirected her career, and channeled her directly into stardom.

In addition to her several Star Wars roles, including 2015's lavish Star Wars: The Force Awakens, Fisher appeared in more than a hundred movies, including critically acclaimed films such as The Man With One Red Shoe and Hannah and Her Sisters, and comedies such as The Burbs (alongside Tom Hanks), The Blues Brothers (in a series of hilarious scenes with John Belushi and Dan Akroyd) and Austin Powers: International Man of Mystery (as a group therapy leader). Other notable appearances include When Harry Met Sally and Drop Dead Fred.

Her mostly self-taught skill as a writer paved the way for a parallel career as a successful author, including her most famous work, Postcards From the Edge, which later became a film starring Meryl Streep.

Fisher's famous mother, Debbie Reynolds, was thrust into stardom at an early age as well, cast at age 19 between Donald O'Connor and Gene Kelly in Singing in the Rain, arguably one of the most famous "song and dance" movies ever made. (According to the American Film Institute, Singing in the Rain is the fifth greatest American movie ever made, and the best musical of all time, one notch ahead of Westside Story, The Wizard of Oz, and The Sound of Music, in that order). Reynolds other notable appearances include The Singing Nun, The Catered Affair, Divorce American Style, How The West Was Won, and Tammy and The Bachelor.

Related Thursday Review articles:

Kenny Baker, R2-D2 Actor Dies; Keith H. Roberts; Thursday Review; August 15, 2016.

Star Wars: The Force Awakens; Kichael Bush; Thursday Review; December 26, 2015.