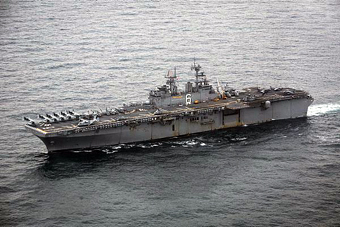 USS Bonhomme Richard off the coast of
Korea in early March/
Photo by Marine Corps Cpl. Darien J. Bjorndal
High Ranking U.S. Navy Officer Sentenced to Prison
| published March 26, 2016 |
By Earl Perkins, Thursday Review feature editor
Prostitutes, luxury travel, booze and numerous other improper benefits seduced U.S. Navy Captain Daniel Dusek, and on Friday he was sentenced to almost four years in prison for giving classified information to a foreign defense contractor, according to NBC7SanDiego, News4Jax, and the Associated Press.

"Captain Dusek's betrayal is the most distressing because the Navy placed so much trust, power and authority in his hands," said U.S. Attorney Laura Duffy. "This is a fitting sentence for a man who was so valuable that his conspirators labeled him their 'Golden Asset.'"

Dusek, 49, is the highest-ranking official charged in a massive bribery scandal still impacting the U.S. Navy. After pleading guilty last January to a single count of conspiracy to commit bribery, he was ordered to pay $100,000 in fines and restitution. At the time, Dusek was deputy director of operations for the Seventh Fleet based in Japan, later serving as executive officer of the USS Essex and commanding officer of the USS Bonhomme Richard.

For decades Glenn Defense Marine Asia (GDMA) provided port services to U.S. Navy ships, with Dusek steering them business on an ongoing basis. Fat Leonard strikes again. That's the sobriquet for Singapore-based businessman Leonard Glenn Francis, who headed GDMA and evidently defrauded the Navy of roughly $34 million in a now-world-famous and still-unfolding bribery scheme.

Dusek admitted using his influence to benefit GDMA, including hand-delivering Navy ship schedules to GDMA's Japan office or emailing them directly. Nine others have pleaded guilty for their involvement, while one still awaits trial. It's incredible. I never thought I'd see the day a U.S. Navy commander would receive a 46-month federal prison sentence, but that's what happened Friday in downtown San Diego at Dusek's formal sentencing before U.S. District Judge Janis L. Sammartino.

"It's truly unimaginable to the court that someone in your position with the United States Navy would sell out based on what was provided to you—hotel rooms, entertainment and the services of prostitutes," she said in a news release.

Ordered to pay a $70,000 fine and $30,000 in restitution to the Navy, Dusek is scheduled to report to the U.S. Bureau of Prisons June 15, and will probably serve his time at a facility in Sheridan, Oregon.

"I think the Navy will take steps at this point to administratively separate him from the Navy," said Assistant U.S. Attorney Mark Pletcher.

Dusek served as deputy operations officer aboard the USS Blue Ridge from January 2009 to February 2011, providing classified information to Francis—or to Fat Leonard's associates—dozens of times, according to court documents. Francis bribed naval officers to ensure ships were docked at specific Asian ports, and in some cases based on specific timetables, so that his company could not only profit, but also greatly overcharge, the Navy for "husbanding" and docking services.

Francis described Dusek as a "golden asset to drive the big decks [aircraft carriers] into our fat revenue GDMA ports," according to emails obtained by investigators.

Dusek accepted a stay at the Marriott Waikiki in Hawaii, dined on lavish meals, and among other things, availed himself of prostitution services while in the Philippines—all in exchange for releasing confidential ship movement information and advocating for GDMA to upper echelon Navy personnel.

And over the span of the last several years, massive amounts of seamy details are surfacing. In October 2010, Dusek caused the USS Abraham Lincoln Carrier Group to use a Port Klang, Malaysia facility owned by Francis. Just four months later, he would receive an eight-night vacation stay in Manila, complete with alcohol, entertainment and prostitutes. The government claims those items enriched Dusek to the tune of $10,000.

The investigation and scandal are ongoing, with the federal government committing resources to prosecute those involved to the fullest extent of the law, according to Pletcher, the U.S. attorney.

"We have other people who have pleaded guilty whose sentences are upcoming who took more things of value who were engaged in more pervasive conduct," he said. "I don't know if this will be the longest sentence."

At least the others are facing charges in the bribery scheme, but FBI and Navy officials suggest that at least six more could face charges in the near future. Three admirals, none of whom faced criminal charges but are all now retired (forcibly), were censured for their roles in the scandal. Other top Navy officials may face demotion or censure for negligence—agreeing to look the other way even when faced with clear evidence of the reach of bribery scheme.

Though the full cost to taxpayers may never be known exactly, under a plea agreement Francis and his company concur that at least $25 million was bilked from the Navy through overcharges. Some military cost analysts suggest that the real cost may be ten times that amount.

Dusek has apologized to the Navy and to the American people for his central role in the scandal, saying that he will carry the guilt and shame of what has transpired for the rest of his life.

Related Thursday Review articles:

Fat Leonard & the U.S. Navy Scandals; Earl Perkins; Thursday Review; March 20, 2014.

The Big Guns of the Future; Earl Perkins; Thursday Review; February 17, 2016.