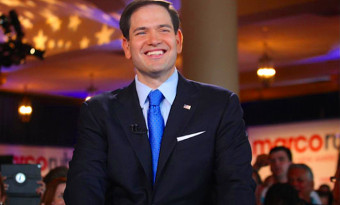 Photo courtesy of Rubio for President
Bush Vs. Rubio: Cash and Spending Feud
| published October 18, 2015 |
By Keith H. Roberts, Thursday Review writer
Republicans have a long-standing affinity for saving money, spending it wisely when it must be spent. It's an age old tradition within the GOP, the party of Teddy Roosevelt, Dwight Eisenhower, and Ronald Reagan. Frugality is among the same standard Republican talking points as cutting taxes and reducing government spending.

So when two GOP presidential hopefuls began sparring this past week over who among them was the more miserly, no one seemed particularly shocked. By the end of the week the war of words between the camps was downright nasty. And no, neither candidate was Donald Trump, the current Republican front-runner. (Trump, meanwhile, is under scrutiny by reporters and some of his opponents for his oft-cited claim that he is spending almost entirely his own money to get elected, a boast which his federal filings have proved totally backwards; Trump is in fact spending very little of his own cash, and in fact hasn't spent a nickel of personal wealth since June).

What is surprising is that both the candidates in the current dust-up over spending and saving are from the Sunshine State. Former Florida Governor Jeb Bush is in a war of words and definitions with current Florida Senator Marco Rubio over campaign fundraising and spending.

A feud between the two Floridians was bound to erupt soon enough. But with a current GOP field top-heavy with non-politicians—businessman and TV personality Trump, retired neurosurgeon and author Ben Carson, and former HP CEO Carly Fiorina—a battle for survival between the two Sunshine State candidates, each now in a fierce fight in the crowded field, has become unavoidable.

Both candidates surely expected, in theory, for one to have long ago been edged from the contest. Jeb Bush was once considered the front runner, six months ago leading in many polls—or in a close tie with Wisconsin Governor Scott Walker—and the campaign cash leader by far with a PAC able to attract millions right out of the gate. Bush was also the early on favorite with the establishment Republicans who felt that he alone might have the capacity to seriously challenge presumed Democratic front-runner, Hillary Clinton.

That was then, this is now. Bush is now in a tough battle for survival, having dropped to fifth place in some polls. And in some of the same polls, Bush is trailing his fellow Floridian Marco Rubio.

Bush and Rubio have been sparring with increasing intensity this week over the issue of which candidate is spending their cash more wisely. At the center of the argument is "cash-on-hand," which describes the money raised during the previous quarter, but not spent. In theory, and in a normal election cycle, the majority of money raised during the third quarter would be stockpiled. That war chest would be opened only as the final six weeks approach prior to the Iowa caucuses, or prior to the New Hampshire primary.

But the fierce battle to remain relevant—especially for the traditional candidates—has forced some candidates to begin spending that money much earlier than is typical. Rubio says he has $11 million in cash-on-hand, a substantial stockpile, and third among GOP candidates, behind Carson and Senator Ted Cruz. But Bush's people say that Rubio's claim is an outright prevarication, and cite a report which indicates that Rubio's staff may have "fudged" the numbers to give the appearance of thrift and strategic planning. An investigation by the Miami Herald led to a close examination of Rubio's numbers as reported to the Federal Election Commission, and Herald reporters found that the Rubio campaign also stretched the totals raised during the third quarter; Rubio claims he raised $6 million, but upon a close inspection of the math, the total is more than $300,000 short of that figure.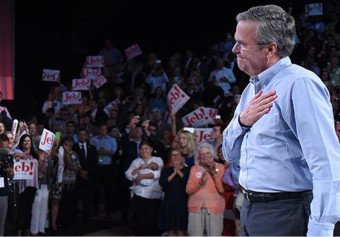 Photo courtesy of Jeb 2016

The Bush campaign has reported having $10.27 million in cash-on-hand, with only about $270,000 earmarked for the general election. That means that Bush has roughly $10 million on hand for the primaries and caucuses, which begin in January. Though Rubio has about $11 million cash-on-hand, his campaign has earmarked roughly $1.23 million for next fall, which leaves him with $9.75 million cash available for the primaries.

To the layman, the arithmetic gets confusing, but that' the point Bush and his people are making: Rubio doesn't know budgets as well as the former governor, and isn't prepared for the harsh realities of careful spending. And to make things worse, Bush's people claim, Rubio is outright fudging on his math, claiming an advantage he does not have.

Why? Because by inflating his strategic leverage now, well ahead of Iowa and New Hampshire and other early states, Rubio can perform a kind of sleight-of-hand, convincing potential and future donors of the apparent financial strength of his campaign.

Some in the Bush campaign suggest that Rubio's tactic is little more than a Ponzi scheme.

Rubio's team has fired back, saying it has not only provided accurate data on its financing, but also listing its attempts at saving cash: the use of Uber and other driver services as opposed to more expensive limo services; choosing low cost airlines, such as Southwest, Jet Blue and Frontier; purchasing office furniture and computer components from Craigslist and eBay.

Still, Bush's people maintain he is the one better prepared financially for both the start of the primaries, and the long stretch before the general election in November. They argue that Rubio's use of blue smoke and mirrors on his financing reflects his inexperience with handling the complexities of real world budget processes.

Rubio is also taking heat from some within the Bush entourage and from some Bush proxies for the Senator's frequent absence from Washington. Rubio, like Cruz, has missed numerous Senate votes while he works the campaign trail. It's problematic for Senators and Representative to face criticism for missing votes: after all, one can't very well run for President in all 50 states by remaining within a 20 minute walk of the Capitol Building. But this GOP nominating process has produced an early skewing away from traditional candidates, and toward outsiders. This has put Rubio, especially, in the awkward position of being absent from his Washington office as he struggles to remain the "front-runner" among all the candidates who have elected experience. Trump, Bush, and others have blasted Rubio for trading his presence during Senate votes for time spent on the campaign trail.

The Rubio campaign has said all along that it intends to remain focused on a quiet but steady path to the nomination, not one injected with thrills or high profile comments. This has seemingly made Rubio the favorite of Republican voters who want experience in their nominee, not anti-Washington bona fides.

Bush, too, has campaigned as somewhat of an outsider to the political process. Despite being pegged as the "establishment" candidate, Bush has sought to position himself as a political disruptor, and cites his terms as Governor as Florida as evidence of his reform-minded credentials. But even many Republicans who like Bush personally worry that his name and family legacy could present as many obstacles in 2016 as it will present strengths. Bush is also distrusted by a few conservatives within the GOP who worry openly about his moderate positions on education and immigration.

From a practical standpoint, political analysts have long suggested that having two major candidates from the same state would ultimately present a problem. In the currently crowded Republican race, both Bush and Rubio face the likelihood that Florida will be a critical—if not final—test of their strength during the primary and caucus season. Both candidates going into Florida, guns blazing, will surely mean a split among the favorite son voters, and a division which will surely open the door for another candidate.

Meanwhile, feuding between Rubio and Bush is likely to continue as pressure intensifies between the candidates not polling at the top. Most current polls show Trump still leading, but with a margin steadily decreasing, with Carson and Fiorina in second and third place.

Related Thursday Review articles:

Is Rubio the Candidate to Watch Over the Next Weeks?; Keith H. Roberts;Thursday Review; October 7, 2015.

Carson Rakes In Record Fundraising Totals; Thursday Review staff;Thursday Review; October 1, 2015.