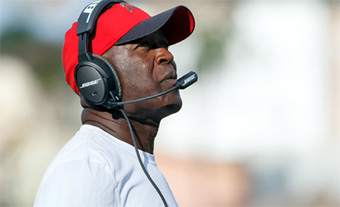 Image courtesy of Tampa Bay Buccaneers
Buccaneers Fire Coach Lovie Smith
| published January 7, 2016 |
By Keith H. Roberts, Thursday Review contributor
So long Buccaneers head coach Lovie Smith. The Tampa Bay owners fired Smith this week after the Bucs ended their season with a 6-10 record. Smith had been with Tampa Bay for two years.

After a dismal 2014 in which the team went 2-14, the Bucs—like their fellow Florida team the Jacksonville Jaguars—were beginning to show strong evidence of being on the right track despite some painful losses. Even frequent Buccaneer detractors were able to point out the specific areas of improvement, including on offense—a critical area of deficiency in 2014.

Bucs corporate co-chairman Joel Glazer said the change was difficult but necessary, and praised Smith's work with the team.

"I want to thank Lovie for his hard work and dedication to the Buccaneers during his time here," Glazer said. "This decision was difficult on a variety of levels." Glazer added that the move was a key step in recrafting the retooling the Bucs to meet the fans' demand for a better quality football team.

Despite the fact that the Bucs raised their game enough to produce measurably more wins in 2015 than in 2014, the team still landed in last place in the NFL South—the sixth time the team has visited rock bottom in seven seasons.

Smith had come to the Bucs with high hopes in all quarters. When he helmed the Chicago Bears from 2004 to 2012, where he fought hard for improvements to the injury-prone team. In 2005 Smith hit pay dirt by earning the title Coach of the Year, and by 2006 and 2007 he was able to wrest the Bears into the playoffs. Smith took the Bears to Super Bowl XLI, but lost to the Indianapolis Colts. In 2010, Smith took the Bears to the playoffs, but lost to the Green Bay Packers in the NFC championship game.

Lovie Smith became the Bucs tenth head coach since the team's inception. But his 2013 assignment in Tampa was a reunion. He had served as an offensive coach there years before, and considered Tampa Bay one of his homes.

Related Thursday Review articles:

Panthers Fail to Topple Dolphins' Landmark Record; Keith H. Roberts; Thursday Review; December 28, 2015.

Manning Denies Doping Charges; Roger Lumpkin; Thursday Review; December 27, 2015.