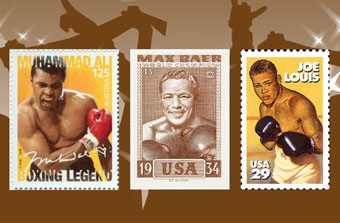 The Most Brutal Sport
| published Wednesday, January 29, 2014 |
By Earl H. Perkins
Thursday Review associate editor
Boxing is the most brutal and unforgiving sport of all, with more than 2,000 deaths being directly attributable to in-ring contests since the Marquis of Queensbury rules were adopted in 1867.

Even modern fans will recall the fallen—Deuk Koo Kim, Pedro Alcazar, Willie Classen, Jimmy Garcia, Yo-Sam Choi and Leavander Johnson. However, deaths and concussions have been commonplace for hundreds of years in numerous sports.

Only in recent years has there been massive public outcry concerning the damaged lives of athletes and their families. Deaths and concussions have dogged the sport since its inception. Boxing suffered the most horrendous losses percentage-wise, but football, baseball, basketball and hockey have also decimated generations. On the eve of this week's Super Bowl, the NFL and dozens of attorneys are negotiating a high stakes, multi-million dollar medical plan for the professional football players who have—or will—sustain serious injuries.

Millions of businesses and people have stepped over the dead bodies littering the sporting landscape, with nobody taking responsibility. There's an old saying about not killing the goose that laid the golden egg, and that's what's happening here.

Books, magazines and the media minimized the losses, often explaining away the physical and mental problems suffered by former athletes in later years. Blood suckers lined up to take advantage at the peak of their careers, then cast them aside amid fading talents.

All polite society sees is the sport's brutality, but most fought their way up from nothing, attempting to carve out a decent life for themselves. A true fan will remember all these fighters, but everyone should refuse to marginalize them and their legacy.

Max Baer (full name Maximilian Adelbert Baer) was known as one of the hardest-hitting punchers of all time, and his cold-blooded ability to put another boxer flat on his back was the stuff of legend. He stood six feet two inches and had a particularly long reach, giving him a lethal power. Some of his potential opponents, many of them skilled fighters, even refused to step into the ring with him. Baer faced manslaughter charges in 1930 for killing Frankie Campbell, whose record of 33-4-2 and one no contest with 26 KOs. In a violent fifth round in San Francisco, Baer punched Campbell repeatedly while Campbell was pinned against the ropes, and the referee did nothing to intervene. The next day Campbell died, and the autopsy showed that his brain had been battered loose from all connecting tissue.

Baer, who wore a the Star of David to show his allegiance to European Jews being persecuted by the Nazis, nevertheless beat the manslaughter rap and went on to more fights, most famously his famous bouts against Primo Carnera, James Braddock (Baer would lose to Braddock), and another highly publicized fight against German heavyweight Max Schmeling at Yankee Stadium. But after Campbell died, some boxing analysts say Baer eased up on his aggressive style, perhaps out of fear that he might kill another fighter.

Benny "Kid" Paret (35-12-3, 10 knockouts, 1937-1962), was a former welterweight champion who died at Madison Square Garden in his third fight with the great Emile Griffith. The Cuban star had incensed the champion, grabbing Griffith's buttocks while using a homophobic slur.

Griffith won in the 12th round by technical knockout, while Paret went into a coma and died 10 days later without regaining consciousness. Many said Griffith purposely killed Paret, but he felt great guilt and suffered nightmares for 40 years over the incident. New York Governor Nelson Rockefeller created a seven-man commission to investigate the death, eventually concluding Griffith was not at fault.

However, there were several factors that caused a hue and cry following the bout. Paret was knocked around badly in his three previous fights, this was the first ring death witnessed by a national television audience, the referee didn't stop the fight in a timely fashion (i.e. 29 consecutive punches delivered, including 18 in six seconds) and Griffith was widely known to be bi-sexual, which may have been a factor in the antagonism between the fighters. Because of the incident, network television ceased to broadcast bouts until the following decade, when the media star-power of Muhammad Ali and Joe Frazier finally lured broadcast TV executives back to the ring. In the meantime, boxing diehards had to pay for closed-circuit presentations, or pay for the premium services of fledgling cable channels like HBO.

Less than a year after Paret's death, Davey Moore (59-7-1, 30 KOs, 1933-1963) would succumb to injuries suffered battling Sugar Ramos. The former featherweight champion hit the bottom rope during a knockdown, causing damage to his neck and brain stem. The battle inspired singer/songwriter Bob Dylan to write the song "Who Killed Davey Moore?"

Johnny Owen (25-2-1, 11 KOs, 1956-1980) had a brief career, holding the bantamweight championship of Great Britain and Europe, and he was the only Welshman crowned Champion of the Commonwealth.

Owen was attempting to wrest the WBC bantamweight title from Lupe Pintor, an extremely hard-hitting Mexican known for knockouts. Owen had been winning early, but began to fade before finally going down with less than 25 seconds left in the 12th round. The Bionic Bantam lay on the canvas for five minutes before being taken from the ring. Owen never regained consciousness, and fell into a coma. He died seven weeks later from a respiratory infection related to his life-support apparatus.

As happened many times throughout history, the loser was even stiffed in death. The promoters' insurance paid $94,000 in medical costs, but Owen's survivors received nothing.

In 1972, in what may have been the most famous boxing match of the twentieth century, Muhammad Ali and Joe Frazier faced off in Madison Square Garden. The level of pre-fight narrative had been raised in part by Ali, who taunted Frazier mercilessly for weeks. Both men were known for their skills and knockout power, and in what became an epic endurance match, Frazier eventually won on points, but not before absorbing several punishing blows from Ali.

Frazier sustained a concussion and other serious injuries, and spent several days in the hospital. Ali, too, was badly injured—jaw broken, face swollen—though he was eventually able to make a dramatic comeback to defeat George Foreman in Africa. Many who knew both Ali and Frazier say that neither man was the same after their punishing '72 bout.

South Korean Deuk-Koo Kim's (17-2-1, 8 KOs, 1959-1982) epic battle with Ray "Boom Boom" Mancini may well have been history's highest-profile boxing death. The bout was televised live by CBS in the United States.

It was Kim's first 15-rounder, but Mancini had fought that length several times. Kim had written "live or die" on his Las Vegas hotel lampshade before the Caesar's Palace WBC lightweight title match.

This was one of the most hard-fought prize fights of all time, with both men going toe to toe much of the contest. Mancini considered throwing in the towel at one point, because his left eye had swelled to twice its normal size, his left ear was torn open and his left eye was puffed up horribly.

Following the fight, you could see where Mancini's left eye was swollen shut, but he began dominating the fight in the latter rounds. Kim's knees buckled in the 11th round, and Mancini delivered a flurry of 39 punches in the 13th round.

Mancini charged forward as the 14th round began, landing a hard right, which caused Kim to reel backward. Kim ducked a left, but then flew into the ropes as Mancini connected with another hard right. Kim should not have been able to stand up, but he rose unsteadily to his feet, with referee Richard Green stopping the fight and declaring Mancini the winner by TKO 19 seconds into the round.

The spectacle of Kim climbing up the ropes as he was dying is still considered one of the greatest physical feats ever accomplished by an athlete under such conditions. He collapsed into a coma shortly after the fight, and died four days later. The neurosurgeon said the death was caused by one punch.

His mother flew from Korea to be with her son before he passed away, and she would take her own life three months later by drinking pesticide. That tragedy was followed in 1983 by Green killing himself.

Numerous boxing rules were changed due to Kim's death, including shortening the number of rounds in championship bouts from 15 to 12.

Other big-time fighters who lost their lives in the ring included Leavander Johnson (34-5-2, 26 KOs, 1969-2005), Jimmy Doyle (43-7-3, 144 KOs, 1924-1947), Yo-Sam Choi (32-5, 19 KOs, 1972-2008), Jimmy Garcia (35-5, 25 KOs, 1971-1995), Pedro Alcazar (25-1-1, 14 KOs, 1975-2002), Willie Classen (16-7-2, 9 KOs, 1950-1979).


Some data gleaned from the following sources: Death under the Spotlight: Analyzing the Data, by Joseph R. Svinth; Boxrec Boxing Statistics, The Boxing Register, by James B. Roberts; The Great Fights: A Pictorial History of Boxing's Greatest Bouts, by Burt Sugar; The Sweet Science, AJ Liebling.