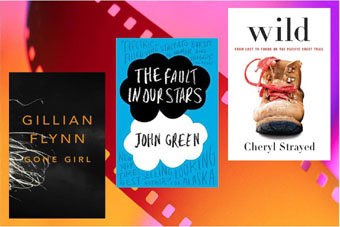 Books Coming to the Big Screen in 2014
By Kristy Webster | published Thursday, January 16, 2014 |
Thursday Review contributor
2014 promises to bring some of our favorite books to life and to the big screen. Whether or not the movies will do the books justice remains to be seen, but either way, it's hard not to at least be excitedly curious about how these incredible stories will translate to film. These five top my list:

The Fault in Our Stars; starring: Shailene Woodley and Ansel Elgort

Release date: June 6, 2014. Looks like Shailene Woodley of The Secret Life of the American Teenager and The Descendants has quite a year ahead of her. Not only is she starring in The Fault in Our Stars she also stars in Divergent and The Spectacular Now, both also based on novels by the same name.

In The Fault in Our Stars, Shailene will play the role of Hazel Grace, a terminally ill teen who meets falls for a teen she meets in a support group for sick kids. This book blew me away when I read it last year. Full of sharp dialogue and unforgettable dialogue, I have high hopes for the film adaptation. As long as the producers stay in tight quarters with the wit and humor as well as the heartache of this beautiful love story, they will match the unique and gradient tone of Green's fine work.

Unbroken; directed by Angelina Jolie, screenplay written by the Coen Brothers

Release date: December 25, 2014. For three years patrons approached me at the bookstore counter asking when Unbroken would be out in paperback. I explained to them one by one that as long as a book is selling, and I mean really selling, the less the rush to get it out into paperback. I didn't jump on the bandwagon right away, even with all the accolades, the hand over the heart sighs of its readers. But when I did finally read Unbroken, I experienced it in a way I've never experienced a book before.

The story of Louis Zamperini, Olympic hopeful, turned prisoner of war encapsulates every extremity of the human experience. I read most of it with my mouth agape, in awe of this man's unbreakable spirit, the knowledge of what the human heart can survive and even transcend. Alive and well and even skateboarding at the boyish age of 96, anyone willing to adapt Louis' story to film has to be brave, masterfully capable, and yet sensitive enough to do right by a living legend's legacy.

In come Angelina Jolie and the Coen brothers. It doesn't surprise me that Jolie bought the rights to this film, and if her work in Mighty Heart is any indication of her commitment to accurately portraying a living hero, then I have great confidence in her ability to translate Louis' epic life to the big screen, especially since she has made the effort to cultivate and deep friendship with Mr. Zamperini.

Wild; starring Reese Witherspoon

Release date: 2014. I've been following Cheryl Strayed on facebook ever since I read Wild and Tiny Beautiful Things and have been excited to see her post pics next to Reese. I'm hoping that the time they have spent together means they've formed a connection, one that will translate to film.

It has to be a dream role for Reese; that of a woman whose lone trek through Pacific Coast Trail mirrors her inner landscape and journey, one triggered by loss, grief and confusion. The story vacillates between struggling with the Monster on her back (the name she gives her backpack), meeting both benevolent and shady strangers, as well as flashbacks to chaotic relationships, chemical dependency and the still throbbing wound left by the death of her mother.

Reese has lots to work with in this film, and I believe she will make Cheryl proud.

Gone Girl; Starring: Ben Affleck and Rosamund Pike

Release date: Oct. 3, 2014. Now this one should be fun. I have high hopes for the film adaptation of Gone Girl first of all because it read like a movie to begin with and I could visualize every scene. It has everything a good thriller/mystery should have, including a huge, oh-my-god-holy-crap plot twist moment. Second, I think the casting (Ben Affleck and Rosamund Pike) is spot on.

Gillian Flynn's Gone Girl should adapt easily to the big screen with its clever twists, its well written and complex characters and its more-than-meets-the-eye plotting.

Mockingjay (Part One)

Release date: November 21, 2014. This one's a no brainer. The Hunger Games trilogy has of course earned a strong following and fan base. Not only was this series by Suzanne Collins a huge best seller, but the combination of Academy Award winning actress Jennifer Lawrence's star power and major likeability have secured the success of this first half of the last installment of the Hunger Games.

By now the cast has spent enough time with one another that they've really had a chance to explore their characters and build on their relationship dynamics. Splitting the last film up into two parts is not only smart marketing, but wise filmmaking as it will keep the dramatic culmination of the series from being rushed into a two hour delivery. (Lionsgate Films hopes to have Mockingjay Part 2 ready for release in fall 2015)


Related articles at Thursday Review:

The Fault in Our Stars, John Green; book review by Kristy Webster; Thursday Review, August 25, 2013.

Hunger Games: Catching Fire; movie review by Lori Garrett; Thursday Review, December 8, 2013.

Wild: From Lost to Found on the Pacific Crest Trail, Cheryl Strayed; book review by Kristy Webster; Thursday ReviewMay 2013.