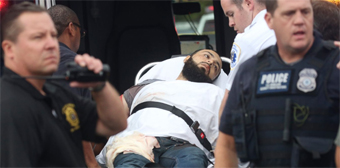 Image courtesy of ABC News Go
NY & NJ Bomb Suspect Charged
With Attempted Murder
| published September 19, 2016 |
By Keith H. Roberts, Thursday Review contributor
Police and FBI agents have apprehended at least one of the suspects believed responsible for a series of weekend terror attacks in New York City and New Jersey, where explosives—including pressure cooker bombs and pipe bombs—injured scores of people and put New Yorkers and New Jersey residents on edge. Hours later, police officially charged the same man with attempted murder.

FBI and police are reasonably certain that the attacks are related, but have said there is no direct evidence that stabbing attacks in Minnesota were part of a larger plan to unleash lone wolf and small scale assaults across the United States.

ISIS claimed responsibility for the attacks in Minnesota, which were carried out by what the Islamic State's media operations called "a dedicated soldier," though intelligence experts questions whether the attack was directed by ISIS or merely inspired by ISIS propaganda. ISIS has issued no statements about the attacks in New York and New Jersey.

On Monday morning, FBI and NYPD took Ahmad Khan Rahami, a 28-year-old man of Afghan ethnicity, a U.S. citizen, and a resident of Elizabeth, New Jersey, into custody after a brief gun battle with police in Linden, New Jersey. Rahami was injured in the shootout, which was witnessed and heard by residents along several blocks near where Rahami was found, apparently asleep, in the doorway to a small business. Bloodied but awake and alert, Rahami was moved via stretcher to a waiting ambulance, where he was transported to a nearby hospital for treatment for his injuries.

Rahami, law enforcement officials believe, may be the person chiefly responsible for the weekend bombings in the Chelsea neighborhood of Manhattan which shattered storefronts, damaged buildings, apartments and cars, and injured at least 40 people.

Rahami's capture, which was caught on social media and relayed to news organizations around the world, took place only seconds before President Barack Obama, speaking to reporters in New York City prior to his appearance at the United Nations, addressed concerns about terror in the United States, and acknowledged the rapid and forceful work of law enforcenment in New York, New Jersey and Minnesota. The President had either not been briefed on Rahami's capture, or he chose not to address it pending confirmation by staff—even as networks employed a split screen to show Obama's live remarks alongside live street level images of the unfolding drama in New Jersey.

Only hours earlier, law enforcement officials had asking U.S. citizens to be vigilant and remain on the lookout for Rahami, who police said could be armed and extremely dangerous. Now, prosecutors in New Jersey have charged Rahami with five counts of attempted murder. He has also been charged with unlawful possession of a weapon, and possession of weapons with intent to carry out illegal or violent acts. A New Jersey judge set Rahami's bail at $5.2 million.

Rahami can be seen in security camera footage of the area where the first bombs exploded. Rahami can allegedly be seen in the security video carrying duffle bags into the area only minutes before the bombs exploded. Some media groups have reported the FBI as indicating a belief that Rahami is not only responsible for the bombings in Mahattan, but also the pipe founds found along the route of a charity event in New Jersey on Saturday. Police have apparently come to this conclusion based on eyewitness reports and additional security camera and traffic camera imagery. Both NYC bombings used very similar devices, and each was triggered by inexpensive flip phones.

In a related event, another bomb exploded early Monday morning in Elizabeth, New Jersey, a device apparently hidden inside a suspicious backpack left unattended at a New Jersey transit station and discovered by homeless people. Police were using a robot to examine and disarm the device when the bomb inside the package exploded. The backpack bomb heightened the sense of unease felt across both New York and New Jersey as millions began their workweek amidst concerns that ISIS or ISIS-inspired individuals were attempting a series of small scale attacks which could continue for days.

New York Governor Andrew Cuomo ordered the mobilization of the National Guard for help in the search for additional suspects and in the location of potential additional bombs.

Rahami's capture came after a brief shootout with police. Rahami was shot in the leg and upper arm, and at least two police officers were shot—one in the hand, another in the stomach, though the bullet was stopped by that officer's bullet-proof vest.

Rahami's family was granted asylum in the United States in 2011 after they moved from war-torn Afghanistan. His family has been known to those in the community and to community enforcement and police for several years: the family operates a small chicken restaurant in Elizabeth, where neighbors have complained for years about the foot traffic and noise. The restaurant often stays open 24 hours per day despite a local ordinance prohibiting all-night food service in the area.

Reporters who spoke to Rahami's family say that they had no indication that he had ties to any terror organizations, nor that he was allegedly crafting plans for a terrorist attack.

Related Thursday Review articles:

Terror Attack in Nice Kills 84, Wounds Hundreds; R. Alan Clanton; Thursday Review; July 16, 2016.

Orlando Shooter Considered Attack on Disney World; R. Alan Clanton; Thursday Review; June 14 2016.