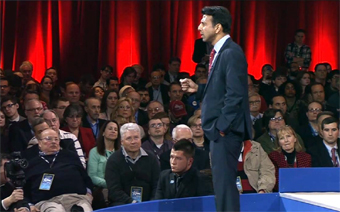 Image courtesy of Bobby Jindal.com
Bobby Jindal Enters GOP Contest
| published June 25,2015 |
By R. Alan Clanton Thursday Review editor
It's officially a dozen plus one for the Republicans, meaning that the 2016 race for the Presidency may have broken all previous records for major candidates, at least as defined by the various criteria established by the Federal Election Commissions, the major news organizations and political watchdog groups.

On Wednesday, Louisiana Governor Bobby Jindal made his long-discussed candidacy official, bringing the total number of GOP candidates to 13, and adding to the five major Democrats also working their way along the road to the White House.

Jindal made his announcement first on Twitter and Facebook, then formally in New Orleans at an event attended by hundreds of supporters. Jindal had been a presumed candidate for more than a year, and had spent an increasingly large percentage of his time on the road at events in Iowa, New Hampshire, South Carolina and Florida. Jindal's candidacy—like many of his Republican peers—was assumed to be a certainty; some of his top staffers had already departed their state jobs to go to work full time for his political action committee and other exploratory components. And Jindal had frequently availed himself of television, newspaper and internet news organizations.

Jindal, who is the first U.S. presidential candidate of Indian or South Asian ancestry, will now face an uphill struggle to overcome not only a crowded field of more than a dozen candidates, but also name-recognition issues and the problem of competing as a faith-based conservative in a race already swollen with social and fiscal conservatives. As a southerner, Jindal will also be forced to compete with other candidates from below the Mason-Dixon Line, including Senator Ted Cruz of Texas, former Florida Governor Jeb Bush, former Arkansas Governor Mike Huckabee, and recently-announced candidate Senator Lindsey Graham of South Carolina.

Jindal will also be entering a Republican field primed for a showdown over the relative strengths and qualities of governors versus senators. Among the GOP contestants are Bush, Huckabee, former New York Governor George Pataki, Wisconsin Governor Scott Walker, former Texas Governor Rick Perry, and New Jersey Governor Chris Christie. One of the narratives which may shape the first GOP debate in Cleveland will be whether governors make better chief executives than U.S. Senators, a thread of discussion already being used by Bush, Walker, Perry and other once and current state chiefs.

Jindal, age 44, was born in Baton Rouge to parents who emigrated from India to the United States in 1970. Jindal was an over-achiever in middle school and high school—captaining the tennis team and competing in regional tournaments, publishing a computer and technology newsletter, founding a small computer software concern in the garage, and even managing a profitable candy distribution service. Jindal achieved academic success at Brown University, and later as a Rhodes Scholar at New College, Oxford. His dual degrees in biology and public policy, and his Master of Letters in political science made him highly qualified in 1996 when then-governor Murphy Foster went looking for someone to fill the role of chief of the Louisiana Department of Health & Hospitals. Later, in 1999, Jindal was appointed to be the president of the university system in Louisiana, a role he served until newly-elected President George W. Bush selected Jindal to serve as the number two man at Health & Human Services in Washington, D.C. Jindal ran successfully for the U.S. House in 2004, becoming only the second Indian-American to serve in Congress. After being reelected by a wide margin in 2006, Jindal then ran for governor in 2007, winning easily. His reelection to the governor's mansion in 2011 was so lopsided that his name was quickly elevated to the top of many analysts' lists as a potential Republican presidential candidate as early as 2012.

Jindal's parents hailed from Punjab, India, but as a teenager the young Jindal broke with their Hinduism and converted to Christianity while still in high school. Trivia: Bobby Jindal's real first name is Piyush, but as a child he preferred the name Bobby, an apparent homage to his favorite character of Bobby Brady on the ABC family comedy The Brady Bunch. By the late 1970s almost all of his friends were already calling him Bobby.

As far back as 2012 many in the GOP had their eye on Jindal, then a rising star within the party. The Republican defeat at the polls in 2012 (Mitt Romney's loss to President Barack Obama) was particularly stinging because of the GOP's inability to sell its message to minorities. The U.S. Latino community moved in large numbers to support Democrats, as did blacks. By late 2012 and early 2013, GOP strategists were convinced that the party would need a way to attract minorities back to the foal. In 2012 Time magazine featured Jindal as just the sort of potential new candidate who might be able to reinvigorate an aging Republican Party in danger of extinction because of its inability to compete with shifting demographics.

Jindal enters the most crowded GOP race in history, jostling with 12 other candidates. Many analysts believe that more Republicans may jump into the fray within the next few weeks, bringing the grand total to perhaps 15 by the time of the first televised GOP debate in Cleveland next month. Current polling shows that Jindal has a lot of work to do even to get marginal notice: in a composite RCP poll (crafted by merging the numbers from six major polling organizations, including Fox News, NBC/WSJ, Monmouth, CNN/ORC, ABC/Washington Post/Quinnipiac), Jindal comes in last among the 13 official candidates. This means that in Cleveland he must somehow outshine many others, including current field leaders Jeb Bush, Scott Walker, Marco Rubio and Dr. Ben Carson, more or less in that order. Jindal must fight even to gain ground against a large second tier of highly qualified candidates, such as Carly Fiorina, Rick Santorum, John Kasich and Lindsey Graham.

Jindal also faces a GOP field heavily crowded with social conservatives, fiscal conservatives and faith-based conservatives, meaning he will have few opportunities to stand out when contrasted against candidates like Rick Santorum, Mike Huckabee and Marco Rubio. A recent Fox News poll placed Jindal not merely in last place, but even behind the ubiquitous "none of the above," perhaps an even harsher indication of the struggle his fledgling campaign now faces.

Jindal has attempted to shine more brightly of late by frequent appearances on television and through heavier schedules of campaign events in several early primary and caucus states. Jindal has also moved somewhat toward the right on some issues during the last year in a calculated effort to align himself with the GOP's conservative base. And like fellow governors Bush, Christie and Perry, Jindal has been beefing up on his knowledge of foreign policy and sharpening his talking points on matters of military strength and national security. Many political analysts agree that Jindal may have hoped to use his Roman Catholic faith as a tool to stand out against his GOP opponents, but Jindal is no longer the only Catholic in the field: Bush, Rubio, Christie and Santorum are all Catholic.

Jindal has also sought to distinguish himself from the large field of Republican contenders by speaking candidly and sometimes critically of Republicans in Congress, admonishing GOP Washington insiders for caving-in on issues ranging from health care to immigration, and challenging members of Congress to take the fight to Obama. Republicans in Washington, Jindal recently said, "need a spine." Jindal is particularly tough on immigration: he has frequently said that new arrivals to the United States should be encouraged to assimilate quickly, including a proficiency in American English, and he often says that minority groups should refrain from being "hyphenated-Americans" and become simply Americans first.

Jeb Bush is, for the moment at least, the marginal front-runner in a rapidly-shifting and fluid field. RCP's composite polls show Bush leading with a narrow 13.2 percent as compared to his closest competitors Walker (11.2%), Rubio (10.8), Carson (9.5%), and Huckabee (8.7%). But Bush's fractional lead indicates that the race is highly uncertain, and with error rates of up to 2.5% in any poll, no candidate's position is certain or solid. In such a crowded race, Jindal might actually have an opportunity—though it would be a long shot—to gain ground as other candidates shift or move in the polls. Some analysts suggest that Jindal might also be a good position to stand out if other candidates stumble in the early debates.

Related Thursday Review articles:

Jeb Bush Kicks Off Presidential Campaign; R. Alan Clanton; Thursday Review; June 15, 2015.

Rick Perry Joins Crowded 2016 Contest; R. Alan Clanton; Thursday Review; June 4, 2015.