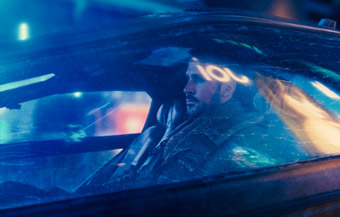 Image courtesy of Alcon Entertainment/Columbia Pictures
Blade Runner 2049:
Lower-Than-Expected Numbers
| published October 13, 2017 |
By Thursday Review staff writers
Hollywood's decade-long love affair with the sequel and the franchise faces more struggles after a less-than-stellar opening weekend for the big-budget sci-fi thriller Blade Runner 2049, a sequel in which Harrison Ford reprises his 1982 character, Rick Deckard.

The new big budget film also stars Ryan Gosling, Dave Bautista, Robin Wright, Jared Leto, and James Edward Olmos, who—like Ford—reprises his original role.

For its first weekend, Blade Runner 2049 fell dramatically short of what was expected by distributors and analysts, pulling in about $31.5 million in box office receipts despite projections that it would top $50 million or more. To make matters worse, early estimates indicate that the movie rapidly slumped into the workweek following its weak opening—a dim harbinger that the film, a widely promoted follow-up to the 1982 cult classic, will barely scrape out a profit.

By contrast, pre-ticket sales for the next Star Wars installment, set to open in December, have already reached a brisk pace, though most industry experts suggest that using the iconic Star Wars series to measure the success of the overall business model of sequels and franchises is a hazardous venture, since the franchise invented by George Lucas in the 1970s has surpassed all other film records and stands very nearly alone in a category of success unique in movie history.

That the original Blade Runner spawned a sequel in the first place calls into question Hollywood's penchant for persistent and endless recycling. The first film was a big success, and then became something of a cult classic—the first in a long line of stories examining the dawn of the age of artificial intelligence and the seemingly fuzzy line between living organisms and robots. In addition, the 1982 Blade Runner served as one of Harrison Ford's breakout roles (along with the even more successful Raiders of the Lost Ark), and placing Ford near the top of the male star A-list. Still, some critics and fans have suggested that the 30-year wait caused muddled confusion among some filmgoers and spurred a weak response from fans of the original—most some 35 years older now that a sequel has arrived. Many younger fans have little knowledge of the first, and may have expressed dismay when they learned that the film is not big action-big explosion eye candy.

Critics have been generally upbeat about the film, describing its cinematography as visually stunning and its storyline as engaging, especially its ability to successfully thread in a character now 30 years older in the narrative. Fans of the original also say that the new movie, directed by Denis Villeneuve, scores in its attempts to keep the noir narrative tone and atmospheric look of the 1982 version—part crime and detective story, part moody sci-fi—well intact.

Coupled with generally positive responses from theatergoers, the critical thumbs-up should have been enough to propel the film skyward, and quickly. Instead, Blade Runner 2049 may suffer from the general malaise now affecting much of Hollywood after an 18-month period of mostly weak box office returns. The downturn has impacted many of the big theater chains, most especially AMC, which is still attempting to unburden itself of billions of debt after pricey acquisitions in Europe and Canada, and after many of 2016 and 2017's much-touted sequels and franchise installments failed to pack the theaters as expected.


Related Thursday Review articles:

Spiderman: Homecoming; Cameron Dale; Thursday Review; July 29, 2017.

Ain't Got Time to Bleed: Predator at 30 Years Old; R. Alan Clanton; Thursday Review; July 12, 2017.