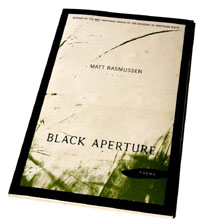 Black Aperture; Matt Rasmussen
By Maggie Nichols | published Tuesday, September 10, 2013 |
Thursday Review Contributing Writer

It's a cliché to suggest that all good poets write a little about life but a lot about death (I think I heard that spoken in a writing class once, and I didn't particularly care for it when I heard it). But just as life springs organically from what death spills back into earth, a talented poet can turn death into something illuminating and even startling, and that's what Matt Rasmussen has done with his recent collection of poems titled Black Aperture.

This 63 page collection is the winner of the prestigious Walt Whitman Award presented by the Academy of American poets (and published by the LSU Press, Baton Rouge). And after just a couple of pages you understand why he was chosen to receive the honor: though his images and themes are dark—bullets, suicide, guns, the empty space between stars, ashes—Rasmussen's taut, minimalist poems shine a bright light on the bitter events and surreal observations swirling around the loss of his brother to suicide. The book contains three short sections, the middle chapter an elegy for the lost brother who seems to haunt lakes, leaves, birds and landscapes. Parts one and three explore the event itself—through dreams, daydreams and dreamlike observations. These well-crafted poems are approachable, crystalline and at times striking.

This is an excellent collection of poetry.