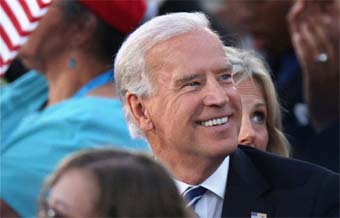 Image courtesy of Draft Biden 2016
Biden:
Clinton Loss Result of Poor Strategy
| published June 11, 2017 |
By R. Alan Clanton, Thursday Review staff writers
Former Vice-President Joe Biden told an audience of influential political and business leaders that he had worries about the strategy of the campaign of Secretary of State Hillary Clinton in her long, contentious battles with GOP nominee Donald Trump.

On Friday, Biden told conference attendees that her strategy of bypassing certain key states—especially those considered solid blue or Democratically-inclined, such as Michigan, Pennsylvania and Wisconsin—was a huge mistake that likely cost Clinton the election. Biden suggested to the audience that for any Democrat to shrug off key strongholds, in effect assuming that the states will vote reliably in a candidate's favor, is risky and potentially fatal, since Democratic victories typically hinge upon high voter turnout on Election Day.

Biden spoke Friday at the so-called E2 Summit, held in Deer Valley, Utah and hosted by—among others—former Republican Presidential nominee Mitt Romney, himself a candidate who understands the role of voter turnout in close elections. Romney lost in his challenge to then-President Barack Obama in 2012, and many GOP analysts after that pivotal election pointed to Republican failures to drive up turnout in two or three key states—notably Ohio and Florida.

In her 2016 campaign against Donald Trump, Hillary Clinton lost several states which—prior to the election—were deemed likely to swing into her column on Election Day. Her surprising loss in those states helped push Trump to victory in the all-important Electoral College. Clinton and her strategists largely ignored on-the-ground campaigning in those states, and in some cases spent far less on advertising in October than was previously planned—based primarily on the prediction that reliable Democratic voters would turn out in large numbers.

At speaking events over the last few months, Clinton has generally brushed aside the accusation that she ignored Wisconsin, Pennsylvania and Michigan, and she has focused her anger instead at the issues surrounding Russian hacking and cyber-breaches, as well as then-FBI Director James Comey's announcement—only ten days before the election—that investigators were again looking into her emails and use of a private server, at that stage of the probe because of emails and other data found on a laptop used by Clinton aide Huma Abedin and her husband Anthony Weiner (under investigation for unrelated criminal activities).

Biden's comments, which he explained come within the context of long decades of political experience, suggest that Clinton's virtual bypassing of several critical states in 2016 aided and abetted in low turnout, especially among Democratic voters disinclined toward Clinton in the first place—some of them one-time enthusiastic supporters of Bernie Sanders.

Though Biden was considered a possible candidate in 2016, he chose instead not to run after months of reflection. Some polls showed that Biden's entry into the race—either late in 2015 or very early in 2016—might have easily skewed the math of the primaries and caucuses, though it is not clear, based on some of those same polls, that he would have won the nomination. Still other polls from that period showed that Biden would have scored extremely well with Democrats with a dislike or distrust of Clinton, or an uneasiness with the left-leaning views of her principal rival Bernie Sanders—a self-described Democratic socialist.

Biden has intimated several times this year that he feels he would have made a better opponent against Trump in the general election, and his comments at the E2 Summit come just as Biden and his inner circle say the former VP has plans to form a political action committee with an eye for 2020.

Meanwhile, Sanders, a Senator from Vermont, has urged progressives and liberals to use the examples of recent elections in Canada and the United Kingdom as harbingers of potential change in the United States, and urged progressive activists to better organize for the immediate future. Sanders cited the recent surprise wins in the U.K. by the Labour Party and its leader Jeremy Corbyn. Ealier last month, Conservative Party leader Theresa May had called for early elections—a strategy she and her followers had assumed might lead to an easy victory. Instead, voters rejected May and swept Labour to big wins.

Followers of Sanders have been urging the former Presidential candidate (Sanders lost to Clinton in the long Democratic primary and caucus campaigns of 2016) to consider helming a third party. The question was discussed briefly at a major event this weekend in Chicago, a political confab called The People's Summit, at which Sanders was Saturday's headline speaker.

Though many leftists and progressives agree with Biden on the strategic missteps of the Clinton campaign, some go further, suggesting that the Democratic Party was at fault for not embracing a more progressive agenda, and by allowing Clinton and her top people to adopt a more mainstream, centrist agenda.

Related Thursday Review articles:

Perez Elected New DNC Chair; Keith H. Roberts; Thursday Review; February 26, 2017.

Biden Considering 2020 Presidential Run; Thursday Review staff; Thursday Review; December 6, 2016.