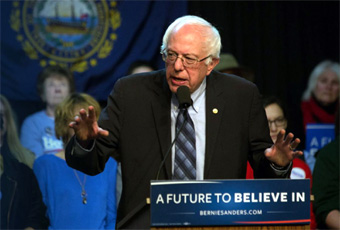 Photo courtesy of Bernie Sanders for President/Bernie Sanders.com
Bernie Sanders: We Will Raise Taxes
| published January 26, 2016 |
By R. Alan Clanton, Thursday Review editor
Bernie Sanders says he is not willing to pull punches when it comes to the facts or the truth, nor is he willing to cloud his intentions if he is elected President of the United States.

Speaking at a Democratic candidates' forum at Drake University in Des Moines, Iowa on Monday night, Sanders was asked a key question about his plans for a single payer health care system and the costs to taxpayers of other expensive social services programs he supports. When CNN moderator Chris Cuomo asked Sanders if he would increase taxes—an uncomfortable question almost always tactically challenging to any politician—the Vermont Senator wasted no time parsing his words.

"We will raise taxes, yes we will," Sanders said flatly. With that direct, unfiltered answer, Sanders acknowledged an issue which may prove problematic in his quest to attract some Democrats and independent voters—and certainly antithetical to any independent-minded, Republican-leaning voters—in a general election campaign. For a Presidential candidate to publicly embrace higher taxes is to invite electoral challenges, as was the case when Walter Mondale admitted in 1984 he planned to raise taxes on all Americans in an effort to curb the deficit.

Of more immediate concern, Sanders' rapid acknowledgement that his social programs and health care proposals will be so massively expensive that it will require across-the-board tax increases plays directly into the narrative currently imposed by the campaign team of Hillary Clinton. Some political observers say it may be only a matter of hours before anti-Sanders attack ads begin to pepper the airwaves in Iowa and New Hampshire.

But Sanders also supplemented his answer to Cuomo by explaining that questions about taxes—and the constant arguments over lower versus higher tax rates—cloud the real issue: that by increasing taxes, the overall cost of health care would go down for everyone across the board. Meaning, his plan would save every taxpayer money, a saving which would easily offset the slight tax hike.

Sanders' admission plays to Clinton's frequent criticism of the Vermont Senator's health care plan, which Clinton says will be far too expensive, and require hefty tax hikes. Clinton has also said in speeches and in debates that Sanders would destroy the Affordable Care Act, also known as Obamacare, in his quest to make it more expansive and broad.

The sometimes contentious argument between Clinton and Sanders over health care has proven to be a critical wedge in the now close race between the two Democratic front runners. Sanders has continued to gain traction in polls, especially in New Hampshire, which holds its first-in-the-nation primary on February 9, and in Iowa, where voters will caucus to make their selections in less than a week. In Iowa, Clinton and Sanders are in a dead heat—virtually tied in most major polls. In New Hampshire, Sanders' has opened up a substantial lead over Clinton. Though Clinton maintains a comfortable lead in most national polls of Democrats, other early primary and caucus states—such as Nevada (February 20) and the Super Tuesday states of Minnesota, Massachusetts, and Colorado—show Clinton losing ground as Sanders steadily chips away at her support.

Clinton also maintains a solid lead in South Carolina, where Democrats go to their polling places on February 27, and in several other Super Tuesday states, such as Alabama, Georgia, Arkansas and Tennessee. And though Clinton maintains reliable leads in those states, the strategy employed by Sanders and his loyal cadre is simple: if they can deliver a one-two punch to Clinton in those early states, and possibly deprive her even of Nevada, the carefully crafted narrative that Clinton is the inevitable and de facto nominee will be shattered.

Sanders, a self-described Democratic socialist, is not deeply concerned that his comments on taxes will dissuade most voters. He praised the other candidates during the forum, but suggested that the U.S. is in need of a top-down remake not possible with either Clinton or rival Martin O'Malley, traditional candidates still too deeply embedded within establishment politics to spur the genuine change the country needs. Sanders told Cuomo "we have to go beyond establishment politics and establishment economics."

This seemingly abrupt departure from the traditional bonds between Democratic politicians and Democratically-inclined voters is a mirror to a similar dismissal of party leadership and repudiation of establishment mitigation at work within the Republican race for President, where anti-establishment and non-traditional candidates have dominated the race for more than ten months. Sanders has mobilized millions of thousands of younger voters across the country, and routinely draws bigger crowds to speeches and rallies than does Clinton. At recent rallies in Alabama and Georgia, Sanders drew enthusiastic, standing-room-only crowds.

Sanders operates so far outside the generally comfortable confines of the Democratic Party's traditional constituencies that he sometimes refers to those groups or organizations as being part of the establishment, as he did a week ago when he explained to Rachel Maddow that recent endorsements of Clinton by Planned Parenthood and various Human Rights Campaign Groups represented "establishment" views over the views of members of those movements. Though Sanders has attempted at times to modify his comments about those various Clinton endorsements, he still feels in his heart that many traditionally progressive political groups find themselves deeply beholden to, and embedded in, a Washington system prone to resist genuine change.

As for the argument oft-deployed by the Clinton campaign that Sanders is so naïve and off-the-grid as to be essentially unfit to face whomever the GOP nominates next summer, Sanders says he is unafraid to face the predictable Republican onslaught—which in the calculations of the Vermont Senator will likely come in the form of businessman Donald Trump or Texas Senator Ted Cruz, both sharply anti-establishment candidates themselves.

A few days ago Sanders told Chuck Todd on NBC's Meet the Press that he relishes the opportunity to run against Trump.

"There would be nothing more in this world," Sanders told Todd on Sunday, "that I would like than to take on Donald Trump." Sanders is attempting to diffuse the notion presented by Clinton and her advocates that Sanders would become an easy target by Trump and others in a general election campaign. Some Democrats backing Clinton say that Sanders is frankly unelectable, pointing to his advanced age (74), his quasi-socialist views, and his often extreme rhetoric regarding Wall Street and the financial sectors of the economy. Without some crossover appeal, they argue, Sanders will get crushed in November, especially if—as some analysts have pointed out—Trump maintains his surprisingly effective outreach to independent voters.

Meanwhile Clinton may have lost at least one high-profile supporter. On Monday, Justin T. Bamberg—an attorney and a leading member of the South Carolina House of Representatives—switched his support from Clinton to Sanders. Bamberg's endorsement of Sanders comes only ten days after NBC News moderators Lester Holt and Andrea Mitchell questioned Sanders about his appeal—or lack thereof—to African-American voters during a debate in Charleston, South Carolina. Bamberg is one of several black leaders who have endorsed Sanders in recent weeks.

The Clinton campaign is downplaying those recent endorsements, but there is concern at Clinton headquarters that she may face a replay of the 2008 nomination fight, in which Clinton maintained comfortable support from black voters for months prior to Iowa and New Hampshire, only to see that support erode in the weeks, days and hours before South Carolina and Super Tuesday. But for its part, Clinton campaign spokespersons say that they are not concerned, and point to Clinton's national support, which still remains extremely solid.

Related Thursday Review articles:

Bernie Sanders to NBC News: I Can Beat Trump; R. Alan Clanton; Thursday Review; January 25, 2016.

Sanders' Lead Widens in New Hampshire; R. Alan Clanton; Thursday Review; January 20, 2016.