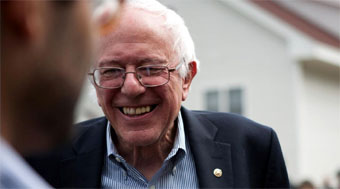 Image courtesy Bernie Sanders campaign
New Polling: Sanders Gaining on Clinton
| published August 14, 2015 |
By Keith H. Roberts Thursday Review contributor
The now fast-moving story of Hillary Clinton's emails and her private server is now expanding in a variety of directions in the media. And though it has not much benefitted her potential Republican opponents in the already heated race to become President in 2016, Clinton's deepening problems regarding the private email account she maintained while serving as Secretary of State is adding fuel to the campaign of at least one Democrat, U.S. Senator Bernie Sanders.

Several polls now show Sanders leading in some key states, most especially in New Hampshire where his lead—slight last week—has now opened up even further. Clinton is also losing ground among Democrats in Iowa, where as recently as two weeks ago she maintained a comfortable lead over her Democratic rivals. A new Boston Herald/Franklin Pierce University poll shows Sanders with 44% support in the Granite State, topping Clinton's 37%, among likely Democratic voters. A new CNN/ORC polls shows Clinton ahead in Iowa with 50% support from among Democrats, but with Sanders pulling in more than 31%, the Vermont Senator's best showing there to date.

Adding to the mix is vice-President Joe Biden, who has not officially said he is a candidate, but has gained ground among Democrats in at least three states, moving within striking distance of 10% in New Hampshire, and moving into a comfortable 12% in Iowa, where voters were asked to consider the vice-president an option if he decides to enter the field. When Biden is factored-in as a candidate in Iowa, his support comes largely from those would were previously supporting Clinton.

Though the polling shifts may not be the direct result of Clinton's email and server fracas—as the deeply contentious and crowded GOP field seems unable to benefit from her troubles—some polls show that there is a growing distrust of Clinton among many Democrats, especially liberals and progressives. Although Sanders has been careful to tell reporters that he does not intend to pile on with stump-speech comments regarding Clinton's email problems, telling reporters that he thinks voters are tired of negative and divisive politics, Sanders seems to be the only candidate officially in the race gaining as a direct result of Server-gate.

Clinton's other Democratic opponents—former Virginia Governor James Webb, former Rhode Island Governor Lincoln Chaffee, and former Maryland Governor Martin O'Malley—are either stuck in single digits, or barely register at all. In Iowa, for example, O'Malley and Chaffee show poll numbers between zero and 1%, suggesting that among Democrats in the Buckeye State, only Clinton, Sanders and Biden matter.

The Republican race, which has been upended by the surprising popularity of Donald Trump, will remain a serious struggle as the crowded field jostles to remain relevant. The first major debate, which was held in early August, settled little in the polling, and despite his controversial remarks during (and after) the debate, Trump remains the polling leader. In Iowa, according to the same CNN/ORC poll, businessman and TV personality Trump scores support from about 22% of Republicans, with Dr. Ben Carson coming in second with 14% and Wisconsin Governor Scott Walker grabbing 9%. All other GOP candidates are stuck in single digits in Iowa.

In Michigan, according to a new Fox News/Mitchell poll, Trump leads with 20%, with former Florida Governor Jeb Bush and Dr. Carson each tied for second with 12% apiece.

Trump scores slightly lower nationally, however, in some polls. A nationwide survey conducted by Rasmussen shows Trump's preference roughly 17%, as compared to Jeb Bush and Florida Senator Marco Rubio at 10%, Scott Walker and former HP CEO Carly Fiorina at 9%. Most composite polls—the best being the poll average maintained by Real Clear Politics—have shown Trump gaining at the expense of almost all GOP candidates, but the boisterous and often politically-incorrect businessman has most especially hurt Bush and Walker, the presumptive front-runners prior to Trump's arrival as an official candidate.

Related Thursday Review articles:

Clinton Weighs-In on Trump's Comments; Thursday Review staff; August 10, 2015.

Sanders Hauls In $1.5 Million Out of the Gate; Thursday Review staff; May 2, 2015.