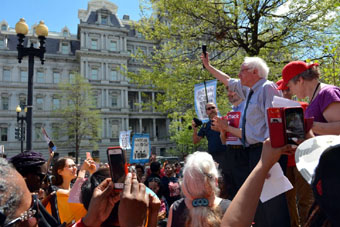 Photo courtesy of office of Bernie Sanders
Sanders Hauls In $1.5 Million Out of Gate
| published May 2, 2015 |
By Thursday Review staff writers
Don't count out Bernie Sanders as a novelty candidate or as an also-ran just yet. His challenge to Democratic front-runner Hillary Clinton may seem like a long shot—the mother of all long shots, not to put too fine a point on it—but the Vermont progressive independent managed to collect more than $1.5 million in just one day of fundraising in the 24 hour period after he made his candidacy official.

Speaking to reporters and supporters in New Hampshire this weekend, Sanders says that his fledgling presidential campaign will need to raise between $45 and $50 million just to stay competitive in the early months leading into the primaries and caucuses. Sanders is hopeful those early donations are a sign of things to come—progressives and liberals willing to contribute to his campaign so that the Democratic Party's orthodoxy can be challenged.

Hillary Clinton announced her candidacy two weeks ago amid expectations that her campaign may raise in excess of $1.5 billion by mid-January. Clinton's strategists will no doubt prefer to spend the lion's share of that cash after the conventions, and during a general election campaign likely to break all previous spending records. Republican candidates like Jeb Bush, Scott Walker and Ted Cruz are already raking in record totals, and Bush has made no secret of the fact that he hopes to out-fundraise his GOP opponents in order to secure the Republican nomination.

But Sanders is seeking to challenge the deterministic view that Clinton is inevitable. Some political analysts believe that Sanders is uniquely positioned to challenge Clinton from the left, drawing in support from progressive Democrats distrustful of Clinton but disappointed that Senator Elizabeth Warren (D-Massachusetts) has decided not to consider a run for the Presidency in 2016. While many top Democrats wave off concerns that Sanders will pose a genuine threat to Clinton, a few Democratic strategists worry that Sanders could have the "Nader effect" on Clinton, syphoning off progressive of left-of-center support and driving those potential voters into a non-aligned column—presumably where they would then split and vote for a third party candidate (Sanders, some think, might very well be that progressive third candidate). Sanders' chief liability: extremely low name recognition, something which he acknowledges will be difficult to overcome without cash.

Sanders has been vocal in his criticism of recent presidential elections, especially in the context of virtually unlimited contributions, outlandish spending by campaigns, and massive amounts of unregulated cash by outside groups and Super PACs. Bush and Clinton have already begun breaking records in their fundraising, and some political experts believe that 2016 may see as much as $2 billion spent by the major candidates.

Sanders received signatures of support from some 100,000 people not long after his candidacy was announced, and according to his campaign most of that $1.5 million came from about 35,000 of those supporters. Sanders says he hopes to attract tens of thousands more supporters to his cause, though he acknowledges that the challenges will be great.

Sanders, 73, is a self-described Democratic socialist, now serving as U.S. Senator from Vermont. Though a liberal Democrat, he ran for the Senate as an independent in 2007. Sanders also served as an independent during his tenure in the U.S. House from 1990 to 2006. Sanders has roots in the Vermont Progressive Party, an ultra-leftist local party, and the Liberty Union Party—an anti-Vietnam War political party—during the early 1970s. Sanders rose to prominence in 1981, in the early Reagan years, by running for mayor of Burlington, Vermont, defeating the incumbent Democratic mayor, a well-established Republican opponent, and other candidates in a wide open race. Sanders won that election by ten votes, but Sanders then served as mayor for three more terms, easily defeating his opponents from both major parties.

But Sanders values his independence from both parties and from establishment lobbying groups. Despite his liberalism, while in Congress Sanders voted against laws imposing restrictions on gun sales and gun ownership, and later supported a bill which would have limited legal actions against gun manufacturers.

Sanders voted against the use of force in Iraq (in 1991 and again in 2002) but voted in favor the use of the military in the war on terror.

Related Thursday Review articles:

The Clintons, The Foundation & The Foreign Cash; R. Alan Clanton; Thursday Review; May 1, 2015.

Will Bush Outsource Most Campaign Work?; Thursday Review staff; Thursday Review; April 23, 2015.