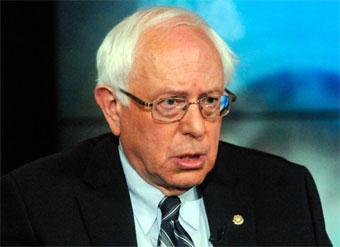 Image courtesy of Bernie Sanders campaign
New Polls:
Sanders Ahead of Clinton in Iowa & N.H.
| published September 11, 2015 |
By Thursday Review staff
Vermont Senator Bernie Sanders has pulled ahead of former Secretary of State Hillary Clinton in Iowa, according to a new poll conducted by Quinnipiac University. The poll—which surveyed likely Democratic caucus-goers—was conducted earlier this week and concluded on early Thursday, and shows Sanders the favorite of 41% of Democrats in Iowa, and Clinton the favorite of 40%.

The Quinnipiac poll is the second major polling service to show Sanders overtaking Clinton in the Hawkeye State, home of one of the early presidential contests. Political analysts say that the respected Quinnipiac poll also demonstrates what other national polls are revealing: a steady erosion in Clinton's trustworthiness among voters of both parties.

Sanders has been leading Clinton in most polls in New Hampshire for several weeks now, but his surge in Iowa may prove to be a game-changer for the Democratic race, a contest which may become even more complicated if Vice-President Joe Biden decides to enter the field. Some polls which include Biden's name show his support also rising, through Biden has been careful to tell reporters and the public that he has not yet decided if he is a candidate. Biden appeared on Stephen Colbert's "The Late Show" this week, and offered an emotional but carefully qualified response to a question of his candidacy, saying he was not sure.

"I'd be lying if I said that I knew I was there," Biden said. Still, the chorus of those among Democrats urging Biden to enter the race has grown louder, and Biden—when his name is included in polls nationally—has gained on Clinton. When asked who they would choose if Clinton were not a candidate—or if they could pick someone other than Clinton—Biden regularly tops the lists from Democrats polled. A popular draft Biden online campaign has been pushing the vice-President into entering the race.

Sanders, meanwhile, is running full bore. Attendance at his campaign appearances have grown steadily as the campaign begins to heat up. The Vermont Senator also continues to succeed at raising money using online campaigns and social media. Sanders appears by most observers' analysis to be gaining at Hillary Clinton's expense, and in direct relation to her ongoing troubles regarding the private email account and offsite server she used as Secretary of State. The email and server issues have become a major distraction to the Clinton campaign, and have driven Clinton's negative scores upward over the last few months. Earlier this week Clinton offered her first unfiltered and unqualified apology for the email mess in an attempt, after a series of meetings with her top staff and strategists, to reboot her flagging campaign.

CNN reported on Friday that Clinton's lead among Democrats nationally has dropped to a record low of only 10%. The newly-released CNN/ORC poll concluded that Clinton is the favorite of 37% of Democrats, with Sanders following at 27%, and Biden in a close third with 20%. Former Maryland Governor Martin O'Malley comes in fourth with roughly 3%, a slight increase over the last few weeks.

Worse news for Clinton: in hypothetical CNN/ORC match-ups for the General Election of 2016, Dr. Ben Carson beats Hillary Clinton, with Carson pulling in 51% to Clinton's 46%. In a match-up between Former Florida Governor Jeb Bush and Hillary Clinton, Bush wins with 49% to Clinton's 47%. Donald Trump beats Clinton, with Trump getting 48% to Clinton's 46%. In all three instances, the polls indicate that Clinton has lost ground primarily over the issue of trustworthiness and honesty. Not all polls show Clinton losing to a GOP rival however, as some show she maintains a slight edge nationally.

The Clinton campaign top strategists hope that the recent reboot of the campaign has the desired effect, and puts Clinton back solidly in the front-runner position. The first Democratic debate is scheduled for October, at which time all bets may be off again.

Related Thursday Review articles:

Clinton Paid State Department Staffer to Maintain Server ; Thursday Review staff; Thursday Review; September 6, 2015.

New Polling: Sanders Gaining on Clinton; Keith H. Roberts; Thursday Review; August 14, 2015.