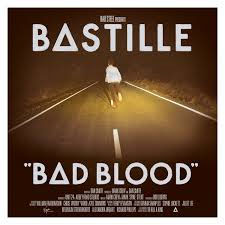 Bastille; Bad Blood
By Maggie Nichols | published Sunday, December 1, 2013 |
Thursday Review Contributor

I'm a "song" person, not an album person, so when I first heard the tune "Pompeii" from the English alternative band Bastille, I was—like millions of other indie music lovers—blown away. Their release of their much-anticipated CD Bad Blood met with huge sales. I waited a few days, then, unable to resist, ordered the new album, which included the hit single.

Bastille was formed a few years back in London after singer/songwriter Dan Smith decided that his solo act and studio creativity needed the backing of a full-fledged, fully-formed band. Joined shortly thereafter by William Farquarson on bass, Mark Crew on vocals, keyboards and synthesizers, and Chris Wood on percussion, Bastille quickly made its mark after several individual singles charted with moderate success in Britain. Soon, alt/indie fans in the U.S. and Canada were getting hooked by the band's impressive, sometimes surreal vocal layering, and the band's path toward a top-selling album was then assured.

Bad Blood's opening cut, "Pompeii," has by now become so popular that is synonymous with the unique Bastille sound, propelling sales of the CD to the top of the British charts and into the top ten in the U.S. Using a variety of vocal layering devices and intricately woven instrumental sounds, one cannot help but become drawn-in to the masterful production. Unlike many first albums, however, Bastille does not disappoint on the remaining dozen-plus tunes.

The first thing I noticed about these great songs: Dan Smiths lyrics are anything but empty words to accompany virtuoso digital layering and programming. Many a song-writer/computer geek have found their way into the business of producing remarkable sounds, only to fall short when it comes to the meaning and content. Smith and his frequent collaborator Mark Crew have, on the whole written and produced songs with better-than-average lyrical value. Alongside the beautiful harmonies and carefully layered keyboards and choruses, one can also find classical, mythological and historical references which spill over into the overall sound without coming across as pretentious or off-putting, as in the quasi-cinematic tune "Icarus," or in the opening track "Pompeii," which so easily evokes powerful imagery.

Other highlights of this album include "Things We Lost in the Fire," "Flaws" (which was one of the singles released before the album was completed), and "Overjoyed." Another standout is "Laura Palmer," which features elaborate harmonies, haunting drums, and a variety of string sounds, including violins, violas and cellos.

With almost no weak spots, I highly recommend this album for any fan of new music or alternative rock.