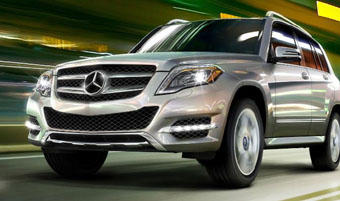 Photo courtesy of Mercedes-Benz
Will Automatic Braking Become Standard?
By Thursday Review staff | published May 30, 2014 |
Distractions behind the wheel have become the nation's number one cause of auto and SUV crashes. And despite a chorus of marketing and public service campaigns—not to mention legislation and safety laws in most states—the use of cell phones and handheld devices behind the wheel increase each year, and along with that rise, come still more fatal accidents.

Several major automakers have been experimenting for decades with auto-braking technologies, but now BMW and Daimler AG (which owns Mercedes-Benz) have put more resources into bringing auto-stop technology to the general public. Granted, Mercedes and BMW represent high-end brands, but there is a belief that as the premium car makers go, so will go the other major manufacturers in the U.S. and Japan.

Honda is also offering an optional auto-braking technology, though it is expensive for now.

Driving the conversation during the last few weeks had been the continuing interest in Google's new driverless cars—vehicles which have room for two people and operate entirely from a menu of only two buttons: stop and go. The cars can be preprogrammed for a destination, then, using a variety of mapping, GPS and signage identifying tools, the little car operates entirely on its own—steering, accelerating and decelerating, triggering turn signals and wipers, and yes braking. Google's car only travels 25 miles per hour, but it represents what some futurists see as a possible wave of popular transportation variables in a digital age. Google plans to beta test about 100 of the vehicles on California roads this year, with plans to build more in the near future.

But such small and slow auto-driver cars may remain a novelty for now. In the meantime, many of the major car makers are facing pressure to develop enhanced safety equipment for their auto lines. Some analysts predict that the massive GM recalls, brought about by news reports that dozens may have died in accidents that were the direct result of a faulty ignition system, will trigger an industry-wide re-evaluation of safety standards.

The National Highway Traffic Safety Administration (NHTSA) has long been working on guidelines for automakers to encourage the development of technologies to avoid rear-end and head-on collisions. And some of the biggest U.S. auto insurance companies are promoting the idea of making crash-avoidance tools standard within the next decade. An automatic braking system would be the first step toward that end.

The auto-braking systems now available on Mercedes-Benz and BMW models work by using a combination of tiny cameras, motion sensors, spatial sensors, and lasers to detect potential hazards. The system sends a signal to the cars microprocessor, which then applies the brakes.

Though some of the 2014 model year cars and trucks sold by GM, Ford and Chrysler have electronic safety features available as an option, many U.S. car buyers bypass these features to save money on the sticker price. Some in Congress are pushing the auto industry to gradually make technologies like auto-braking a standard feature on all cars, SUVs and light duty trucks.

Ford's website offers information on accident avoidance technologies and systems which can alert a driver to potential collisions. Ford also offers something called "adaptive cruise control," which automatically adjusts the car's speed in the event that it gets too close to the vehicle ahead of it on the road. The article on the Ford website says that a radar-based automatic cruise control is now available on some popular models, including Taurus, Edge, Flex and Explorer.

Chrysler has already begun adding a feature to its new cars called Lane Departure Warning (LDW), which its website says uses a camera-based sensor system to warn the driver if the car begins to drift without first observing a turn signal activated by the driver.

On the downside, General Motors—already awash in massive recalls—is facing questions and investigations into its auto-braking system in its popular Impala. A few drivers of Impalas say that their braking system engaged without warning, taking the car abruptly from 40 miles per hour to a dead stop. In one such case the abrupt braking caused an accident.

Still, most industry observers say that high tech braking systems are a good thing, and may soon become standard on many cars sold in the United States—a potentially life-saving tool in an increasingly distracted land of careless drivers.

Related Thursday Review articles:

The Dangers of Texting While Driving; Earl Perkins; Thursday Review; December 15, 2013.