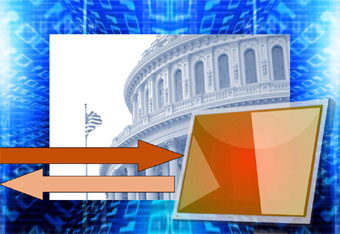 image by Thursday Review
Anonymous Says Trump
Will Regret Next Four Years
| published January 19, 2017 |
By Thursday Review staff writers
With the inauguration of Donald Trump only hours away, a group of cyber activists say that they will make the new U.S. President "regret the next four years."

The loosely-organized collective known as Anonymous has taken to social media to tell the world it will use all of its hacking skills to expose the raw truth about Trump. Anonymous—which has no leadership and no headquarters—sent a rallying call to its followers and its insiders to begin to throw intense light on Trump's soon-to-be-executive actions as well as every aspect of the billionaire's past.

Repeating unsubstantiated claims that Trump and his business entities have direct ties to Russian mobsters, the Russian military, and a variety of illegal international operations—from human trafficking to bribery and corruption—Anonymous posted videos and social media messages urging its loose coalition of backers and hackers to throw all their cyber skills into exposing any compromising information about Trump's past, as well as his current business operations.

Anonymous has been at war with Trump for nearly two years, berating him from the moment he became a candidate in the spring of 2015. Trump, however, while a candidate, faced few genuine threats from Anonymous, which was able to generate nothing that was not already being disseminated in the mainstream press or in the alt media landscape. ​ Furthermore, some of the data and material presented by Anonymous in the past was information already in circulation by other sources, or data about Trump which had previously been exposed by news organizations.

But the hacker collective says that this time things will be different, and it plans to shed intensive light on what it suggests are Trump's backchannel and hidden connections to criminal activity and past business indiscretions—some of which surfaced in unsubstantiated reports in the Alt Left media weeks ago.

Trump, known for his trademark rapid responses and his quick retaliations on Twitter and on social media, had nothing to say on Wednesday or Thursday about the newest digital threats from Anonymous.

"This isn't the 1980s any longer," the messages from Anonymous said, "information doesn't vanish…it's all out there. You are going to regret the next four years."

Anonymous has turned its sights toward other activities in the past, often using its hacking skills to expose information about banks, financial organizations, military operations, and foreign governments.

Related Thursday Review articles:

Twitter Faces Lawsuit Over ISIS Terror; Thursday Review writers; Thursday Review; January 11, 2017.

DDoS Attack Impacts Millions of Users; Thursday Review writers; Thursday Review; September 7, 2016.