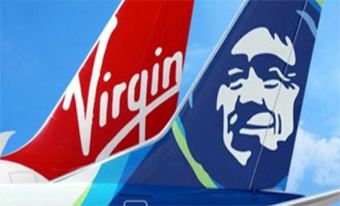 Image courtesy of Alaska Airlines
Alaska Air Will Buy
Virgin America
| published April 4, 2016 |
By Thursday Review staff
Alaska Air Group, Inc., seeking to solidify its role as a major player for the West Coast of the U.S. and Canada, announced this week that it plans to pay some $2.6 billion for Virgin America. If approved by Federal regulators in the U.S., the merger would make Alaska Airlines the fifth biggest passenger carrier in America.

Alaska Airlines won out in the battle to buy Virgin America, outbidding and outmaneuvering several other suitors, including Jet Blue, which had also formally entered a bid.

Virgin America is an outgrowth of British billionaire Richard Branson's Virgin Atlantic and Virgin Airlines—a London conglomerate which also owns exotic operations delving into space travel, aeronautics and green technologies.

Virgin's brand identity is strong with some consumers—especially among those in the tech and computer industries—and Alaska Air CEO Brad Tilden says that once the marriage is negotiated and sealed, Alaska Air may seek to continue to use the Virgin name or brand in some capacities.

Tilden told reporters that Alaska Air's acquisition of Virgin America is straightforward: by purchasing Virgin's extensive West Coast operations and planes, the Seattle-based Alaska Airlines will have regular, frequent access to the busy airports in San Francisco and Los Angeles, allowing it to compete with the big boys, notably United, Southwest and Delta. The merger will also give Alaska Air reach extending from San Francisco and Los Angeles to at least 10 other cities currently served by Virgin—including Washington and New York.

A press release on the Alaska Air website spells out what the company sees as the strengths of the newly-merged firm.

"Combining Alaska Airlines' well-established core markets in the Pacific Northwest and the state of Alaska with Virgin America's strong foundation in California," the media statement says, "will make Alaska Airlines the go-to airline for the more than 175,000 daily fliers in and out of the Golden State airports, including San Francisco and Los Angeles."

Alaska Air will pay a hefty $57 per share for the Virgin America stock, which according to some analysts is about 85% more than the stock's value a month ago when Virgin first openly discussed a possible sellout. The deal is still subject to Federal review and approval, though most airline analysts and Wall Street observers suggest that the Feds will find little reason to block the merger.

Related Thursday Review articles:

Boeing May Cut Up To 8,000 Airplane Jobs; Keith H. Roberts; Thursday Review; March 31, 2016.

DuPont-Dow Merger May Ultimately Produce Three Companies; Keith H. Roberts; Thursday Review; December 11, 2015.