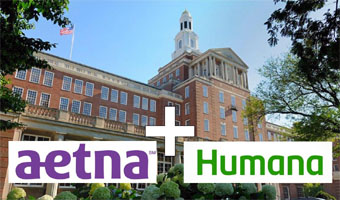 Aetna headquarters in Providence, R.I./Image courtesy of Fotalia
Aetna Offers $37 Billion for Humana
| published July 3, 2015 |
By Thursday Review staff
Two of the largest health and medical insurance providers in the United States plan to complete a merger agreement this year, according to announcements by representatives of both companies, as well as paperwork now filed with federal authorities.

Aetna has offered $37 billion to buy competitor Humana in what would become the largest insurance merger in U.S. history. Aetna, a Hartford, Connecticut based insurance giant, says it will pay approximately $230 per share to stockholders of Humana. Humana is based in Louisville, Kentucky, and brings to the deal the country's biggest health care plan for seniors, Medicare Advantage.

The merger—and similar mergers—has been discussed as a possible solution to the rapidly-changing business model medical insurance companies face under the Affordable Care Act, also popularly known as Obamacare. Other major health care providers have also considered mergers as a way to improve their bottom line and streamline costs. Many insurance company merger deals were held up while top executives with various companies waited for last week's U.S. Supreme Court ruling, while affirmed the constitutionality of Obamacare and specific components of the plan—especially the provision for federal subsidies.

Aetna says it will continue to maintain a separate headquarters in Kentucky, since Humana already has all the operational tools it needs to manage claims for Medicare, Medicaid, and Tricare, the system set up for military personnel and veterans.

If approved by federal regulators, the newly merged giant will closely rival competitor Anthem, Inc. Anthem has already made its own separate offer to buy Cigna. At least four other potential health insurance mergers are also under discussion, including rumor of a possible offer by UnitedHealth Group to buy Aetna (with or without the addition of Humana). Just this week, Centene Corporation made an offer to buy Health Net for more than $6 billion.

Some consumer groups and consumer advocates say that the massive wave of mergers and acquisitions now taking place will ultimately hurt buyers by greatly reducing competition, and thereby hurting customer service and costs. But business analysts suggest that regulators will look most closely at how the health care mergers will affect various tiers of pricing and affordability, since a key element in each buyout will be how payments are handled for Medicare, Medicaid, corporate employees, and small and medium-sized businesses. The newly merged Aetna-Humana will service some 33 million customers, at least half of whom are people who receive some form of government assistance.

Humana—which fell short of Wall Street expectations several times last year—has been under pressure from some of its biggest investors, including several capital management groups, to ramp up its profits. The deal with Aetna will likely sit well with those same Humana investors, all of whom will make a profit from the sale of the stock to Aetna.

Related Thursday Review articles:

Liberty/Charter to Offer $55 Billion for Time Warner; Thursday Review; May 25, 2015.

Heinz & Kraft Merger Will Form Food Behemoth; Thursday Review; April 4, 2015.