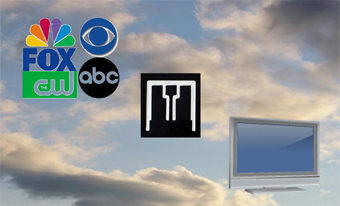 Who Really Owns That TV Signal?
| Published April 23, 2014 |
By R. Alan Clanton
Thursday Review editor
Aereo's case now pending before the Supreme Court is a simple one. Equally simple is the case presented by Aereo's legal opposition, the National Association of Broadcasters and a consortium of broadcast interests, including CBS, NBC, ABC, Fox TV and others.

The broadcasters say that the Boston-based Aereo is in clear and direct violation of copyright law. But Aereo argues that once a broadcaster sends that signal into the air (thus the term broadcast), it is there for anyone to grab. And at issue is Aereo's tiny device—an antenna roughly the size of a camera card or video card—which enables users of laptops and tablets to download programming from Aereo's massive file servers.

Aereo's case revolves around their contention that what they provide is simply another variation of the TV antenna or the TV rabbit ears. The big networks (also among the plaintiffs are representatives of PBS) accuse Aereo of attempting to bypass the same rules and regulations which cable and satellite companies are subject to.

The outcome, which may not arrive until June, will be pivotal for everyone involved. Indeed, the justices heard oral arguments this week in a case which has the potential, arguably unlike any business and copyright case ever to reach the highest court, to end Aereo as a business in a single ruling.

At the heart of the matter is the concept of retransmission. When a cable company receives, synthesizes and reprocesses a signal from a broadcast channel (and this can include any network affiliate), it is required under FCC rules and other Federal guidelines to pay a fee for retransmitting that programming. This can be a hotly contested process when the time comes for any two major players to sit down and negotiate this fee. ABC, for example, might ask for a 10% increase in the fees it requires Comcast to pay. CBS might ask for a 5% increase from Bright House. Those cable companies push back, and the ensuing negotiations can get nasty.

But in the end, after much debate and discussion, cable companies and broadcasters settle on a price. Typically, cable companies and satellite providers like Direct TV and Dish Network, pass those costs along to their customers in the form of price increases. Companies like Comcast, Time Warner, Mediacom, WOW!, Bright House and others pay billions each year to the broadcast networks for the right to capture and retransmit those signals.

Aereo represents what some fear may be the wave of the future of smaller and lighter applications to provide TV directly to consumers without the complexity and cumbersome process of signing up for cable or satellite. Aereo has simply found a way around the problem, and Aereo's customers love it.

But the broadcasters see Aereo's business venture as tantamount to theft: Aereo is stealing their signal, without consent, and retransmitting it to millions. Cable companies also balk at what Aereo has developed (just as they balk at devices already being developed, sold and widely distributed by Google, Amazon and others) because it represents an existential threat to the cable TV business model. Comcast made essentially this very case weeks ago to Congress and to Federal regulators when it argued that its proposed mega merger with Time Warner could not possibly form a monopoly, especially since there were so many other animals in the jungle with their own designs on streaming vast amounts of television content to consumers by way of technologies that are not cable (Microsoft, Apple, Google, Amazon), and using devices and applications clearly not like a traditional TV.

Here is the short version of how Aereo works: customers pay for two tiny slots at Aereo's technology center in Boston—one space for a small antenna, another for a tiny transceiver located in a huge hardware rack. Customers are assigned a specific slot for their designated antennae—one to receive, the other to transmit. Then, those small receiver/storage devices can harvest broadcast programs, storing them to Aereo's cloud service. Customers can then use appropriate apps on their devices to download and watch those programs directly from Aereo's cloud storage. Aereo charges its customers between $8 and $12 per month for the service.

The number of applications for TV streaming has grown recently, and the types of devices which are compatible can include laptops, desktop computers, smartphones, tablets and other handheld devices. Google and Amazon have both begun to market their own devices, and Apple and Microsoft are not far behind. Aereo has engineered one of the more inventive and flexible methods of recording and streaming content directly to consumers, making the viewing preferences very convenient.

Broadcasters call this process theft. But Aereo's case is built in part through its attorneys' interpretation of the 1984 Supreme Court ruling in which Sony, then the manufacturer of the highly popular recording system called Betamax, was allowed to continue selling its high-quality video recording device since that device was being used "for personal use," and not for retransmission purposes. One of the most common uses of Betamax (and later VHS) was the copying of movies and television programs, and Aereo says it is simply filling that same technological niche, just with a smaller device.

Aereo also states it is legally covered by the 2008 lower court decision which allowed Cablevision (and a few other cable companies) to record content to its servers, storing it for use by its customers in its DVR product. Cablevision's customers—unlike those of most cable companies—were allowed to access programming using a remote device.

Ultimately, the case may decide not only the viability of Aereo itself—a ruling adverse to Aereo would in essence kill the company—but also the future of ever-smaller, ever-more-nimble forms of television streaming and accessibility.

In its arguments before Congress, Comcast defended its plan to merge with cable giant Time Warner as a necessary step in the rapid evolution of content and entertainment. Representatives of both Comcast and Time Warner have told government officials that cable companies must also have the ability to evolve as quickly as the tech companies who may soon dominate how content is distributed. Aereo surely fits the description of what the Philadelphia-based cable giant most fears: a start-up company with an inexpensive device which could render coaxial or fiber optic cable connections obsolete.

But Aereo is more troubling for broadcasters who consider Aereo's product a tool for theft, and a way to circumvent retransmission consent and fees.

For now, Aereo's service is only available in about a dozen major markets. A favorable ruling would clear the path for Aereo—and companies using similar small devices—to expand quickly across the country.

The Supreme Court, traditionally unwilling to rule in ways adverse to technological advances, may ultimately have to decide the case on the merits of the semantics involved: access versus theft.

Related Thursday Review articles:

Comcast: Don't Worry, Be Happy; R. Alan Clanton; Thursday Review; April 9, 2014.

Kings of Content: Why Comcast is Inevitable; Thursday Review; February 28, 2014.