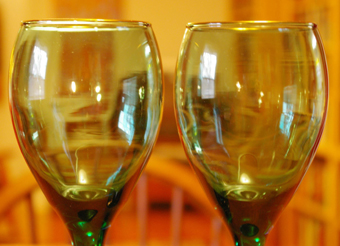 Five New Year's Resolutions That Matter!
By Thursday Review editors | published Wednesday, January 1, 2014 |
Tired of making that same list every year for New Year's? For many people, the short list of resolutions will include the same items and priorities, year after year: lose weight, get exercise, eat right, pay off that credit card debt, and perhaps spend less time online reading about the Kardashians, Miley Cyrus and Brittany Spears.

So why not make a list that contains not only those things you know you can change (how many years have you been promising yourself to use that treadmill or ride that bicycle?), but also some things that will truly matter in the long run?

Here are a few ideas we came up with this week:

Become a local volunteer. And that doesn't mean to simply offer to drive the neighbor's kids to soccer practice. Volunteer, in a way that will make a genuine difference. Offer to take meals to shut-ins or the elderly. Offer to clean house for the disabled. Locate your nearest chapter of Habitat for Humanity, grab some tools, and roll up your sleeves. Offer to help teach an adult to read. Help put together care packages for soldiers, sailors and airmen overseas and in combat operations. Contact your nearest office of the American Red Cross and find out what they kind of help they need. These things can be done without ever opening your wallet or your checkbook, and in almost every case they can mean much more than cash.

Choose an overseas emergency relief project and get involved. Again, this doesn't require money. Nearly every city and town has a church, synagogue or mosque where volunteers work to provide essentials for those areas hit by natural disaster. If in doubt, do a little online research and locate those churches or relief groups with the best programs to get supplies to where they are needed most—the Philippines, or Haiti, to name but two examples where recent natural disasters have affected so many thousands. If you are brave enough, become a volunteer and travel to the affected country (Thursday Review has friends who have travelled to both of the aforementioned nations as volunteers).

Choose a disaster area in your own country and get involved. This may require little more than organizing friends and family, renting a van, and driving bottled water and non-perishable foods to the hardest hit areas. In the United States, tornado, storm and hurricane damage still exists on a massive scale in places as divergent as Missouri and New Jersey. Carpenters, electricians and roofers are needed, clean-up is still required, and in some cases people just need to know someone cares and can offer help when local and state services are strained. Grab your work gloves, some heavy duty trash bags, and a few dozen cases of bottled water, and pick a project. Check online first to see where your help is most needed in the area or region you choose.

Become a friend or mentor to someone in your community. Again, this requires no money. There are plenty of churches, synagogues, private groups and other local entities with programs for visitation to the elderly and people shut-in their homes due to physical limitations. In many cases, even a half hour visit is enough to help someone connect to their community, and to remind them that others care. And you don't have to be religious to get involved since many churches gladly accept outside volunteers. Economic stresses and high unemployment also mean that many single parent-households are at risk, and there will be organizations in your town designed to provide mentoring and family assistance—meals, books for kids, help with homework, teen mentoring, even simple visits.

Get involved in your local schools. It's easy to sit back and complain about the condition of public schools in this country. The perception and the reality may differ, but as a nation we accept the short list of educational problems as a fact: kids don't learn anything; teachers are too busy or ill-equipped to teach; schools are dangerous places of bullying, drugs, crime and violence. So get involved as a volunteer, even if you don't have kids in school. Contact your local school board and find out how to get connected to an after-school mentoring program, or to programs to help kids with reading, writing, science or math. Or, just volunteer in the library. If you're lousy at math, you might be a wiz at writing—or vice-versa. Find a way to help those kids at risk by tutoring them on their weakest subjects. That way you pass along your skills and passions to another generation.


To find out more about how Thursday Review's writers and contributors donate their time and resources, go to our Community Service & Giving Back link.
comments powered by

Disqus