Thursday Review Art Contest Winners
By Thursday Review editors and staff
The first ever Thursday Review Spring Art contest has now come to a close and we have our winners. The challenge, announced in April, was for artists of manga or anime to send us their own original characters, along with a brief explanation of who those characters are.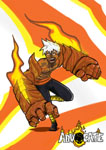 First place goes to Jason Bristol of Pooler, Georgia. His protagonist is named Rooster, and Rooster was created for Jason's graphic novel series ADVOCATE. Rooster is a collector for an underworld boss named L. Kingstar. According to Jason, "Rooster was forced into a contract with him and does dirty work to pay off his debt. Rooster's a bit impatient with people and a hothead but also a natural-born genius at combat." Rooster has the gift of amazing strength and speed but has to share that gift with a demon, syphoning off Rooster's ability to manage his rage. Rooster is distrustful of people, but can also show moments for compassion for those in need. In the story he travels with his companion Tia helping people in different regions.


Second place goes to Sydney Anderson of Houston, Texas. Sydney's character, Momo, seems to occupy a place at the more passive end of the spectrum than does Jason's. According to Sydney, "Momo was born and raised by the sea and as such spends much of her time in it. Although day-to-day she lives the life of an average—if a bit wild—high school girl, she sometimes skips school to go adventuring beneath the waves."
Jason will win a $50 gift certificate and Sydney will win a $25. The artists get to choose the store of their choice—retail or online.
Thursday Review plans additional contests like this one in the near future, with competitions for watercolor, charcoal and photography coming this summer. We will also have another contest for original anime/manga characters in the fall.